At the back of the old churchyard a Celtic cross marks the last resting place of Catherine Sarah Burns (née Brown) who was born in Aberdeen on 25th June 1821 and died in London on 6th January 1905.
As mentioned on her gravestone, Catherine was the widow of the late Professor Islay Burns D.D. of Glasgow, who she married in 1845. They were the parents of eight children – four sons and four daughters, and one of her daughters is buried in the next grave – Hannah Burchell Burns who died at Chalkdell Farm, Wheathampstead on 9th September 1882 aged 34. Hannah's grave is marked by a white cross, which is now broken off and lying flat.
It seems surprising that Catherine and Hannah should be buried at Ayot, but Catherine was the older half-sister of Jane Susan Jephson (née Brown) the wife of Henry Jephson, Rector of Ayot St Peter for 39 years from 1872 until his death in 1911 read more about Henry Jephson
Catherine was also the half-sister of Rev. Robert Brown-Borthwick, who is also buried in the old churchyard read more about Robert Brown-Borthwick
William Brown of Aberdeen
Catherine Sarah, Robert and Jane Susan were all the children of William Brown of Aberdeen. William in turn was the eldest son of Alexander Brown, a "distributor of stamps for Aberdeenshire and Kincardineshire" who was twice Provost of Aberdeen (from 1822–1824 and 1826–1828) and his wife Catherine (née Chalmers).
Catherine Sarah was the only child of William's first wife Hannah Burchell, the daughter of Joseph Burchell Esq. of Leatherhead in Surrey. William and Hannah married in Leatherhead on 25 May 1820 and Catherine Sarah was born in Aberdeen on 25th June 1821. Hannah died in the October of that same year.
After Hannah's death, William was a widower for about 15 years until he married Mary Ann Hendrie, the eldest daughter of Robert Hendrie Esq of Tichborne Street (London) at St James, Westminster on 15 March 1836. Mary Ann was aged about 30, approximately 10 years younger than her new husband, and several children were born to the couple in Old Machar, Aberdeen. The first son was Alexander born about 1838, the second son was Robert (later Brown-Borthwick) and Jane Susan (later Jephson) was probably the youngest in the family, and possibly the only other girl after Catherine Sarah. It seems that William Brown succeeded his father is his job, as he is described as "of the Stamp Office" in the newspaper announcement of his second marriage.
Details of the family plot in Saint Nicholas Churchyard, Aberdeen can be seen on the useful website www.findagrave.com. This gives the information that Alexander Brown died in November 1848 and his wife Catherine (née Chalmers) in July 1850. Their son William (father of Catherine Sarah, Robert and Jane Susan) died in January 1861 and his two wives Hannah and Mary Ann died in October 1821 and April 1860 respectively.
Professor Islay Burns D.D.
Catherine Sarah Brown married Reverend Islay Burns on 20 April 1845 at Old Machar, Aberdeenshire. Interestingly, she is described as the "only daughter" of William Brown as her younger half-sister Jane Susan was not yet born.
W.G. Blaikie included a "Memoir" in the work Select Remains of Islay Burns, ed. J. C. Burns (published 1874) in which he gives the information that Catherine Brown and Islay Burns were cousins. This was presumably through the Chalmers family, as Catherine's paternal grandmother was Catherine Chalmers before her marriage, and Islay's mother was also a Chalmers. W. G. Blaikie commented that "The marriage of Mr Burns was a singularly happy one. No one could have been better fitted than Miss Brown to be the companion of such a man."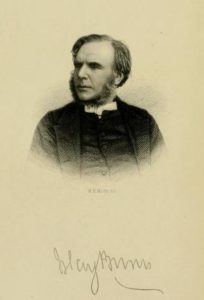 Islay Burns was born at Dun (Angus) on 16 January 1817, the sixth son of Reverend William Hamilton Burns, and his wife Elizabeth, who was the daughter of James Chalmers, proprietor of the Aberdeen Journal. Amongst Islay's brothers were the missionary William Chalmers Burns and the Roman Catholic publisher James Burns. Islay studied theology at Glasgow University and in 1843 became the minister at St Peter's Free Church, Dundee. In 1864 he took up a professorship of theology at the Free Church College, Glasgow, where he died in 1872. Islay Burns contributed to a number of journals and also published a History of the Church of Christ (1862) and memoirs of his father (1860) and brother William Chalmers Burns (1872).
W.G. Blake's Memoir gives more information about the family: "Soon after the family went to Glasgow, the youngest child [Charles], a bright, lively boy of two, was somewhat suddenly taken away. But a heavier trial followed. His first-born son [William], a youth of high ability and eminent scholarship, who had just reached the point of an Oxford career where his honours would have culminated, was smitten with fatal illness, and went to Madeira literally to die. It would not be easy to estimate the desolation of the blow. Father and son were very congenial, and their affection for each other was unusually strong."
Catherine was still living in Scotland in the 1881 census, at 33 Wilson Street, Partick, with her daughters Hannah and Charlotte. By 1901 she had moved to London where her son Robert was based and was living at 36 Norland Square, Kensington, which was her address at the time of her death.
The Burns children
Catherine Sarah (née Brown) and Islay Burns had eight children; four sons and four daughters, all born in Dundee:
1. William Burns born c. 1846 who died in Madeira on 8 March 1870 aged 24
2. Hannah Burchell Burns born c.1848 who died unmarried on 9 September 1882 at Chalkdell Farm Wheathampstead and is buried in Ayot St Peter
3. Charlotte Alexandrina Chalmers Burns born c. 1851 who died unmarried on 5 December 1934 and is probably buried in Hanwell (Middlesex)
4. Elizabeth Jane Burns born c. 1852 who died unmarried on 10 March 1942 (buried Hanwell)
5. Islay Ferrier Burns born c.1855 a Presbyterian minister who married May Carmichael Henderson in Yorkshire in 1893 and died on 9 November 1924. He is buried in the Ascension Parish Burial Ground, Cambridge with other members of his family.
6. Catherine Sarah Burns born c.1857 who died unmarried on 16 February 1927 (buried Hanwell)
7. Robert James Burns born c.1860 a Barrister who married Mary Susan Burns of Halifax, Nova Scotia in 1899 and died 31 July 1938 (buried Hanwell)
8. Charles Arthur Hamilton Burns born c. 1863 and died in Glasgow on 17 January 1865
Of these children only Islay Ferrier Burns and Robert James Burns had known descendants.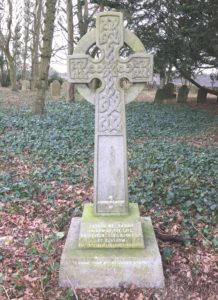 The known children of Islay Ferrier Burns and May Carmichael Henderson were:- Catherine Burns born c. 1894, Islay Ferrier Burns born c. 1897 (who was killed in WW1), Robert Henderson Burns born c. 1899, and Allison Chalmers Burns born c. 1900.
The known children of Robert James Burns and Mary Susan were:- Robert Ferrier Burns born c. 1901, William Chalmers Burns born c. 1906 and Catherine Elizabeth Mary Burns born c. 1909.