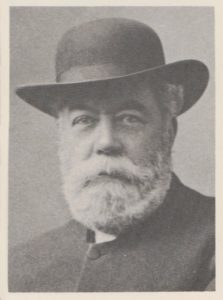 Henry Jephson was born in 1839 in Sutton-in-Ashfield, Nottinghamshire, the second son of William Jephson (a "gentleman") and his second wife Mary (née Fletcher) who was about 12 years William's junior. The family home was called Sherwood House.
William Jephson died on 27 March 1849 – after a "protracted affliction" according to the Nottinghamshire Guardian – when Henry was about 10 years old. Henry's mother died in 1861, while he was still a student. Both his parents are buried at St Mary Magdalene church, Sutton-in-Ashfield.
Henry matriculated at Trinity College, Oxford, on 3 December 1857 when he was 18 and graduated with a BA in 1862. He was curate of Evesham 1867-72 (deacon 1867, priest 1868) and rector of Ayot St. Peter for 39 years from 1872 until his death on 29 November 1911 aged 72. A large memorial was erected in the old churchyard for Henry and within a few years his widow and two of their children were also remembered there.
Henry Jephson's uncle – another "Henry Jephson" – was a doctor who established the fashionable and successful Royal Leamington Spa in Warwickshire. A park in the centre of that town ("Jephson Gardens") is named in his honour. Dr Henry Jephson (1798-1878) paid for his nephew's education at Cheltenham College and Oxford University.
It seems that Henry Jephson travelled to Australia after leaving Oxford and engaged in sheep farming before becoming a priest, as mentioned in this obituary:-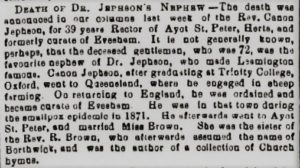 Rev.  Henry Jephson married Jane Susan Brown at St Saviour's, Pimlico, on 7 August 1872, probably shortly after he took up his post in Ayot St Peter. Jane was the sister of the Rev. Robert Brown-Borthwick and the half sister of Catherine Sarah Burns (née Brown), both of whom are buried at Ayot St Peter. Grace Brown-Borthwick, the wife of Robert Brown-Borthwick, was a witness at Henry and Jane's wedding.
Read more about Robert Brown-Borthwick and read more about Catherine Sarah Burns
It seems likely that Henry met Jane when he worked with her brother Robert at Evesham parish – or at least, that's where the two men met and maybe the introduction to Robert's sister came later.
On Friday 10 July 1874, just a couple of years after Rev. Henry Jephson arrived in Ayot St Peter, the Pearson church (the third known church on the old site) was struck by lightning and largely destroyed by fire. Fortunately, Rev. Jephson managed at least to save the parish registers and the church plate.
There was an urgent need to build a new church at Ayot St Peter, and the 7th Earl Cowper generously donated a site of half an acre next to the school. The foundation stone (which came from the doorway of the destroyed church) was laid on 7 April 1875 and within just over six months – on 26 October 1875 – the present church was dedicated by the Bishop of Rochester (who was also by this time the first Bishop of St. Albans).
It seems likely that the social connections of both Rev. Jephson and his wife were helpful in raising funds towards the building. The font and the bells were the gift of the rector's uncle, Dr. Henry Jephson, and much of the stained glass is dedicated to members of wealthy London families who are also buried in the old churchyard.
The Jephsons lived in the Victorian rectory in Ayot St Peter – the house now known as "The Old Rectory" – on the corner of Ayot St Peter Road and School Lane. They had four children, all baptised by their father in Ayot St Peter church:-
1. William Vincent Jephson born 6 October 1873 and baptised 9 November. He married Mary Margaret Marryat at Shedfield on 21 July 1897. William attended Haileybury College (a public school near Hertford) and then Keble College, Oxford, where he matriculated on 15 October 1892 aged 19. He attended Salisbury Theological College and was ordained in 1896. He was curate at Beaminster, Dorset (1896-1900), vicar of Chilworth, Hants (1901-1910), rector of Highclere, Berkshire (1911-1923), rector of Warkleigh, Devon (1923-1926). He was also a most successful cricketer, playing for Hampshire (1903-1914) and then Dorset, where he was captain in 1923 and 1924. He served as a chaplain in WW1 with the 9th Hampshires, in England, Egypt and the Dardanelles. It seems that William and Mary had at least four children: – Selwyn Victor Jephson born 1900 at Beaminster, Dorset [see below]; Henry James Montague Jephson born 1904 and Peter Douglas Jephson born 1906, both in South Stoneham district, Hants; and Margaret Lucy Jephson born 1912 in Kingsclere district, Hants. William died on 12 November 1956 – his last address was a care home – Waterhouse, Monkton Combe, near Bath. His widow Mary died on 1 February 1963 in Devon and is buried at Uplyme St Peter & St Paul churchyard and cemetery.
2. George Douglas Jephson baptised 19 March 1876. He died in the south of France on 7 February 1916 at the age of 40. George is listed on the Ayot St Peter war memorial and additionally on the war memorial in Frensham, Surrey where his sister Mary is buried.
3. Mary Grace Jephson born 14 October 1878 and baptised 15 December. She died unmarried on 21 April 1969 at the age of 90 in Surrey and is buried at St Mary the Virgin churchyard, Frensham, Waverley Borough, Surrey (see image below). In the 1939 register she was living in The Malt House, Frensham with her friends Florence and Gladys Suttaby and her grave stone records that she and Florence had been friends for over 40 years. Ayot St Peter church minutes of December 1970 record a £50 bequest to the church from "M.G. Jephson".

4. Annie Beryl Jephson born 20 August 1881 and baptised 25 September. She died unmarried on 21 May 1912 at the age of 30 in Suffolk, and is buried in the family grave in Ayot St Peter. The National Probate Calendar gives her address as 1 Hartington Villas, Aldeburgh.
The Jephson family is remembered by a memorial in the old churchyard – a large Celtic style granite cross with a square stone surround, close to the path and gate, which was erected in February 1914. The inscriptions are as follows:-
East side – Henry Jephson MA, Priest, Hon Canon of St Albans, 39 years Rector of this Parish. Entered into life 29 November 1911 aged 72 years.
Also to the dear memory of Annie Beryl, daughter, entered into life 21 May 1912 aged 30
South side – George Douglas his younger son, Commander Royal Navy, at rest, 7th February 1916 buried at Nice, France, aged 40 years. "His life for his country; his soul to God"
North side – Jane Susan, his wife entered into life 28 June 1917 (the burial register gives her age as 72).
There is also a marble and brass plaque close to the lectern in the current church, which Rev. Jephson did so much to create. The inscription is as follows:- To the glory of God and in loving memory of the Reverend Henry Jephson MA, for 39 years Rector of this parish. Hon: Canon of St Albans, and formerly rural dean of Welwyn. Entered into rest 29th November 1911, aged 72 years. This tablet has been erected by his parishioners, to whom he will always remain an example of all that is good, strong, and gentle. A father to his people, and a true servant of Christ. 
In addition, a large brass ewer 'in pious memory of Annie Beryl Jephson' is to this day in use for flower arrangements in the church. There is also a small oak book stand in the chancel that bears a plaque with the words 'In memory of A.B.J.'  These memorials were presumably presented to the church by her widowed mother Jane.
Jane Susan Jephson (née Brown) died aged 72 at Frensham, Surrey on 28 June 1917. The National Probate Calendar gives her address as Crooksbury View, but she died at the Malt House so was presumably staying with her daughter Mary when she became ill.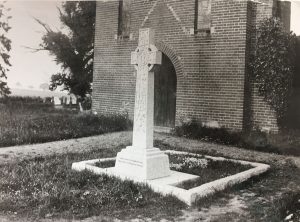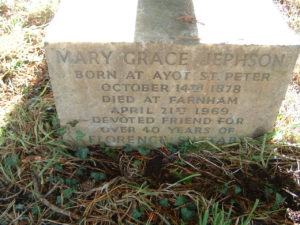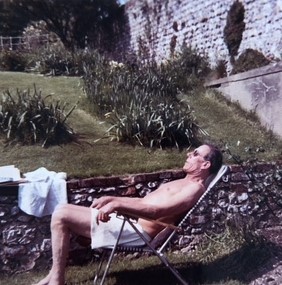 Selwyn Victor Jephson – the son of William Vincent Jephson – was born in 1900 and married Gertrude Margaret Hambro on 22 September 1934 at Wimborne Minster. He followed his uncle George into the Royal Navy, and after a long and distinguished naval career, Selwyn and Peggy retired to The Red House, Hambledon, Hampshire. Peggy died on 11 June 1969 and Selwyn on 6 November 1978.
Ayot St Peter church contains an ornate brass plate dedicated to the memory of Anne Buxton Geldart (née Jephson), younger sister of Rev. Henry Jephson. Anne was born on 11 January 1847 and married James William Geldart, the rector of Kirk Deighton, Yorkshire, on 1 August 1878. Sadly, Anne died on 2 February 1880 after delivering a still born daughter.
A well-written biography of Dr Henry Jephson of Leamington Spa can be found on the Leamington History Group's website.