In the church are three painted panels listing the names of the rectors of Ayot St Peter through the centuries.
We have a lot of information about some of these individuals, but little or nothing about others, and we would be delighted to hear from anyone who can provide pictures or fill in the gaps in our knowledge.
Here are some of the rectors we know about ….
From 1629 to 1640 ~ John Ivorie or Ivory
We know little about this early Rector, except for the fact that he changed his name. He was born as "John Jewry" around 1600 and attended Trinity College, Cambridge. The university alumni record states that he was ordained as a priest on 14 December 1623 "as Ivory". He was appointed as Rector of Ayot St Peter on 22 March 1630.
From 1640 to 1682 ~ John Birch
John Birch was appointed Rector on 20 December 1640 and continued in office until his death on 26 July 1682. In his will dated 1 April 1680 he mentions his two daughters: Martha, the wife of Henry Feild, and their children; and Elizabeth, the wife of Thomas Juice, and their children. His daughter Martha features on the page about the Field and Spencer families as she was the mother-in-law of Elizabeth Field who died in 1706.
John Leigh or Lee
It is not thought that John Leigh or Lee was ever Rector of Ayot St Peter. He may have been a curate or someone else who filled in when there was no incumbent. When John Birch made his second codicil on 21 January 1682, his witness was John Lee, almost certainly the same man. John Lee presumably helped out as curate as John Birch declined, and again presumably stayed on until Nathan Veryard was installed. He may well have come back (or even never left) and did the duties between Nathan Veryard's death and the installation of Charles Horne.
From 1682 to 1686~ Nathan Veryard
Nathaniel or Nathan Veryard was appointed as Rector on 25 November 1682 and held the position until his death in 1686. Little is known of his earlier life. He was born around 1653, and attended Pembroke College, Cambridge, from 1671. The university alumni list gives the information that he was the son of William Veryard, a cleric, of St Eval, Cornwall. The list of incumbents of St Eval does not include William, although there was apparently a vacancy during the Commonwealth period from 1648 to 1661.
Nathan married Alice Smithe on 8 July 1680 at Digswell, Hertfordshire, and was licenced as a curate at Walkern, also Hertfordshire, on 30 May 1681. A burial on 12 April 1682 at Walkern of "Mrs Mary Veryard, widow, formerly of Cornwall" was presumably his mother.
It seems that Nathan and Alice had no surviving children. Nathan left a will dated 20 February 1685 in which he left bequests to Charity Chappel of Sydmouth, Devon, and her two children Martyn and Honour, with the remainder of his estate to his wife Alice. His likely date of death was 13 February 1686. The will was proved on 13 April 1686.
Alice made a will dated 3 August 1692, where she was described of "East Barnet" where she listed her heirs as her three brothers William (of Chelmsford in Essex), Thomas and Simon. Simon was also named as her executor. The will was proved on 30 December 1701.
The burial places of Nathan and Alice are not known.
From 1700 to 1727 ~ Charles Horne or Horn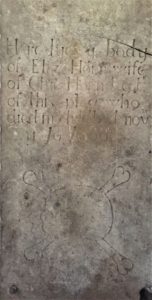 Although the tablet records that Charles Horne became rector in 1700 this is an error, as the introduction to the first ever parish register, written by Rev. Horne, states that he arrived in 1686. He must have replaced Nathan Veryard, who had died the previous year. The full inscription in that register states "This register bought by Jonathan Davy, churchwarden, 6 January 1721, contains all ye christenings, marriages and burials which have been from my induction into the Rectory of Ayot St Peter on 7 September 1686."
According to the Oxford University Alumni listing, Charles was the son of Richard Horne, the rector of Finmere in Oxfordshire. He attended Magdalen College and was the vicar of Sandridge in Hertfordshire from 1681, and rector of Chelmondiston and Woolverstone in Suffolk from 1684.
In 1688 Rev Horne's own wife Elizabeth was the first burial recorded in the new book and four of their children were buried in the years that followed – Elizabeth in 1689, Charles in 1707, Richard in 1710 and Ann in 1719. It seems that Charles Horne married again – his second wife was called Lydia, and they had a son Charles baptised in 1715 who died in 1722. Charles Horne died in 1727 and his widow Lydia the following year and both were buried in Ayot St Peter.
A stone which was lying in the old churchyard for many years was removed for safety by local historian Richard Busby and the rector in 1978 and now rests against the wall inside the church. This is a small slab with a short inscription and a skull and cross–bones below. The inscription is as follows: – Here lyes ye body of Eliz. Horn wife of Cha. Horn Rect. of this place who died in childbed Novbr. ye 10 1688.
In August 2023 some pieces of Charles Horne's own gravestone were discovered in the old churchyard. Only part of the inscription has been found but it says something along the lines of "CHARLES HORNE, Rector of Eyot St Peter in Hertfordshire for above 40 years, Died October 6th 1727, Aged 76 years". This suggests a birth date around 1651.
From 1729 to about 1732 ~ George Smith
Little is known of the next Rector, George Smith. According to the Clergy of the Church of England Database he was installed as Rector on 13 February 1729, not 1727 as it says on the tablet. He attended Trinity College, Cambridge from 1704, when he was aged 18, and was therefore born about 1686. According to the Cambridge University Alumni list he was the son of George Smith of London and attended Westminster School. He was ordained a deacon in London in 1707 and a priest in 1709.
There was a vicar of Braughing, Hertfordshire, also with the name "George Smith" who served there from 11 August 1714 until his death on 8 July 1761. The Braughing vicar wrote a book entitled "Garden Making and the Freman Family: A Memoir of Hamels, 1713-1733" about the home of the Freman family.
It seems that this was the same person, who perhaps filled in at Ayot St Peter whilst Ralph Freman completed his studies. Ralph Freman of Hamels acquired the advowson of Ayot St Peter in 1728 and is listed as the patron when George Smith was appointed Rector.
From 1732 to about 1766 ~ Ralph Freman or Freeman
The advowson (or right of presentation of the living) of Ayot St. Peter passed through many hands over the centuries. Shortly before 1728 it was sold to Ralph Freman who owned the Hamels estate, near Buntingford, Herts. There was a "Ralph" in each generation of the Freman family, but it seems likely that the father bought the living for his second son Rev. Ralph Freman, D.D who had been born in Northamptonshire in 1706 and obtained his Doctor of Divinity at Oxford in 1741. He married Agnes Forrester at Cottered (Herts) on 12 April 1743 and was buried in Braughing (Herts) on 4 July 1772. He and Agnes had no children, and Rev Freman's heir was his great nephew, Philip Yorke.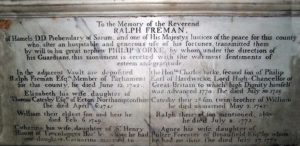 Rev. Dr. Ralph Freman demolished the medieval church in Ayot St Peter and replaced it with two buildings – an unusual octagonal church with a separate bell tower in the south-east corner of the churchyard. At the Hertfordshire County Record Office is a note by Moses Hawkins, the churchwarden of the time, about the building and dedication of this Georgian church:
"The Church of Ayott St. Peter was built or finished in ye year 1751 at ye greatest charge of ye Reverand Doctr Freman then Rector of this Parish; The first Sermon was preached Octr ye 6th 1751 by the Revd Mr. Kidgel Curate."
The living passed through the Freman family to Ralph Freman's grand-daughter Katherine (also known as Katarina) who was the daughter of his eldest son William (who had died in 1750). Katarina conveyed the living to Hon. Charles Yorke on their marriage in 1755.
From 1766 to 1804 ~ Charles Chauncy
Charles Chauncy came from an illustrious Hertfordshire family. He was the grandson of Sir Henry Chauncy, who wrote "The Historical Antiquities of Hertfordshire" (1700) and another family member – also Charles Chauncy – was the second president of Harvard College. Charles Chauncy married Susanna Caton, daughter of Thomas Caton of Thorpe Abbots (Norfolk) on 28 September 1763 [source: Burke's Landed Gentry 1914 pt1]. Charles Chauncy was buried in Ayot St Peter on 1 March 1804 "in the vault in the church" and his widow Susanna was buried on 8 July 1825 aged 83.
Inside the church is a brass plaque which reads:-
In a vault beneath the Old Church lie interred the remains of Elizabeth widow of Arthur Chauncy of the county of Suffolk, Esquire, and youngest son of Sir Henry Chauncy Knight, who died 19 Nov 1769 aged 59 [this is presumably an error since the burial register shows Elizabeth's burial or death as 19 November 1767]. Also the remains of the Reverend Charles Chauncy son of the above Elizabeth Chauncy and Rector of this parish, who died 1 March 1804 aged 72. He was appointed to the Curacy in the year 1758 and became Rector in the year 1766, discharging faithfully his sacred functions for the space of 46 years.
The "old church" mentioned here was the octagonal church in the old churchyard that existed from 1751 to 1862.  A marble tablet to the memory of Rev. Charles Chauncy was erected in the third church, built in 1862.
From 1804 to 1837 ~ Charles Chester
Charles Chester was born on 31 December 1768, the son of Robert Chester of the Middle Temple, London, and Harriot (née Caesar). He attended Westminster School and both Oxford and Cambridge universities, and was ordained as a deacon in 1793. He married Catherine, the daughter of John Roberts, Archdeacon of Merionethshire, in 1791. Rev. Chester died on 19 May 1837, aged 68, and is buried at Hertingfordbury. He had a varied career and later in life was chaplain to Lord Hardwicke, who at that time was Philip Yorke, the 3rd Earl, who was the son of Katherine Freman. [Source Cambridge University Alumni, 1261-1900]
From 1837 to 1839 ~ J.P. Lee (James Prince Lee)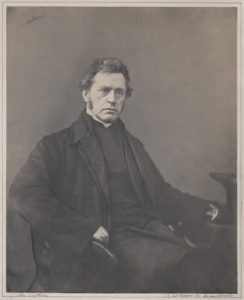 James Prince Lee was born on 28 July 1804, the eldest son of Stephen Lee, the secretary and librarian of the Royal Society and his wife Sarah.
In the Cambridge University Alumni, 1261-1900 Rev. Lee was described as "one of the most distinguished classical scholars ever known in the University." He was ordained in 1830 and served as assistant master at Rugby School from 1830 to 1838 under Dr Arnold, who thought highly of him. He became rector of Ayot St Peter in 1837 and from 1838 to 1847 was headmaster of King Edward's School, Birmingham. In 1847 he was appointed as the first Bishop of Manchester. J.P. Lee married Susannah, the elder daughter of George Penrice of Elmbridge, Worcestershire on 25 December 1830. He died on 24 December 1869, at his residence, Mauldeth Hall, near Manchester and is buried at St. John's church, Heaton Norris.
Although Rev. Lee was rector of Ayot St Peter for a very short time, it was during his tenure that the parish tithe map was drawn up (in 1838) and the new system of rent charges was agreed, to replace the old medieval obligation to give one tenth of parish produce to the church. A preliminary meeting was held in the church on 27 December 1837 and the final agreement between the rector and the landowners was made at Ayot Bury (then the rectory) on 26 June 1838.
From 1839 to 1841 ~ Phillip Yorke Saville or Savile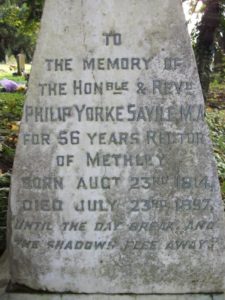 Rev. Hon. Philip Yorke Savile was born on 23 August 1814. He was the son of John Savile, 3rd Earl of Mexborough of Lifford and Lady Anne Yorke, and the great-grandson of Katherine (Katarina) Freman, the niece of Rev. Freman. He married Emily Mary Brand Hale, the daughter of William Hale and Elizabeth Leeson, at Kings Walden, Hertfordshire, on 20 January 1842.
Philip Yorke Savile was appointed rector on 11 February 1839 although he had already been serving as a curate in the parish in 1838. After leaving Ayot St. Peter, he became rector of his family's local church at Methley, Yorkshire, from 1842 until his death on 23 July 1897 at the age of 82. He is buried in St. Oswald's Churchyard, Methley, West Yorkshire with other members of his family.
From 1841 to 1862 ~ Edwin Prodgers senior and 1862 to 1867 ~ Edwin Prodgers junior
A separate page gives details for the Prodgers family
From 1869 to 1872 ~ Lewis N. Prance
Lewis Newcomen Prance was born in Hampstead on 15 June 1839, the son of Miles Hammett Prance, a barrister, and his wife Mary (née Rooke). Lewis attended Rugby school and Cambridge university and was assistant master at Haileybury College from 1863 to 1868. He was ordained as a priest in 1865; and was curate of Great Amwell, Little Amwell (both Hertfordshire) and then Hilgay, Norfolk.
Rev Prance  was appointed rector of Ayot St Peter in 1869, and in the same year married Emma Jane Trower at Stanstead Abbots on 20 October. The couple's first child Jessie Charlotte was baptised at Ayot St Peter by her father on 6 January 1871. The Prance family moved to Stapleford-Tawney with Theydon-Mount, Essex, where Lewis served as rector until his death on 14 April 1913 aged 73.
From 1872 to 1911 ~ Henry Jephson
A separate page gives details for Henry Jephson
In February 1912 it was announced that Rev. Samuel James Rowton, the curate and organist of St. Michael's church, Folkestone, Kent, had been appointed as the new rector of Ayot St Peter.  Almost immediately he withdrew his acceptance, and this presumably resulted in a delay before Rev Ryland was appointed.
From 1912 to 1939 ~ Richard Henry Ryland
In the new churchyard, close to the vestry door, is a grey granite cross inscribed as follows:-
Florence, wife of Rev. R. H. Ryland Rector of this Parish, b. 20 Dec 1855, ob. 18 Aug 1934. Also Rev. Richard Henry Ryland ob. 26 Feb 1939 aet 84 Rector 1912–1939.
Richard Henry Ryland was born on 12 March 1855 at Camberwell, Surrey. His parents were Richard Henry Ryland (a "gentleman" according to Cambridge University Alumni) and Ellen (née Fayres). He attended King Edward's School, Birmingham followed by Cambridge University. He was ordained in 1878 and was curate of All Saints, Cambridge, and Assistant Master at the Perse School from 1878 to 1881, followed by two more curate posts.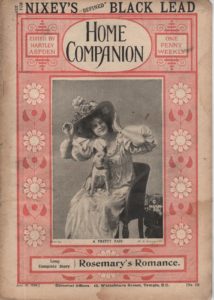 In the summer of 1884, Rev. Ryland married Florence Hodgkinson in the Bromley (Kent) registration district. The couple were first cousins – Florence's mother and Richard's father were siblings. Shortly after the marriage – on 28 August 1884 – the couple sailed from Southampton to South Africa on "The Trojan" for Rev. Ryland to take up the role of head master of the Diocesan Grammar School, Port Elizabeth, where he was employed from 1884 to 1888. Upon his return to England, Rev. Ryland held a number of other teaching and ecclesiastical posts until he became rector of Ayot St Peter in 1912. He held this position until his death on 26 February 1939 at the Queen Victoria Memorial Hospital in Welwyn.
Rev. Ryland and his wife did not have children, but Florence had her own career as an authoress, and she wrote under her maiden name from (at least) the 1870s probably until as late as 1920. Her stories were usually heart-warming moral tales which featured in magazines, newspapers and compilations, often as short stories. She was a well-known and popular writer of her time.
If anyone knows more about the Rylands do please get in touch.
From 1939 to 1947 ~ James Bromley-Boorne
James Bromley-Boorne was born in Harleston, Middlesex in 1880. His parents were Edith Alice (née Bell) and Charles James Boorne, who had married on 6 October 1877 at the Pancras register office, London, and then (rather surprisingly) married again on 8 August 1878 at St Mary's church, Tyndall's Park, Bristol. The couple also had a daughter Edith, born in 1881. Both children had the middle name of "Bromley", which was a Bell family name.
Rev. Bromley-Boorne's parents divorced in 1892, on the grounds of his father's adultery. At some point after that, his mother and the two children started using the double name "Bromley-Boorne". It is not known what happened to James' father after the divorce, but it seems likely that he was the individual "Charles J. Boorne" aged 61 who died in Bordighera, Italy some time between 1911 and 1915. This entry is listed in the consular deaths but no more details are available.
Rev. Bromley-Boorne attended Oxford university and was ordained in 1904. His first post was as curate of St Andrew's church, Croydon from 1904 to 1909. He then held various curate posts mainly around London until 1925 when he became vicar of Christ Church, Notting Hill, and he may have had other roles before coming to Ayot St Peter in the second half of 1939. He had married Anna Florence Pfundt on 14 June 1911 at St Andrew's church, Croydon and the couple had three children. Rev. Bromley-Boorne's mother died on 29 March 1942, whilst he was serving as rector at Ayot St Peter, and she is buried in the new churchyard, close to the vestry door.
At some point after leaving Ayot St Peter, the Bromley-Boornes moved to 163 Limpsfield Road, Sanderstead, Surrey. Rev. Bromley-Boorne died on 14 October 1958 and was buried at All Saints Church, Sanderstead on 18 October. He was 79. His widow Anna died in 1970. Their kerbed grave is number P5 in the lower churchyard and the inscription reads:- "In loving memory of James Bromley-Boorne, priest, who died 14th October 1958 aged 79 years, also his wife Anna Florence Bromley-Boorne died 2nd June 1970 aged 83 years. Good shepherd may I sing thy praise within thy house for ever. The king of love my shepherd is".
From 1947 to 1962 ~ Richard James Davies
Rev. Jim Davies was born in Wrexham in 1905 and attended St Edmund Hall, Oxford, and St David's College, Lampeter. He was ordained in 1929 and his first role was as a curate in Welshpool, where he remained until about 1932. He married Doris Mary Austin in 1936 in Denbighshire.
Rev. Davies was a popular rector and very involved in all village matters. He and wife Doris hosted the summer village fêtes on the front lawn of the old rectory.
Rev. Davies was also a prime mover in the establishment of the Ayots Horticultural Society in 1952, which is a joint society for both Ayot villages. He was appointed as the first chairman, and volunteered to invite the 2nd Lord Brocket to become president – the invitation was accepted.
After leaving Ayot, Rev. Davies became the vicar of Benington with Aston, two other Hertfordshire villages. He was Rural Dean and was also appointed Canon. Later, he and his wife moved to Wells, Somerset, where he died in 1978. His widow Doris died in 1997.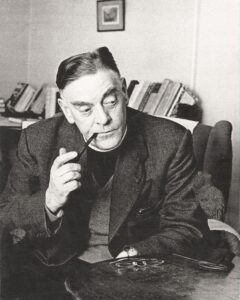 Rev. Davies was very involved in Toc H, a Christian based movement that began during the First World War. Toc H promotes Christianity through deed and example rather than by preaching. By 1933 Rev. Davies was Padre of Toc H Yorkshire area and rose through the organisation over the years.
I am indebted to Toc H and the Cadbury Research Library at the  University of Birmingham (which holds the Toc H archive) for the following obituary for Rev. Davies:-
"Rev R J (Jim) Davies died on 20 Feb at the age of 73.  He joined Toc H staff in the Yorkshire Area more than 45 years ago and in 1956 succeeded Herbert Leggate as Administrative Padre. He combined this work with his parish duties and in 1963 pressure of work in the church forced him to resign his appointment with us. His insight into the 'profound simplicity of Toc H' was unsurpassed. The setting up of the Bordon Company and the publication of The Still Centre were largely due to him. He will be sorely missed by many." [Source – Cadbury Research Library, University of Birmingham. Toc H 'Point Three' magazine April 1978, page 11. Finding number: TocH/Section 10/B13]
From 1963 to 1973 ~H.F.S. Morilyon-Loysen
Hendrik Frederik Steenbakker-Morilyon-Loysen was born in Holten, a small farming village in Holland in 1907.  His father and grandfather before him had been clergymen, and he did everything he could to avoid the same fate!  He did his military service in the cavalry, where he furthered his knowledge on horses.  He studied chemistry in Amsterdam before getting a job in France at a sugar refinery in Cambrai, this being the time of depression in Holland.
Following a conversation on a train on his return to Holland, he was given a contact in South Africa to breed horses, where he stayed from 1936 to 1948. While there he did many different jobs, including working on rubber at a Firestone factory, but couldn't escape his calling to the church. In 1943 he was ordained in Grahamstown Cathedral, Rhodesia and worked there, after which he became Port Chaplain in Cape Town and part of Missions to Seamen.
He came to England, via Dublin, in 1948 as curate for St Marylebone Parish Church, where he met his future wife, the singer Joyce Gow who was teaching at the Royal Academy of Music next door.  They married in 1953 when he was Priest in Charge at St Phillip & St James, Woodford (the church no longer exists).  They had two children there, Antonia and Elena, and five years later moved to Kingstanding in Birmingham where they had Jeremy and Joanna. Joyce Loysen continued her career teaching at the Birmingham School of Music as well as helping Hendrik with his church work.
In 1963 the family moved to the parish of Ayot St Peter with Ayot St Lawrence. From the biggest to probably one of the smallest parishes! The first year they lived in the Old Rectory on the corner, and with the extra space had goats, chickens and dogs. The arrival of goat kids was announced in church on Palm Sunday!
A choir was formed (Joyce Loysen made the choir gowns), and was affiliated to the Royal School of Church Music. There were always lots of volunteers to join in carol singing around both villages and the big houses at Christmas, as well as lots of music in the festive services. There were visits from the Taizé Community from France, Hendrik Loysen being a great Francophile, and there were services for blessing Lady Hart-Dyke's Lullingstone silk worms as well as concerts in the church organised for the Shaw weekends, the latter two being of course in Ayot St Lawrence.
Hendrik Loysen retired in 1973 and moved to Welwyn Garden City, and continued to take occasional services until he died in 1975. Joyce Loysen continued playing the organ for the Sunday services at St Peter until she moved to France in 1989. She died in 2018 and is buried with Hendrik in the churchyard, next to her parents, who had lived at the Rectory with the Loysens in their old age. [with thanks to the Loysen family for this text].
Rev. Loysen was the last Rector of both the Ayot villages. After his retirement, a Pastoral Measure dated 17 July 1975 split the two parishes. Ayot St Peter was joined with Welwyn and Ayot St Lawrence was joined with Kimpton.
I am indebted to Peter Shirley for much of the above information, and also the book "Ayot St. Peter, The Parish Story" published in 2000