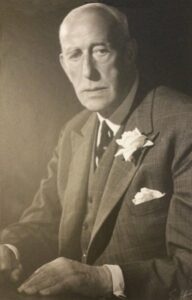 Basil Sanderson was the son of Harold Arthur Sanderson and his wife Maud (née Blood) and was born in America on 19 June 1894. His wife, Evelyn Constance Ismay was born in Mossley Hill, Liverpool, on 17 July 1897 and was the daughter of Joseph Bruce Ismay and his wife Julia Florence (née Schieffelin). Basil and Evelyn married at St George, Hanover Square, London on 27 January 1927 and lived in Ayot Bury from 1937.
We are indebted to their son and daughter, Alan and Pauline, for the following tribute to Lord Sanderson: –
"Basil Sanderson loved the countryside. He was very happy to move, in 1937, with his wife and three children, from a large Victorian house with a 4-acre garden, in Highgate, London, to a larger house with an 8-acre garden and a 30 acre park with magnificent trees.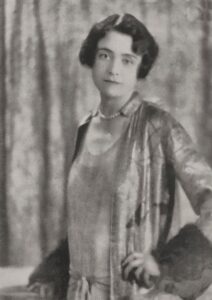 Ayot Bury was the perfect home for a young family. The big house had a capacious 'school-room', which had once had that purpose, and extensive out-buildings. Basil and his wife, Evelyn, added a servants' wing (how times have changed!) and made major changes to the garden.
But the future was threatening. In September 1939 Germany invaded Poland, and Britain went to war. Within a week, war plans came into operation and Basil became a civil servant. Now he was heading a group of shipowners in what was to become a major organisation, Port and Transit Control. Later, under his leadership, it handled all merchant ships using British ports.
Basil was well prepared for the trials of war work. He had played a highly endangered part in the first world war, though in a very different capacity. In France from 1915 to 1917, he was intensely active and was twice awarded the Military Cross. In 1917, aged only twenty-three, he was GSO 2 of a brigade, with the rank of major. Back in England he was active in the shipping industry, from 1920 to 1939, and became senior manager of the Shaw Savill line, serving Australia and New Zealand. He developed a strong interest in industrial relations generally, and his experience as president of the British Employers Association and chairman of the Shipping Federation and the Port Owners was to strengthen his abilities for his period as civil servant in the Second World War from 1939 to 1945.
The 1939-45 war included an even greater disaster for the Sanderson family. In 1940, when Evelyn, trying out a pony for her daughter, was crushed as the pony reared and fell on her. She died days later. Elaine Ainley, a friend of Evelyn, came to give emergency help, and stayed. The children went to boarding school and life continued.
At this tragic time Basil's war work (6 days a week and sometimes more) became a blessing. War fortunes turned, as America came in against Germany and Japan. With the additional task of importing each week, 20,000 tons of supplies for the US army, Basil was even busier. In spite of the pressure, he said later that, with the responsibility and the many new friends, this was the happiest time of his life.
When the war ended in 1945, Basil returned to Shaw Savill as chief executive and was active in rebuilding a fleet which had suffered during the war. Under his direction Shaw Savill had the honour of providing the liner Gothic for a royal visit to Australia and New Zealand in 1954. There were other high points, when the queen and the queen-mother launched two liners of revolutionary design, the Southern Cross and the Northern Star, in 1954 and 1961.
In 1960, to his astonishment, Basil was made a baron. He was 66 and on the verge of retirement. It seems that his wartime contributions and subsequent activity in the industrial relations sphere had caught up with him! He accepted gladly and got on with retirement. He was still a keen tennis player and he continued to enjoy grass-court tennis at Ayot Bury, where he frequently proved his superiority against local friends and business associates. At last he had time to see more of Ayot Bury and the beautiful garden which he and Evelyn had created.
It isn't possible to mention every city activity, but I must mention his part-time directorship of the Bank of England, where he served for 20 years with distinction. It is an appointment which every industrialist values, and it gave him particular pleasure.
Finally, I must mention Basil's love of dogs. Most loved of all was Jake, an airedale, with a taste for fighting. Later came a succession of labradors. Only Jake was honoured with an epitaph, when he lay, taking his final rest, in the Park, near Bunnyland, a favourite copse.
Jake awake in Bunnyland, Gallant hound
If a verse were to be written in memory of Basil Sanderson, it would be appropriate to have something in a similar vein."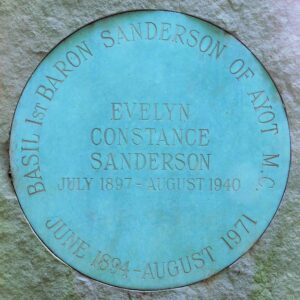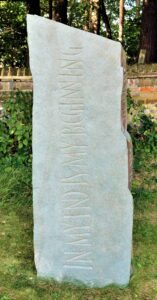 Lord Sanderson's memoirs, entitled "Ships And Sealing Wax" were published by William Heinemann Ltd in 1967, and his diaries have been deposited with the Archives Centre at Churchill College, Cambridge.