The Garratts were an extensive family of farmers and millers in Hertfordshire and Essex and their connections to Ayot St Peter may have spanned two hundred years. The first mention of the family was on 4 December 1698 when 21-year old Thomas Garratt married Mary Buck (who is believed to have been a farmer's daughter of this parish) at Ayot St Peter church.
Over a hundred years later their great, great grandson Samuel Garratt (1798-1879) moved to Ayot St Peter when he became the first tenant of the newly-built Ryefield Farm. The farmhouse was built in 1832 and was home to various members of the Garratt family for almost seventy years.
Samuel Garratt was born in Codicote in 1798, the son of Samuel Garratt and his wife Elizabeth (née Lawman). He married Elizabeth Porter at Walkern in 1822, and they moved their young family from Codicote to Ryefield Farm in 1832. The couple had four surviving children:- Samuel (born c.1823), Mary Ann (c.1825), Thomas (c.1829) and Elizabeth (c.1831). Four further children were born in Ayot St Peter:- William (c.1834), Hester (c.1835), Maria (c.1838) and Sarah Emily (c. 1843).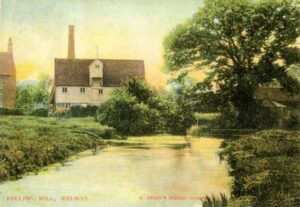 Samuel Garratt's wife Elizabeth Porter died in 1845, and afterwards he moved away to take over the Fulling Mill to the north of Welwyn and died in Codicote in 1879.
In the 1851 census Ryefield Farm had two occupiers, both called Thomas Garratt, and it seems that the farm was split between them.
Samuel and Elizabeth's unmarried son Thomas (born 1829) was in occupation of 220 acres and employing nine men (including his younger brother William) and two boys. The other Thomas (born 1825) was his slightly older first cousin – the son of Samuel's brother George. The older Thomas had married the younger Thomas' sister – Samuel and Elizabeth's daughter Mary Ann (born 1825) – and he was farming a small plot of just 12 acres. Thus the two Thomases were both first cousins and brothers-in-law.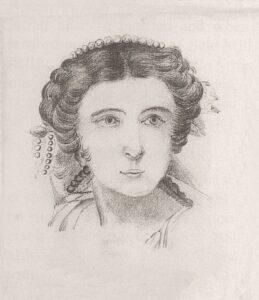 The younger Thomas married Emily Kingsley (born 1825) at Walkern on 7 May 1851. The couple had two sons born in Ayot St Peter – Samuel Kingsley (born 1852) and Joseph (1853).
Thomas died on 29 October 1855, leaving Emily (who liked to be called Emila) a young widow with two small boys. She took on the role of farmer and by all accounts made a considerable success of it. She was listed as the occupier of Ryefield Farm in both the 1861 and 1871 censuses. Both her sons lived with her in 1861, but by 1871 only Samuel was recorded. Both sons eventually married and moved to London – Samuel married Eliza Jane Gatlish in 1876 and Joseph married Susan Pearman in 1879.
Shortly before his death in 1939, the younger son Joseph (born 1853) wrote up notes about his childhood, which give a fascinating glimpse of life in the village in the mid-19th century. Joseph went to school in Codicote until March 1862, travelling back and forth either by donkey or on foot.
From March 1862 until December 1864 Joseph was a weekly boarder at a school in Hatfield. He remembered that the toll on the Great North Road at Ayot Green was 6d and that another toll was payable at Mount Pleasant (now Tesco, Hatfield). His mother Emily did not like paying the two tolls "so we did not very often get a ride to school". He walked the five miles to Hatfield on Monday morning and walked back again on Friday afternoon – in the dark in the winter months, although "sometimes someone would come and meet us." Joseph's last school was Prospect House at Tring. Whilst there in 1867 he drew and painted the two views of Ryefield Farm which are reproduced here. Joseph remembered that there used to be a date stone on one of the gables of the farmhouse, giving the year of construction as 1832.
The Garratts were well-known non-conformists who built the chapel in Codicote High Street in 1861 and contributed to the cost of building the chapel in Welwyn. Joseph Garratt went with his mother to Welwyn chapel on Sunday mornings. It was a legal requirement at the time that the family attended the parish church but, as a non-conformist, Emily Garratt would not go. Young Joseph attended the second (octagonal) church on Sunday afternoons – presumably as the family's token compliance. He recalled sitting in the gallery, from where he could look out of the window towards the separate bell-tower while Rev. Edwin Prodgers senior preached.
Emily died in 1873 and her brother-in-law (Thomas' younger brother) William Garratt (born 1834) took over as the farmer with his wife Mary Ann Medcraft (born 1846). They were at Ryefield Farm in both the 1881 and 1891 censuses. William died in 1894 but his widow Mary Ann must have stayed on at Ryefield for a few more years. In 1898 Joseph's last child, Rosa Ida, was born at Ayot (which must mean the farm), despite the fact that since 1884 he had been running a pig farm at 34 Codicote Road, Welwyn.
By 1901 Mary Ann had departed to become a boarding house keeper at Stevenage and died in 1914. Joseph and his family went to live in London in 1899, thus finally severing the Garratt family's connection to the Welwyn area.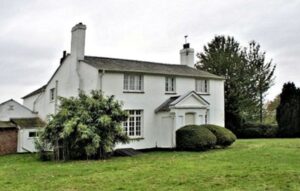 Ryefield Farm ceased being a working farm in 2010 and is now a private family home.
The Medcraft family
In the old churchyard is the grave of Richard Medcraft and his second wife Harriet (née Twelves). Richard was the first cousin of Mary Ann Medcraft (born 1846) who married William Garratt.
Richard Medcraft was born in Toddington, Bedfordshire, on 29 March 1835, the third son of a farmer, also named Richard Medcraft, and his wife Hannah (née Eames). Mary Ann, his cousin, was the daughter of the elder Richard's brother, George.
A few years after Richard's birth the family had moved to Robley Heath, near Welwyn. Later came another move to Kimpton, where Richard's mother Hannah and two young sisters died in 1850 and 1852.
Perhaps these were the events that prompted Richard to travel overseas, but in 1857 he married Ellen Power (the daughter of John and Sarah Power) in Corfu. By this time Richard was working as an "overseer" for Jackson & Company's Works in Malta. Richard and Ellen had two children born in Malta – Richard Charles born in 1861 and Ellen Sarah born in 1863, but Richard's wife Ellen died in Malta on 16 April 1864. Richard married again in 1866 – his second wife Harriet Twelves was also from Corfu. She was the daughter of Thomas and Esther Twelves.
By the time of the 1881 census the family had returned to the UK and were living at Plym Villa, 23 Trafalgar Road, Egremont (an area of Wallasey, on the Wirral Peninsula).
Richard Medcraft died at Ryefield Farm (which was also known as "New Farm") on 8 December 1883 aged 48, presumably on a visit to see his cousin.
The friendship between Richard's widow and cousin was obviously strong. Harriet was living with Mary Ann Garratt in the 1901 census in Stevenage, with Harriet's step-daughter Ellen Sarah Graham (née Medcraft) and her 3-year-old daughter Mary. In the 1911 census Harriet Medcraft and Mary Ann Garratt were still living together, this time at "Homeside", Great Northern Road, Dunstable, where Mary Ann Garratt died on 21 July 1914.
Harriet Medcraft died on 23 December 1915 aged 88, and was buried with her husband at Ayot St Peter on 28 December. The address in the burial register is 99 West Street, Dunstable. A plaque commemorating Harriet was attached to the reverse of Richard's gravestone.
Richard Medcraft's son Richard (born 1861) married Agnes Dunkin in New Jersey in 1886. The couple spent some time in England before finally moving to California where Richard died in 1934. Richard Medcraft's daughter Ellen (born 1863) married William Drummond Graham and their first child was born In Bombay (Mumbai). William died in Shanghai in 1918; Ellen died in Kent in 1953.