The earliest mention of the Gayler family in Ayot St Peter was the marriage of John Galer and Sarah Cannon on Monday 10 February 1777. Both parties were 'of this parish'. After their marriage John and Sarah moved around the local area and appear to have had the following eight children:-
Thomas (baptised Welwyn 1778), William (baptised Bishops Hatfield 1780), Sarah (baptised Ayot St Peter 1782), James (baptised Ayot St Peter 1785), Ann (baptised Welwyn 1787), Joseph (baptised Welwyn 1790), Mary (baptised Welwyn 1792 and buried in Ayot St Peter aged 23 in 1815) and Martha (baptised Welwyn 1795 and buried in Ayot St Peter aged 18 in August 1813).
John died in 1795, just a few months after the birth of the youngest child Martha. Both he and Sarah were buried in Welwyn:- John Gailor was buried on 5 October 1795 (no age or abode given) and Sarah Gailor of Ayot Green aged 59 was buried 11 April 1813 (making her birth around 1754).
It seems likely that Sarah Gayler moved her young family to Ayot St Peter after John's death, perhaps to get help from other relatives. Although she was buried in Welwyn, presumably with her husband, the other family baptisms and burials were in Ayot St Peter from 1813 onwards.
The second son of John and Sarah was William Gayler (born c. 1780) who married Hannah Maple on 10 June 1816 at St Peter's, St Albans. Hannah came from Clyst St Lawrence, near Exeter in Devon. She was the daughter of Thomas and Sarah, baptised on 12 August 1792 with the surname "Mapledorum" – some of the other family baptisms are recorded under this name and others as plain "Maple". It is not known if this was a deliberate name change or just a whim of the officiating minister.
William and Hannah Gayler had eight children baptised in Ayot St Peter:- Maria in 1817, Mary Ann in 1819, Elizabeth in 1820, Henry in 1823, James in 1826, Sarah in 1828, Eleanor in 1831 and William in 1836.
William died on 26 December 1850 aged 71 years and Hannah died on 28 December 1872 aged 80. They are buried in the old churchyard.
Two of their daughters are also buried in the old churchyard under their married names:-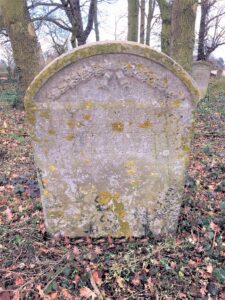 Sarah married Edward James Sear in Deptford, Kent, on 15 June 1862. She died on 3 November 1871 aged 40 and is buried close to her parents. Eleanor married Edwin Jaques in Wandsworth in 1871. She died in 1915 and is also buried in the old churchyard but her grave is not marked.
The second son of William Gayler and Hannah (née Maple) was James, who married Emily Parker of Welwyn in 1852; their marriage was registered in the Hatfield district. Emily lived to be 80 and in the 1911 census, shortly before her death, she recorded that she had given birth to fifteen children, of whom three had already died. All the children were baptised in Ayot St Peter, as follows:-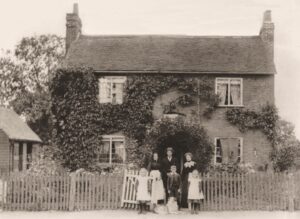 Emily baptised in 1853, Hannah Maria in 1855, Sarah in 1856, Ellen in 1858, Maple in 1859, William in 1862, Arthur in 1864, James in 1866, Fanny in 1869, Fred in 1870, Frank in 1872, Eleanor in 1874, Alice in 1876, Adah in 1877 and George in 1881.
James Gayler worked as a gardener and the family lived on Ayot Green, although in the 1881 census they were at Ayot Bury Lodge close to what is now the Ayot St Peter Road entrance to Ayot Bury. By 1891 James and Emily were living on Ayot Green again, probably in the house now called The Old Post Office (number 6) and Emily was running a shop. At some point around 1912 this also became a Post Office, possibly when Emily died, as by 1914 her daughter Fanny Gayler was the postmistress.
The two young children who pre-deceased their mother are buried in Ayot St Peter old churchyard – Ellen, who died at the age of 2 in 1860 and George, who died age 9 in 1890 and is recorded on his parents' headstone. Their father James died on 2 May 1895 age 69, and their mother Emily on 9 May 1911 aged 80.
Also recorded on the parents' headstone is their eldest son Maple, who died aged 30 in 1889. Maple is a rather mysterious figure. It seems he travelled to Queensland, Australia on an assisted passage in 1877 but came back within a few years. An entry in the 1881 census shows Maple Gayler lodging in Stevenage High Street aged 21 with his occupation recorded as "book agent", although his birth place is recorded (incorrectly) as Stevenage. It is certain that he died on 9 July 1889 and is buried in Barnsley Cemetery (Yorkshire) – these facts are engraved on the headstone.
Maple was killed in an accident when he was managing a rifle range at a fun fair and accidentally shot himself whilst cleaning a gun. At the time of his death he was apparently using the first name "Henry" (or at least, the witnesses at the inquest believed him to be Henry) and his burial is recorded under this name.
James and Emily's son James (b. 1866) married Clara Ralph at Ayot St Peter church on 8 October 1894. He gave his occupation as "Railway Guard, GNR" [Great Northern Railway]. Clara was born in Aylesford, Kent, and after their marriage the couple lived in Stroud Green, north London.
Clara died in 1927 aged 58 and is buried in the new churchyard, together with her husband's sister Fanny Gayler (b. 1869, died 1958 aged 89). Also in the grave is their niece Dorothy May Fever – the daughter of James' sister Eleanor (b.1874) and her husband Albert Harry Fever. Along one side of the grave is a memorial to James and Clara's son Percy James Gayler who was killed in France on 25 September 1916 aged 21. James Gayler (Clara's widowed husband) was living in Smallford in 1939 but died in Dorking, Surrey in 1956. [Percy James Gayler (1895 to 1916) is also remembered on our war memorial.]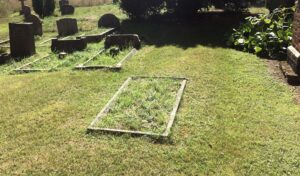 Close by, in the new churchyard, is the grave of James' brother Fred Gayler who died on 17 September 1919 aged 48, and his wife Mary (née Baines) who died on 12 December 1936 aged 67. Fred Gayler was the first person buried in the new churchyard, so this is the earliest grave.
Two other daughters of James and Emily (née Parker) Gayler are buried in Ayot St Peter. Their daughter Hannah Maria Gayler (b. 1855) died in 1916 aged 61 and is buried in the old churchyard, but her grave is not marked. James and Emily's daughter Alice (b. 1876) married Joseph Halsey in 1900 and they are both buried in the new churchyard – Joseph in 1930 and Alice in 1958. Their daughter Alice Mary (b. 1901; d. 1975) is buried with them.
A Gayler mystery
The inscription on the grave that records the death of James and Clara's son Percy James Gayler who was killed in France on 25 September 1916 aged 21 describes him as their "only son", yet this seems to be incorrect. In the 1911 census, James and Clara were living at 15 Mount Pleasant Road, Stroud Green, and they had two sons – Percy aged 15 and Herbert aged 7. In the same census return, Clara stated that she had given birth to two children, both of whom were living. The younger brother, Herbert, has proved hard to trace. It is thought he was Herbert W. Gayler, born in Islington in 1903, probably 22 April, although his birth entry cannot be found. He appears to have married, was living at 200 Stroud Green Road in the 1939 register, and he died in 1963. If anyone reading this can throw more light on the life of Herbert we would be delighted to hear from them.
Dorothy May ("Dolly") Fever
James and Emily Gayler's daughter Eleanor (b. 1874) married Albert Harry Fever on 21 March 1905 at St George's Hanover Square, London. Albert was born on 16 April 1881 in Maidstone, Kent, and had joined the Grenadier Guards in 1900. He served both in South Africa and at home, and was a batman (officer's servant) for nine years [service number 9181]. Although he was discharged in 1912, he re-enlisted in 1913 and served through the First World War. At the time of the wedding, Albert was based at Wellington Barracks. On the marriage certificate he gave his occupation as "valet", possibly because he had not obtained regimental permission to marry. He was added to the married roll in 1908.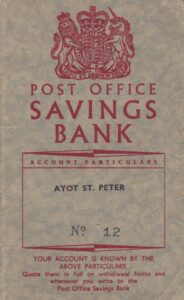 Albert and Eleanor had six children: James Henry born 24 November 1907; Dorothy May born 7 May 1910; twins Beatrice and Lilian born 11 September 1911; George born 15 August 1913 and Arthur born 14 September 1916. James was born in Pirbright, Dorothy and the twins were born at Wellington Barracks. The other two were born at Loose (Maidstone) which is where Albert and Eleanor lived after his retirement from the army. However, when Albert died on 31 December 1921 his death was recorded in Lambeth. By the time of the 1939 register, his widow Eleanor was living in Hatfield. She died in 1944.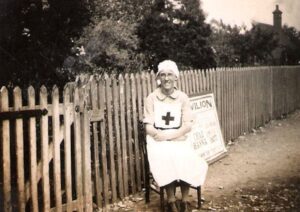 Around 1913, their daughter Dorothy May Fever, who was known as "Dolly", moved to Ayot Green to live with her aunt Fanny Gayler (b.1869). Later, she helped run the Post Office and shop. Dolly eventually took over the business in 1953 and continued after Fanny's death in 1958. Dolly lived on the Green until her own death on 26 November 1977 aged 67. The shop business ended upon Dolly's death, although the post office had closed some years previously. Dolly and her dog Pickles are remembered by some of the long-standing residents. The post box remained outside the cottage for a while, but was later moved to its current site by the parish notice board.
With thanks ….
We are indebted to Dennis Galvin who has helped us discover the history of the Gayler family and added to our knowledge of the parish in times past. Dennis is descended from William and Hannah's daughter Maria (b 1817) who married Thomas James Rabbatts (an engineer) at St.Lukes, Charlton Parish Church in 1842. Their daughter Sarah Gayler Rabbatts (b 1851 Greenwich) married Joseph William Galvin (b 1848 Limerick) at St Paul's, Southwark, on 30 March 1874. Joseph was a police constable in 1874 but became a beadle and caretaker, living at 19 Gracechurch Street, close to the Monument, for 42 years. Joseph and Sarah Galvin were Dennis' great grandparents.