At the back of the old churchyard is the grave of Rev. Robert Brown-Borthwick – a large marble cross laid horizontal within the grave and a low granite surround with the inscription on the inner edge in large letters, as follows:-  Rev. R. BROWN–BORTHWICK; for 22 years vicar of All Saints Scarborough.
Robert Brown-Borthwick was born plain "Robert Brown" in Aberdeen on 18 May 1840, the son of William Brown by his second wife Mary Ann Hendrie. He was the half-brother of Catherine Sarah Burns (née Brown) and the full brother of Jane Susan Jephson (née Brown), both of whom are also buried in the old churchyard. More information about the Brown family of Aberdeen can be found on the page about Catherine Sarah – Brown family background
An obituary in the Scarborough Gazette of 22 March 1894 explains that Robert's first career was in the military:- "…. While still undecided as to what profession to adopt …. he accepted a commission in the East York Militia, and subsequently spent some time abroad, during a portion of which he accompanied the allied armies of Prussia and Austria through a great part of the Dano-German campaign, being present at the battle of Oversee. On his return to England he was offered a commission in the regular army, but he decided to enter Holy Orders ….."
[The Battle of Sankelmark, also known as the Battle of Oversee, took place on 6 February 1864. It was part of a war over ownership of the Duchy of Schleswig between an alliance of Prussia with Austria and Denmark.]
Once he had settled on his career, Robert was educated at St. Mary Hall, Oxford and took Holy Orders in 1865. He served as curate of Sudeley (and chaplain of the Winchcombe Union), Gloucestershire (1865-66) and Evesham, Worcestershire (1866-68); assistant minister of the Quebec Chapel, London (1868-69); and incumbent of Holy Trinity, Grange, Cumbria (1869); and vicar of All Saints, Scarborough, North Yorkshire (from 1872 until 1893). In 1893 he arranged an exchange of livings with Rev Coryndon Baker so that at the time of his death the following year he was vicar of St John's, Clapham Rise (London).

Robert married Grace Borthwick on 16 April 1868 at Westminster Abbey. By the following year Robert was using the double name "Brown-Borthwick.".
Grace's gravestone makes reference to her helping with the poor of London "in connexion with Quebec Chapel" before her marriage. This is probably where she met Robert, although The Scarborough Gazette and Weekly List of Visitors of 22 March 1894 carries an obituary for Robert in which it states that they met because Grace nursed her future husband when he was ill.
Grace was about ten years older than Robert as she was born in 1830. She was the fifth child of John Borthwick of Borthwick Castle and his first wife Anne Dundas. There were no children of the marriage of Grace and Robert Brown-Borthwick.
Grace died at All Saints' Vicarage, Scarborough on 30 June 1884 aged 54 and is buried at Borthwick (Midlothian). Henry Jephson (Robert's brother-in-law) conducted her funeral service. Grace's headstone carries a detailed description of her life, as follows:-
Sacred to the dear memory of Grace Brown-Borthwick wife of the Rev Robert Brown-Borthwick (né Brown) vicar of All Saints Scarborough. Daughter of John Borthwick, Esq. of Crookston by his first wife Ann Dundas (Arniston). Died at Scarborough June 30 1884 aged 54. This stone is erected by her sorrowing husband to whom for upwards of sixteen years she was the most loving and dearly loved wife. For several years previous to her marriage she gave herself entirely to work among the poor in London in connexion with Quebec Chapel* and by them as well as by the poor of the parish of All Saints Scarborough she was beloved beyond expression. She fell asleep in humble faith in the merits and mediation of our Lord and Saviour Jesus Christ.
It is likely that it was during his time at Evesham that Robert Brown-Borthwick met Henry Jephson (later the rector of Ayot St Peter) who was curate of Evesham from 1867 to 1872 read more about Henry Jephson
Henry Jephson married Robert's sister Jane Susan Brown in 1872 and Grace Brown-Borthwick was a witness at the wedding.
Robert died on 17 March 1894 at 50 Weymouth Street, Portland Place, London aged 53 and was buried in Ayot St Peter on 21 March 1894. He was a noted writer of hymns, publishing several volumes of work in the 1860s and 70s, and some of his works are listed in the obituary below:-
Robert's will stipulates bequests to two faithful servants from his time in Scarborough "in compliance with the the expressed desire of his late wife" but otherwise everything was passed to his sister (Mrs Jephson) and her daughter Mary Grace Jephson.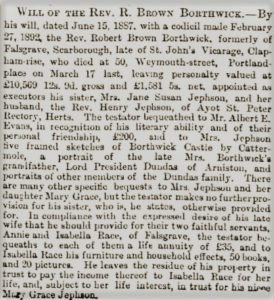 Robert's gravestone can be seen at the back of the old churchyard .
I am indebted to Angela Kale of North Yorkshire Archives for sharing the following clipping, which shows that All Saints church was eventually demolished.
*The present Church of the Annunciation, Bryanston Street, London W1 stands on the site of Quebec Chapel, built in 1787 by the Portman family to commemorate Wolfe's victory at Quebec in 1759 and demolished in 1911.