The beautiful and unusual "Arts and Crafts" styling of our church is the work of the renowned Victorian architect John Pollard Seddon.
J.P. Seddon was born in the City of London on 19 September 1827, the third child of successful cabinet maker Thomas Seddon and his wife Frances Nelson, née Thomas. He was educated in Bedford.
John was the younger brother of the noted Pre-Raphaelite landscape painter Thomas Seddon (1821 – 1856), and this movement had a lasting effect on J.P. Seddon's work. In time he forged friendships with influential Pre-Raphaelites including Ford Madox Brown, Dante Gabriel Rossetti and William Morris. The V&A Museum has an item made by Seddon in 1861, known as King René's Honeymoon Cabinet, which has painted decorations by Ford Madox Brown, Dante Gabriel Rossetti, William Morris, Edward Coley Burne-Jones and Val Prinsep.
Seddon was an advocate of the Gothic revival, maintaining that Gothic was the only true Christian art, "most scientific and beautiful, and most in accordance with common sense"*. His architectural practice flourished in the 1860s and early 1870s, and he designed some significant secular buildings, including University College, Aberystwyth. However, he was primarily an ecclesiastical architect, and he built churches at Chigwell Row, Essex (1865–7), Great Yarmouth (St James's, 1869–78), Ullenhall, Warwickshire, and Ayot St Peter (1874–5), and Hoarwithy, Herefordshire (c.1872–85). He also restored many medieval churches, notably St Nicholas's, Great Yarmouth (1863–77), Llanbadarn Fawr, Cardiganshire (1867–80), and Grosmont, Monmouthshire (1869–75).
Seddon was also a prolific designer of furniture, stained glass and mosaic. At St Peter's he designed the painted ceiling, some of the stained glass, the pews, the lectern and the mosaics and tiles. He also designed Arts & Crafts furniture for Lancashire company Gillows, as well as his family firm. He was a tutor to C.F.A. Voysey, another important figure in the English Arts and Crafts movement.
Seddon wrote numerous articles and gave frequent lectures, and was known for his witty style. He was elected fellow of the Royal Institute of British Architects (RIBA) on 5 March 1860, and repeatedly elected honorary secretary between 1862 and 1871. Two thousand of Seddon's architectural designs for buildings in England and Wales are archived at the V & A Museum, London. The museum also holds a stoneware jardinière designed by Seddon, made at the Fulham pottery in 1877.
On 12 May 1864 Seddon married Margaret Barber (1836–1910) of Brighouse, Yorkshire, with whom he had three children, Maud, Hugh, and Katherine. He died in a nursing home in London on 1 February 1906. His funeral was held at St Mary-le-Park church, Battersea (now demolished), and he was buried in Old Fulham Cemetery (Fulham Palace Road, London SW6). Although Seddon was known for the Gothic style, the cross (now fallen) is Celtic.
We are indebted to Sarah Baxter and Derek Lamden for finding Seddon's grave.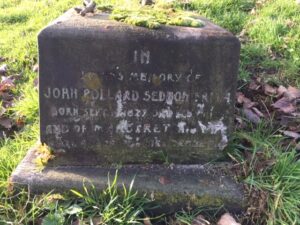 *Building News, 1858