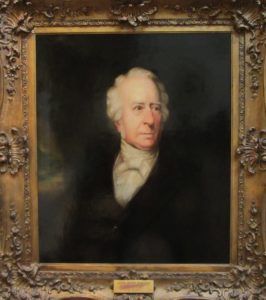 Towards the north-east corner of the old churchyard stands an imposing marble tomb inside an iron fence. It surmounts a vault, to which descends a flight of steps; the entrance is protected by a large flat stone slab. The tomb, fence and slab must have been manufactured elsewhere and transported to the churchyard – probably from London by train to Hatfield and thence by several wagons. A team of workmen must have accompanied this very heavy load and then excavated and lined the vault before erecting the tomb on top of it. It is recorded in the burial register that this is how the Forsyth tomb was erected in 1800 but unfortunately there is no similar record for when the Peacock tomb was erected in 1849.
There is no local stone suitable for tombs or headstones. The nearest sources would have been in Northamptonshire or Rutland. Before the arrival of the branch railway in the parish in 1860 made transport of stone reasonably practical and economical, it would have been prohibitively expensive to have such a memorial, and for this reason almost all graves with any sort of marker had a wooden memorial – two posts and a cross member. There are only five stone monuments dating from before 1800 and only another two from between 1800 and 1849.
The old churchyard
In 1849 the half-acre churchyard was occupied by the octagonal church and bell tower. Their demolition and replacement occurred very shortly after the last burial in the vault under the Peacock tomb. When the new church was burnt down in 1874 the current parish church was built on a different site in 1875. There is a drawing of the wrecked church from just beyond the Peacock tomb, showing it in the foreground and a number of wooden grave markers between it and the church.
The surviving east end of the Victorian church was converted into a mortuary chapel, and the old churchyard continued to be available for burials until 1954. The last stone memorial dates from 1945.
It is quite hard to find the old churchyard but those who do so are rewarded by a scene of tranquillity and, when the snowdrops and daffodils are flowering in their season, real beauty. The three fenced tombs add to the charm of the place. It is owned by the rector for the time being and is cared for on an occasional and voluntary basis.
The Peacock family
Two brothers, their wives and a daughter of the younger brother are buried in the vault under the Peacock tomb. The Peacocks were a family based in the City of London but by 1838, when the tithe map of the parish was made, the elder brother, John Henry, had become the owner of a copyhold house on Ayot Green. He, his wife and his niece were in the house when the 1841 census was taken. After he and his wife died in 1849 the younger brother, Joseph, inherited the copyhold interest and became a resident of the parish. He and his wife Maria, together with one of their daughters and a granddaughter, were present for the 1851 census. By the next census in 1861 he was a widower living there with a married daughter and her daughter; two grandsons were also present as visitors. By 1871 there were no Peacocks in the parish to be counted by the enumerator.
Christopher John Peacock (1738-1815) was the father of John Henry and Joseph. Their mother was Sarah Long (1743-1813). This couple were married at St Peter Cornhill on 12 December 1761 and had eight children, of whom John Henry was the second and Joseph the youngest. Apart from their sister Elizabeth (1766-1833), all their siblings seem to have died young.
Christopher John was known by his second name and he will be referred to as John Peacock from now on. He was the ninth of the 11 children of Edward Peacock and his wife Elizabeth Boddington. Their wedding took place on 25 March 1722 in the Bedfordshire parish of Turvey. This was undoubtedly the home village of Elizabeth but whether Edward was a native of the parish is unknown. The matrimonial home was at Turvey, where Edward was the schoolmaster. His date and place of birth are undiscovered but he was buried at Turvey on 17 February 1767.
All but one of the 11 children were baptised at Turvey between 1722 and 1744. In December 1722 Elizabeth gave birth to twins Ann and George. They were baptised together in the City of London at St Mary at Hill on 12 December but by 21 December only Ann was alive to be baptised at Turvey. She died three days later on Christmas Eve. Right from the start of the marriage there was, clearly, a family connection to the City of London. John Peacock was born in 1738 and died in 1815. He had an elder sister Elizabeth (1727-1814) and a younger brother William (1740-1816). These three all made their lives in the City. There was a sister Catharine (1732-91) who seems to have spent her life at Turvey. There was also a brother Boddington (1735-69) who became apprentice to a member of the Fishmongers' Company in 1753, married in 1763 and had two daughters baptised at St Sepulchre's before dying aged 34. The youngest of the 11 was Temperance (1744-65). Other children called Ann, Boddington and George died young or very young.
What it was that drew John Henry Peacock to Ayot St Peter is a minor mystery. Although it is the case that a C18th traveller going from London to Turvey would be likely to pass Ayot Green on the way from Lemsford to Welwyn and then onwards through Codicote, Hitchin, Shefford and Bedford it does seem improbable that this was in any way decisive. For one thing, Edward died when his grandson was only three years old and there is no mention of anything to do with Turvey in John Henry's very comprehensive will.
As we shall see, it is possible that there was a distant link involving his wife. However, it may be more significant that there was a Peacock family in the parish in the 1720s. James and Susanna Peacock were married at North Mimms in 1719 and in the same year moved from his native parish of Digswell to Ayot St Peter, where their daughter Elizabeth was baptised by the rector, Rev Charles Horn, in the octagonal church on 8 March 1723. Sadly the birth of her daughter killed her mother; Susanna, wife of James, was buried in the old churchyard on 23 March 1723. Elizabeth herself lived only until just after her fifth birthday; she was buried (no doubt with or beside her mother) on 9 April 1728.
Around the same time the wedding took place of Martha Peacock and Thomas Wicks – they were married by banns on 28 July 1729 at Ayot St Peter – but from this point on there are no records of Peacocks in the parish until the 1830s. Edward, James and Martha Peacock were the right ages for siblings (or first cousins). We have no documentary evidence for or against this proposition, but it is common to find that there was a family reason underlying such decisions as John Henry's to live at Ayot Green.
The house and other property at Ayot Green
In 1838 there were just 13 owners and 63 occupiers of land in Ayot St Peter. Four of the owners were not also occupiers. By far the largest holding belonged to the second Viscount Melbourne of Brocket Hall, who was Queen Victoria's first prime minister. Apart from Lord Melbourne, the four absentee landlords and the rector (who owned the glebe land ex officio), there were seven owner-occupiers. Of these there were only two who owned and occupied a single property – John Ephgrave (what is now 37 Ayot Green) and John Henry Peacock (Ayott Cottage). In Pigot's Directory of 1839 the owner of Ayott Cottage is listed as Henry Peacock, and because we take it that this is how he liked to be known this designation will be used from now on. Presumably the use of the second given name was to avoid confusion with his father, who was also known by his second given name of John.
The tithe apportionment shows Ayott Cottage and its curtilage (plot 157A on the tithe map) as extending to two roods and 20 perches – a little over half an acre – and as subject to an annual rentcharge in lieu of tithes of seven shillings payable to the rector by Henry Peacock. The tenure was copyhold rather than freehold, which was the typical tenure for all land owners other than the landed gentry and independent farmers. On 1 January 1926 the tenure was upgraded to freehold under the Law of Property Act 1925.
In addition, the tithe apportionment shows that Henry Peacock rented from Lord Melbourne plots 157 and 162, which adjoined plot 157A to the south and west and made the garden considerably larger. He likewise rented two fields (plots 140 and 141) lying behind and to the north of all the cottages standing on the north side of Ayot Green (nowadays nos. 4 to 26 Ayot Green). Presumably the fields were used as grazing for the horses which drew his carriage. Finally, jointly with widow Madams (who was 'poor' and lived at what is now 2 Ayot Green), he rented plot 153 between what are now nos. 4 and 6 Ayot Green, on which stood a small shed and which gave access to his two fields from Ayot Green. The rentcharges applicable to all the rented holdings fell to be paid by Lord Melbourne as owner of the freeholds.
Ayott Cottage was aligned north/south and had a frontage on the Great North Road. The road between Lemsford and Welwyn was straightened and improved in 1833-34 by a turnpike trust established in Welwyn in 1726. At the turn into Ayot Green, which was at the summit of Brickwall Hill to the south and Digswell Hill to the north, there was a toll gate and house. A short stretch of the turnpike road still exists between Ayot Lodge and the A1(M) and serves as a car park for the Waggoners public house. The service entrance to Ayott Cottage was from Ayot Green, and there was accommodation for the coachman and other domestic servants around the cobbled yard.
The property we see today is much larger than it was in 1838. The original property was clearly small enough to make the name Ayott Cottage seem sensible. It had a single storey at the front until a second was added in about 1970. Before then it had already been much enlarged towards the west, It is said that at one time it was the home of Henry Temple, who married Lord Melbourne's sister (after the death of her first husband, the fifth Earl Cowper) and became the third Viscount Palmerston and prime minister. If so, he was the owner before Henry Peacock – whether immediately before or not is unknown.
The first burial
Those present at Ayott Cottage on census night (Sunday 6 June) 1841 and their ages (rounded to the nearest multiple of five) were John H Peacock (75), Jane Peacock (70) and Elizabeth Peacock (20), together with two male and three female servants.
Jane Peacock died on 22 January 1849 aged 80. She was born Jane Kittle, almost certainly at Wroxham in Norfolk, where there were strong family connections. The 1841 census tells us only that she was not born in Hertfordshire. Her husband's will made in 1849 mentions a large number of nephews and nieces of his late wife, with the names Kittle, Allcock, Brown, Calver, Durham and Metcalf. This primary source has enabled us to establish that Jane was the youngest and, by 1849, the last survivor of at least seven children of Nicholas Kittle (1718-78) and his wife Martha, whose family name is unknown but whose given name is (perhaps significantly) shared with the Miss Peacock who married Mr Wicks at Ayot St Peter in 1729. Jane's siblings were called Nicholas, Martha, Richard, Trivet (a family name for boys), Elizabeth and William. There could have been others who had died before 1849 and left no issue to be mentioned in a will of that date or whose issue had themselves died by then. It is certain that there were descendants of her siblings who could have attended her funeral; there is no way of knowing who did so or whether any of them or their descendants has visited her grave subsequently.
Jane Kittle was born in 1768. Her mother Martha died in December 1768, shortly after Jane's birth. She and four of her siblings were baptised together at Wroxham on Monday 31 May 1773. She married Henry Peacock on 20 May 1815 at St Sepulchre's church in the City of London, when she was 47 and her husband 51. Neither had been married before and, unsurprisingly, there were no children. Jane was buried in the old churchyard on 27 January by Rev Edwin Prodgers senior, the rector; hers was the first of the Peacock family burials. Unfortunately we know nothing of where Jane was living or what she was doing in all the years before her marriage. How, where and when the couple met and why they chose to marry so late in life we shall never know.
Many of the Norfolk Kittles were Dissenters. In 1822 the above-mentioned John Ephgrave was licensed to use his cottage at Ayot Green as a place of worship for Protestants and in 1837 he and his wife built a Methodist chapel adjoining their home. Whether this attracted Jane and her husband to the parish, and whether Jane contributed to the cost of the building or attended services at the chapel, we cannot know. Another perhaps very distant connection might have been that one John Kittle was buried in the old churchyard on 19 June 1673 and that his widow Mary was buried there on 20 November 1674.
The Elizabeth Peacock (20) at Ayott Cottage on census night was the eldest daughter of Henry's brother Joseph.
The second burial
Following the death of his wife, Henry Peacock made his will on 14 May 1849. On the same date he made a first codicil; two more followed on 1 September and 9 November. He died on 27 November aged 85 and was buried on 5 December, the service again conducted by the rector.
Henry may have set in hand the design and construction of the vault and tomb before his wife's death. His will accurately describes and makes provision for its care and maintenance, from which it is clear that the work had been completed by 14 May. His executors had only to arrange for the memorial inscription to Jane and Henry to be prepared and affixed to the north side of the tomb.
Henry was born in the parish of St Peter upon Cornhill in the City of London. He was taken to his parish church for baptism on 10 May 1764 by his parents John and Sarah. As we have seen, John Peacock's full names were Christopher John but he preferred to be known by his second given name. In 1754 he became apprentice to a cordwainer but it was as a greengrocer that he lived and earned his living at Leadenhall Market. Between 1762 and 1782 John and his wife Sarah (née Long) had eight children but by the time John made his will on 4 April 1814 only Henry, Joseph and their sister Elizabeth were alive. Henry was still unmarried; Joseph and his wife Maria had had one son; and Elizabeth's husband William Cork had died, leaving her with seven children to support. John Peacock died in 1815, his wife having died in 1813.
John Peacock's younger brother William married and had many children; these were, of course, first cousins of Henry and Joseph. John and William's sister Elizabeth made her will on 24 March 1806, when she was living at Wine Office Court, off Fleet Street. She died unmarried in 1814; probate was granted to her two brothers on 8 September of that year. Thus it was that she was named in William's will made in April 1813 but not in John's made a year later.
On 3 February 1779, at the age of 14, Henry Peacock entered into a seven year apprenticeship with William Laforest, a member of the Worshipful Company of Vintners. William was born in 1756 and had only just finished his own apprenticeship with his father Lawrence, which began in 1771. Six months after taking on Henry Peacock as his apprentice, William married Mary Carolina Hoffmann in her parish church of St Mary, Wimbledon. The couple had several children. William set up shop at 115 Upper Thames Street and seems to have been a highly successful vintner; he was Master of the Vintners' Company in 1826, as had been his father Lawrence in 1800. William eventually retired to Bedford Row – then and now a very handsome street. He made an elaborate will and a number of codicils before dying at the great age of 93, in the same year as Henry Peacock. He was buried in his family vault at St Paul, Hammersmith.
It was as a vintner, or wine merchant, that Henry made his living. He prospered, becoming a partner in the large and important business of the City of London Tavern located on the west side of Bishopsgate Street Within (the Walls) and, in 1830, Master of the Vintners' Company. In that capacity his portrait was painted by James Holmes (1777-1860); the painting was left to the company in his will and can be seen hanging at Vintners' Hall. In a death notice published in the Essex Standard on 30 November 1849 (and in a number of other newspapers) it is said that he was for 60 years a proprietor of the London Tavern. If this is accurate and he was still a proprietor in 1849 he had first acquired an equity stake when only 24, or three years after the end of his apprenticeship. Henry was also proprietor of the Ship and Turtle Tavern at 129 Leadenhall Street until he retired in 1839. The name of this establishment reminds us that turtle soup was enormously popular in London at this time – indeed, we are told that in the basement of the London Tavern there were large pools for keeping live turtles. The idea does not appeal today but attitudes change markedly over time.
Henry was a bachelor until his marriage to Jane Kittle, a spinster, on 20 May 1815. Both parties to the marriage were, according to the register, of the parish of St Sepulchre. How this arose we do not know, but we have noticed one family connection with that church; the two daughters of Henry's uncle Boddington Peacock were baptised there in the 1760s. Henry's London home was at 7 Windmill Street, Finsbury Square (which, along with Tabernacle Walk, was renamed Tabernacle Street in 1891), and this was in the parish of St Luke; he seems to have remained the owner of this property after he had acquired the copyhold of Ayott Cottage – possibly in order to retain his aldermanic voting rights in the City.
We know from a register of electors that Henry Peacock had purchased his properties at Ayot St Peter by 1832 but there is reason to think that he may have done so some years earlier. In 1829 a baby boy was baptised at St Mary's, Welwyn, with the names John Henry Peacock Oldmeadow and John Henry Peacock as his godfather. The boy's father, Henry Edmund Oldmeadow, lived at Bridge House, Fore Street (now High Street), and was one of Welwyn's two doctors. He was born at Welwyn in 1803 and qualified to practise medicine in 1823. In the same year he married Louisa Le Lievre at Newington, suggesting that he carried on his studies at nearby Guy's Hospital. John Henry Peacock Oldmeadow himself became a doctor in 1851 and eventually emigrated first to Queensland and finally to Tasmania, where he died. Clearly Henry and Louisa Oldmeadow must have known Henry Peacock well by 1829. They may somehow have become friends in London but it does seem perhaps more likely that the friendship developed in and around Welwyn, where Henry Oldmeadow was born and brought up and where he had his matrimonial home and medical practice.
Henry Peacock's will is a remarkable document and gives us some insight into his character. It imposed considerable duties on his executors and probably for this reason he appointed four of them: his brother Joseph; his friend William Bentley of Hitchin; his nephew Daniel Cork (son of his bereaved sister Elizabeth) and his friend and godson Samuel Edward Peacock Hale. To have two godsons on whom one's own surname is bestowed as a given name must be decidedly unusual. Perhaps because he had no direct descendants he benefited all the descendants of his brother Joseph Peacock and sister Elizabeth Cork and also, as already noticed, large numbers of the nephews and nieces of his late wife Jane. He took pains to remember his servants, both business and domestic, and he gave money to a remarkable number of charitable institutions. Finally, he established and endowed two charities for the poor of Ayot St Peter with gilt-edged stock of £333 6s. 8d. each; these charities survived until 2000, when they were wound up and the aggregate capital of some £600 was remitted to the parish church. His various legacies total well over £20,000 and, in addition to this, he left his property interests at Ayot St Peter to his brother Joseph. In terms of today's money, he was a multi-millionaire.
The third burial
Nine years were to pass before there was another burial in the Peacock tomb. Maria Peacock, wife of Joseph, died at Ayott Cottage on 5 September 1858 aged 74 and was buried on 14 September by Rev Edwin Prodgers junior, the curate. Maria and Joseph had no doubt moved up from London to live at Ayott Cottage soon after the death of Henry and Jane. Certainly they were in occupation for the 1851 census.
Maria Rand was born on 10 February 1784 and taken to her parish church of Christchurch, Spitalfields, to be baptised on Sunday 7 March by her parents, Richard and Maria. Richard Rand was a cheesemonger and the family home was in New Montague Street, Spitalfields. This street, running from Brick Lane to Spital Street, is now called Hanbury Street but was formerly Montague Street and New Montague Street. Christchurch is a celebrated example of the work of architect Nicholas Hawksmoor.
We know nothing more about Maria or her family until she married Joseph Peacock, a bachelor of full age, at St Luke's, Old Street, in the borough of Finsbury. The date of the wedding was Monday 23 July 1804.
Joseph made his living as a saddler, with his business premises close to the London Tavern at 91 Bishopsgate Street Within. Joseph and Maria had four children between 1805 and 1825 – John, Elizabeth, Jane Sarah and Mary Ann. The first three married and had children but Mary Ann died unmarried. These children were all born at 91 Bishopsgate and were baptised at churches in that street – John at St Helen's and the other three at St Ethelburga's. These two medieval churches survived the Great Fire of 1666 and the Blitz of 1940 but each was severely damaged by IRA bombs in the 1990s and has been beautifully restored.
The 1841 census reveals that the matrimonial home at that time was in John Street, Mile End, Middlesex. John Street no longer exists but it was approximately where Shandy Street, London E1, is today. Joseph was correctly recorded in the census as not having been born in Middlesex because he was born in the City of London, which was entirely surrounded by but not a part of that county. Maria, on the other hand, was born in the county, because Spitalfields fell just outside the eastern boundary of the City. The move of the family home from Bishopsgate to John Street plainly occurred between 1825 and 1841.
The fourth burial
It was just 14 months after her mother's death that Mary Ann Peacock died at the age of 31. She was her parents' youngest child, born at 91 Bishopsgate on 11 January 1825 and baptised at St Ethelburga's on 18 February.
In 1841 she was living at John Street, Mile End, with her parents and her elder sister Jane Sarah (b. 12 July 1821). She moved to Ayott Cottage with her parents and was living there when the 1851 census was taken. She did not marry and died intestate. Her father was appointed to administer her estate of some £3,000.
Her date of death was 18 November 1859. Her funeral on 25 November was, like her mother's, conducted by Rev Edwin Prodgers junior.
The fifth and final burial
After the deaths of his wife and unmarried daughter Joseph Peacock remained at Ayott Cottage. No doubt he enjoyed occasional visits from his two married daughters and their husbands and children. Indeed, in the census of 1861 he had with him his daughter Elizabeth Luppino and her daughter Charlotte and his two grandsons, John Henry Peacock Brown and Joseph William Brown.
Joseph clearly made a success of his business as a saddler and harness maker. He was elected master of the Worshipful Company of Saddlers for two terms – 1832-33 and 1850-51. His membership of the company led to his being granted the Freedom of the City of London on 6 December 1803 and he was a Liveryman of the company from 1841 until his death in 1861. His two executors, his nephew Daniel Cork and the Hertford solicitor Philip Longmore, took charge of an estate of some £20,000.
Joseph was buried on 22 April 1861 by Rev Edwin Prodgers, junior. No doubt there was a funeral service before the interment. It will have been among the last few held in the octagonal C18th church; the curate and his father the rector were planning its demolition and replacement at this time. The rector died in December 1861; his son was instituted as rector in April 1862 and shortly afterwards the demolition began. The replacement church was dedicated in December 1862.
Unlike his brother Henry, who had no direct descendants, Joseph had two surviving children, Elizabeth and Jane Sarah. Elizabeth was married and had just one daughter, Charlotte Maria Luppino, who never married. Jane Sarah married John Brown and had four children, all of whom were alive when Joseph died. Henry and Joseph had a sister, Elizabeth, who married William Cork and had a large family, five of whom were alive in 1861. One of them, Daniel Cork, was an executor of Joseph's will. He did not marry – and the same applied to his youngest sister Elizabeth Maria Cork. The other three (George Christopher, Sarah and Joseph) were married. Joseph married a widow late in life and left no issue. George and Sarah had children and grandchildren. One can only guess at which among all Joseph's relatives attended his funeral and benefited under his will. Likewise, it cannot be known whether any of them has ever visited the tomb since it was closed in 1861. There are certainly some living descendants of both Joseph and his sister Elizabeth who could do so today.
Daniel Cork, who made his living as a meat salesman in Leadenhall Market, died on 28 December 1866 leaving an estate of under £100. He appointed his sister Elizabeth Maria as his executor. She must have retained a real affection for Ayott Cottage, because she gave the name Ayott Villa to her house in Carleton Road, Tuffnell Park. She died at home on 22 April 1883, leaving an estate of just under £17,500. Her executrixes were three unmarried daughters of her sister Sarah – Mary, Jane and Emma Wainman – with whom she had been sharing her house for some years.
Peter Shirley, 21 February 2018