Various buildings were used as schools in the 19th and 20th centuries. The 1838 tithe map of the parish records that what is now 8, 10 and 12 Ayot Green was used as a parish school. There was a small school for 40 pupils at the rectory (now called Ayot Bury) until about 1848. In the years around World War II a Miss Eileen Roskill operated a small private school at 31 and 33 Ayot Green. The school was in one of the cottages and Miss Roskill and her elderly mother lived in the other. You can read more about Miss Roskill here  – please scroll down.
In 1871 a purpose-built school opened in the parish, with an attached schoolteacher's house, and this building still exists today. The 7th Earl Cowper provided the site and when the third church burnt down he generously donated an adjoining plot of half an acre for the new church. Services were held in the newly built schoolroom until the current church was completed in 1875.
The census returns show that there was already a school mistress in residence on 2 April 1871 – Miss Emma Warrant, aged 24, born in Norwich. There was also a pupil boarding with her – 9-year-old Mary A. Powley, born in Yarmouth, Norfolk. The following census returns show a number of different teachers over the years –
In April 1881 the mistress was Mary A. Smythe, a 52-year-old widow born in Huntingdonshire, living with her 26-year-old daughter of the same name, who was also a school mistress. In April 1891 the mistress was Miss Norah C. Pascoe aged 31, also born in Huntingdonshire. She had Miss Helen A. Pascoe, aged 30 as a visitor, quite likely her sister. By March 1901 the teacher had changed again and was Miss Harriett Pilgrim, aged 26, a "certificated school teacher" born in North Walsham, Norfolk. She shared with another teacher – Miss Sara Newell, aged 33, from Downham, Norfolk.
The school log books are available from 1902 (on the FindMyPast website) and show that on 8th September of that year, when the school opened for the autumn term, two new teachers were in post – Miss Edith Alice Bott and her sister Jessie Grace.
Edith is recorded in the school log book as being a qualified teacher "certified, 2nd class". She had trained at Whitelands Training College, which at that time was based at Whitelands House on the King's Road in Chelsea, the first college of higher education in the UK to admit women.
Jessie was allowed to teach by virtue of "article 68". This refers to the New Education Code of 1890 and shows that she was an untrained female teacher whose only qualifications were to be over 18 years of age and vaccinated.
The log book records that Edith took charge of the upper division and Jessie taught in the infant room. Edith's record with the Teachers Registration Council shows that she was headmistress of Ayot St Peter school from 1902 to 1931.
The 1939 register shows the school teacher was Alice M. Higson aged 50, living with Frederic Higson aged 52, a "retired yarn salesman", and Richard J. Higson aged 13, who was a schoolboy. Reflecting the wartime situation, all were helping out – Alice was in the Red Cross, Frederic was an air-raid warden, and Richard a "warden's messenger".
The school closed in 1948 and the freehold was purchased by the Brocket Estate. The freeholds of Sauls Wood House and Hornbeam House (the current names of the school and the schoolteacher's house respectively) were sold to private owners in 1976.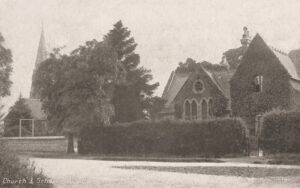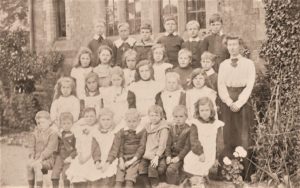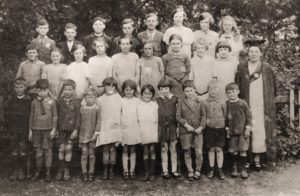 The Bott sisters
Edith and Jessie were the daughters of William Bott and his wife Susan Edith (née Parker) who had married in Islington on 2nd March 1867. The couple had three children – the two girls and an older son – William Arthur Walter born in 1868.  All three children were baptised in Waltham Abbey, Essex – William on 29th November 1868, Edith on 8th May 1870 and Jessie on 5th November 1871.
At some point the family moved from Essex into Hertfordshire – William and Susan were living at Brickendon near Hertford in 1881, Willian, near Hitchin in 1891, Hockerill, near Bishops Stortford in 1901, and Prittlewell, back in Essex in 1911. William Bott was variously described as a "farmer" and a "farm bailiff", so presumably the various moves corresponded to changes in his employment.
By 1891 Jessie (still living with her parents, aged 19) was described as a "school teacher", but Edith (aged 21) was a school teacher living away from home in Offley, another village near Hitchin. Shortly before the move to Ayot St Peter – in the 1901 census – both sisters were living away from their parents, as teachers in Horham, Suffolk.

In 1906 Edith obtained an LLA qualification from the University of St Andrews in Scotland. This was the "Lady Literate in Arts" – a degree level qualification that was popular for women who wanted to study through correspondence, or by attendance at regional classes. In many photographs Edith can be seen proudly wearing her mortar board and academic gown.
After their retirement the sisters lived together at The Cedars, Park Drive, Wickford in Essex. Edith died on 2 December 1951 and at some point afterwards Jessie moved back to Hertfordshire. She died at the Minsden care home in Hitchin on 4 February 1968, aged 95.
Although neither of the Bott sisters married, their brother William married Lilian Ogden in 1922 and had a son and a daughter. Sadly, their son – William Arthur Kenneth Bott – was accidentally drowned in WW2 at the age of 20, whilst serving with the Royal Navy. He is the only WW2 casualty listed on the war memorial of the village of Aston in Hertfordshire, and the only WW2 burial at Maputo cemetery in Mozambique.
Note that many of the original registers and school records can be seen on the website "Find My Past" but (as at October 2023) they are wrongly indexed under the nearby village of Ayot St Lawrence.
If any readers have additional photos of the school, pupils or teachers, we would love to hear from you –  please contact us.