This is a gallery of pictures of some of our former residents. My thanks to everyone who has shared their family treasures so far – please get in touch if you have some pictures to add to this page.
The Ettridge family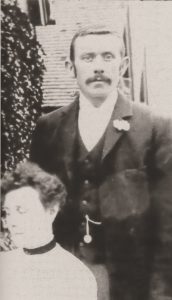 Charles Thomas Ettridge and Laura Harriett Gower married at St Mary's church, Welwyn in late July 1901. A few months before their wedding  – in the census of March 1901 – Charles was living with his parents William and Mary Ettridge in Whitehill (Welwyn) and Laura was living in Wood Green with her widowed brother Arthur, who was a police constable. Laura's parents George and Emily Gower lived in Whitehill. In the two previous census returns – in 1881 and 1891 – the Gower and Ettridge families both lived in Whitehill, so Charles and Laura would have known each other throughout their childhoods.
Charles and Laura's only child, Violet Maude, was born in December 1902 and baptised at Ayot St Peter church on 8th February 1903. At the time of her baptism the family lived at Whitehill and Charles had the intriguing occupation of "gas maker".
In the 1911 census the family were living in Dowdells Wood Cottage, Ayot St Peter. Charles gave his birthplace as Welwyn and Laura gave Codicote. Charles worked as a farm labourer.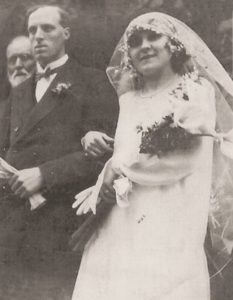 In the 1939 national register Charles and Laura were living in Greggswood Cottages, Whitehill. Charles worked as a "jobbing gardener".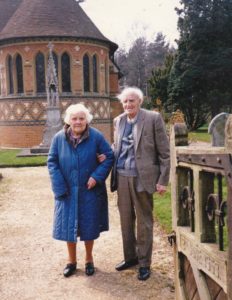 Charles died in 1946 and Laura in 1961. They are buried in the new churchyard in Ayot St Peter.
Their daughter Violet attended Ayot St Peter school and can be seen as a pupil in one of the group photos on this website. She later became a teacher at the school. She married Harry Cooper, who was the church organist, at Ayot St Peter church on 7 April 1928. After their marriage the couple lived in Welwyn Garden City.
Harry and Violet celebrated their diamond wedding anniversary in 1988 by returning to visit Ayot St Peter church.