Work in progress – please check back
This is a gallery of historic pictures of places around the parish. My thanks to everyone who has shared their family treasures so far – please get in touch if you have some pictures to add to this page.
Hillside Farm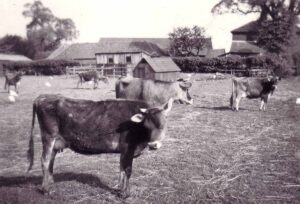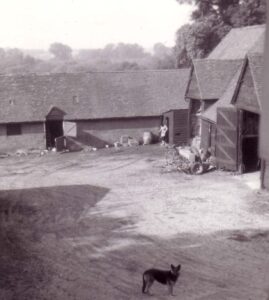 Hillside Farm was previously known as Soray's Farm or Sorry's Farm. The Rogers family farmed at Hillside Farm from 1946 until 1961.
Since then – after a brief period as offices – the farm has been a private house called Melbourne Stud, which reflects the period in the very early 19th century when Lord Melbourne had a racecourse in Brocket Park.
I am grateful to the Rogers family for allowing us to use these images.
Manor Farm
Manor Farm at Ayot Little Green was built in the 17th or 18th century and is a listed building. It was been suggested that at least parts of the house date from 1612 and the barn timbers are believed to be former ship timbers.
For generations the farmers here were the Foxlee family but they left around the end of the 19th century and by 1901 had been replaced by the Welsh family. William Welsh – a grandson of the family – was an early aviator who was killed towards the end of World War I. His name is recorded on the War Memorial.
In the 1930s the farmer was Alfred Sander. He and his wife Bessie had five children baptised at St. Peter's between 1931 and 1935. During the Second World War the farmer was George Baron who later moved to Lockleys Farm near Welwyn. Later the farm was run by people named Chapman and Earnshaw, who went out of business.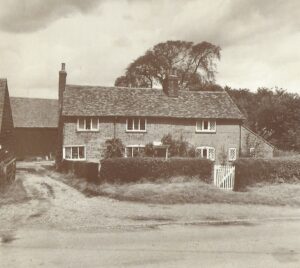 Immediately after that – in September 1961 – the farm was taken over by the Harland family. The Harlands had a Jersey herd, bottled their own raw milk and had three milk rounds. They were the last people to use the property as a working farm, and left in 1973 following the death of Maynard Harland.
Manor Farm is now a private house.
I am grateful to the Harland family for allowing us to use these images.
Waterend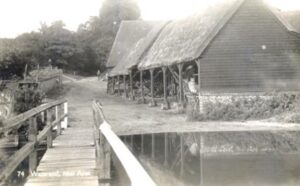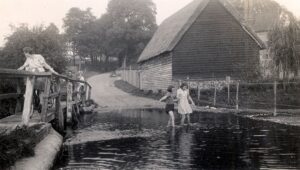 Waterend is the lowest point on Waterend Lane where the River Lea crosses under the road. Waterend is just over a mile from Ayot Green, but is part of Wheathampstead parish. The fine Jacobian house near the river is Waterend House. In 1938 a large barn in front of Waterend House was removed and used to create a restaurant in St Albans called "Waterend Barn" – now a branch of JD Wetherspoons.
In the 1960s the level of the road was raised and a bridge created, so the ford was no longer necessary.