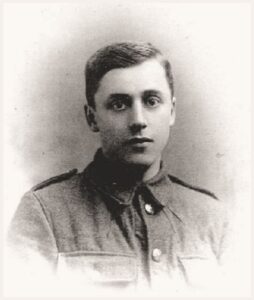 Cecil Bertram White was killed in action on Wednesday 16 August 1916 aged 25 while serving with the 4th Bn., Royal Fusiliers. He is buried at Carnoy Military Cemetery on the Somme.
He was born at Ayot St. Peter on 15 July 1891 and baptised in this church by Rev. Henry Jephson on 8 September. His parents were James and Emily White, who were married in 1889 in Emily's home county of Dorset. When the 1901 census was taken James White (then aged 37) was the coachman at Ayot Bury and the family were living in what is now called Ayotbury Lodge. In 1911 and at the time of Cecil's death his parents were living at North Road, Lemsford.
Cecil enlisted at Great Scotland Yard on 6 November 1915, up to which point he had been employed as a tailor in Welwyn. He was a good sportsman and was elected captain of Hatfield football club in 1910. He was twice wounded in action on the Somme but returned to his duties at the front, where he was shot by a sniper. When he went off to war he was engaged to be married to Grace Wren of Lemsford. She died on 22 September 1918 – it was said of a broken heart.
Cecil had a younger brother Percy who was also in the army. He was wounded on the Somme in July 1916 and again in May 1918 and died 57 years later with some shrapnel still embedded in his body.
Cecil's father James was knocked down and killed by a car at Jack Olding's Corner (now the site of the Tesco supermarket at Hatfield) when walking home from Hatfield library at dusk on 4 October 1930. His mother Emily died on 12 April 1941. James and Emily are buried at St John's, Lemsford, and their grave includes a memorial of Cecil.