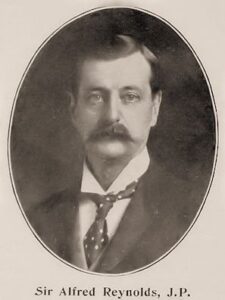 Near the gate of the old churchyard is a polished grey granite cross with a large square stone surround that commemorates Sir Alfred James Reynolds, J.P. who was born on 23 October 1850 and died at Ayot Bury on 2 April 1931 (aged 81), his wife, Emily Margaret, who was born on 15 December 1856, and died on 5 October 1936, and their eldest son Alfred Howard Reynolds, Lieutenant, Royal Welch Fusiliers, who was born on 16 November 1877 and died at Meerut, India on 1 November 1904.
Alfred James Reynolds was the youngest child of William and Emlyn Bedlake (née Tope) Reynolds of London, who married in 1839. William Reynolds was a cheesemonger who was in business with his brother Thomas in Old Street, Finsbury. Confusingly, Thomas Reynolds married Emlyn's sister Elizabeth Tope in 1845.
Emlyn and William Reynolds are buried at Highgate Cemetery East in London. Emlyn was born in 1808 and died in 1876; William was born in 1815 and died in 1879.
The complete family of William and Emlyn Reynolds was as follows:-
1. William Forster Reynolds born 1840, married Fanny Tapper in Devon in 1863 and died in Surrey in 1914
2. Thomas Reynolds born 1841, married Leda Towell Tapper in Devon in 1864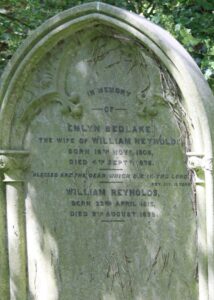 3. Emeline Elizabeth Reynolds born 1843, married Charles White Cave in 1865 and died in New Zealand in 1931
4. Frank Reynolds born 1844 and died aged 4 in 1849
5. Walter Reynolds born 1846, married Kate Cooper Harris at Windsor in 1869
6. Mary Jane Reynolds born 1848, married William Bailey at St Albans in 1900
7. Frank William Reynolds born 1849, married Isabella Mary Blackie at Partick in 1876 and died in London in 1900
8. Alfred James Reynolds born 23 October 1850, married Emily Margaret Boyd, the eldest daughter of Alexander Boyd J.P. of Suirmont, Clonmel, Tipperary, Ireland and his wife Anne (née Prosser) at Clonmel in 1876. Emily's parents are remembered in Marlfield Graveyard, near Clonmel, as follows:-
"In Loving Memory Of Alexander Boyd, Who Died At Suirmont, Clonmel, December 12th 1879, Aged 57 Years. Ann Boyd Widow Of The Above, Died October 2nd 1893, Aged 69 Years. Buried At Highgate Cemetery, London."
Alfred James Reynolds and Emily Margaret (née Boyd) had five children. All their sons had distinguished army careers, and their daughter Emlyn married a soldier. The children were as follows:-
1. Alfred Howard Reynolds born in Islington in 1877 and died of enteric fever (typhoid) whilst serving with the Royal Welch Fusiliers at Meerut, India on 1 November 1904 (Meerut is an ancient city in the Indian state of Uttar Pradesh, about 70 km northeast of New Delhi). At the time of his death, Lieutenant Reynolds had just returned from six weeks' leave on a shooting trip to Kashmir. Alfred is remembered on his parents' gravestone in Ayot St Peter.
2. Alan Boyd Reynolds born in Islington in 1879, married Anna Blyth Greig in 1918 and died in London in 1940. He saw action in the Second Boer War and the First World War. He briefly commanded the Northumberland Hussars in the latter stages of the First World War, for which he was awarded the Distinguished Service Order. He also played first class cricket for the Marylebone Cricket Club, and Oxford University.
3. Gerald Nairne Reynolds born in Islington in 1880, awarded the Military Cross in 1918. He married Marjorie, the daughter of Thomas Fenwick Harrison of The Bury, King's Walden, Hertfordshire in 1914 and, although their home was in Devon, Gerald died in Nairobi in 1967.
4. Emlyn Margaret Reynolds born in Edmonton in 1882, married Claude Lumsden Norman at Digswell, Hertfordshire, in 1905 and died at Taunton in 1961. Her husband retired from the army as a Brigadier General.
5. Guy Franklin Reynolds born in Edmonton in 1886 and died in Abergavenny in 1950. By the time of his retirement he was a lieutenant colonel and had been awarded the Military Cross. He married the widow Katherine Isobel Dalglish (née Macdonell) in Scotland in 1926.
Following their marriage in 1876, Alfred and Emily Reynolds lived in Islington (1881 census) and Highgate (1891 census) before moving to the Welwyn area. Their first Hertfordshire home was Digswell House, where they were living at the time of the 1901 census, and they probably remained there until at least 1905 when their daughter married at Digswell church. By 1911 they had moved to Ayot Bury, where they remained until their deaths in the 1930s.
Alfred was awarded his knighthood in 1908, when he was serving as one of the sheriffs of the City of London. He continued to work as a "provision merchant" throughout his career and was obviously successful and respected both in business and in Hertfordshire. Just some of the posts he held were:- member of the Spectacle Makers' Livery Company, officer of the Order of the Crown of Italy, Sheriff of the City of London, Justice of the Peace for the counties of London, Middlesex, and Hertfordshire, one of HM's lieutenants for the City of London, visiting Justice of HM's prisons at Holloway and Brixton, Chairman of the Visiting Board at the State Inebriate Reformatory in Aylesbury and commissioner of taxes for the Broadwater division in Hertfordshire.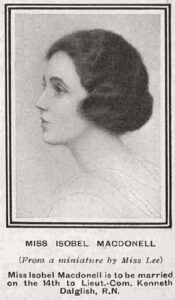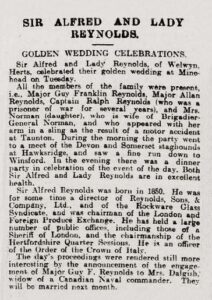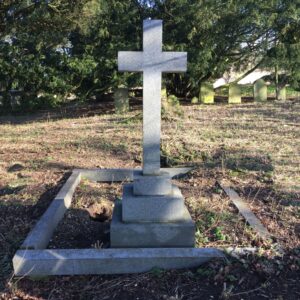 The Reynolds grave, just inside the gate at the old churchyard in Ayot St Peter, records the deaths of Sir Alfred James Reynolds 1850 to 1931, his wife, Emily Margaret (née Boyd) 1856 to 1936, and their eldest son Alfred Howard Reynolds 1877 to 1904.