The Jeakings and Jakings families of Ayot St Peter were two branches of the same family with two different surname spellings. The family originated from Cambridgeshire and Huntingdonshire.
George Jeakings and his wife Mary (née Hill) married in Gamlingay, Cambridgeshire, on 5 January 1852. Her birthplace was Gamlingay and his was Tetworth, in Huntingdonshire. The couple lived in Tetworth and also the Huntingdonshire villages of Great and Little Paxton.
George and Mary had at least ten children, including a son George born in 1858 and one called William born in 1866. The spellings are variable in the old records, but the son George settled on the spelling "Jakings" and William (and most of the rest of the family) used "Jeakings".
The elder brother, George Jakings, married Mary Silby in the Lewisham area of London in 1883 and they had three children born in Islington:- Albert St Gatien born in 1884, Alice Lily born in 1886, who died in 1889, and Edgar George born in 1888.
The first member of the family to move to Ayot Green was William Jeakings, the younger brother. William worked as a carpenter at an estate in Cambridgeshire and married Amy Croot in the St Neots registration district in 1890. Amy had been born in the Caxton district of Cambridgeshire in 1872, the daughter of James Croot and Sarah (née Holmes). William and Amy Jeakings had four children: – Ernest born in 1892, Ellen Mary born in 1893, Edward Leslie born in 1902 and Amy Alexandra born in 1910. The first two children were registered in St Neots district but the two younger ones were born in Ayot St Peter where William and Amy kept the Horse and Jockey pub on Ayot Green from at least 1901. William had a workshop behind the pub where he continued his carpentry trade.
Amy continued to run the pub for a few years after William died in 1922, giving up around 1928. The pub is now a private house, number 5 Ayot Green. William and Amy are buried in the churchyard and have a large square double grave near the gate, that has recently been turned into a flower bed. The inscription around the edge reads:-
William Jeakings died 6 December 1922 aged 56; Amy Jeakings died 22 January 1947 aged 74
Ernest, the eldest son of William and Amy, remained in Ayot St Peter and married Anne Hawthorne in 1914. Anne was born at Cromer Hyde (near Lemsford) in 1895 to John James Hawthorne and his wife Rosa (née Joiner) who had married in St John's Church, Lemsford, on Christmas Day 1884. They had a large family and Anne was their seventh child.
Ernest and Anne lived at number 8 Ayot Green and had six children. Ernest had a small farm and also a blacksmith's shop where he used to repair carts and wagons.
Anne died in 1963, aged 68. Ernest died in 1982, aged 91, and is buried in the churchyard at Ayot St Peter with their daughter. The inscription reads:-
Ernest Jeakings 1891 to 1982, husband of Ann. Also their daughter Brenda Marie King 1925 to 2002
The second member of the family who moved to Ayot St Peter was Albert St Gatien Jakings, the son of George Jakings. His unusual middle name of St Gatien was the name of a famous racehorse of the time. The story goes that his father won some money on the horse around the time of Albert's birth. Unusually, St Gatien won the Epsom Derby in a dead heat on 28 May 1884 and as Albert was born in the July, it is possible there was a connection.
Albert married Edith Lily Bunting (known as "Lily"), the daughter of George and Emma (née Davies), in the Poplar area of London in 1910. Lily had been born in Poplar in 1891. The couple had four daughters: – the first three were Dorothy Edith in 1910, Kathleen Elsie in 1912 and Winifred Grace in 1913, who were all born in London. The last daughter, Edna May, was born on 20 September 1918 at the Horse and Jockey on Ayot Green, whilst the family were staying with her father's uncle during the First World War. All four children were baptised in Ayot St Peter in 1918.
The family moved back to London after the war. The eldest daughter Dorothy married Sidney Cullum in 1934 and they returned to Ayot St Peter from London in 1940, with her parents, to live at "The Old Cottage" on Waterend Lane, which is now called Crackendell Cottage.
The second daughter, Kathleen Elsie, married William Alfred Tillson in 1936, and the third daughter Winifred Grace married Joseph Roberts in 1931.
The youngest daughter Edna May Jakings married Alfred Henry Edward Goodridge in London on 31 July 1937 and at the start of World War Two moved back to Ayot where their first son Michael was born at Brocket Hall (then a wartime maternity hospital) on 11 November 1941 and baptised at St Peter's Church.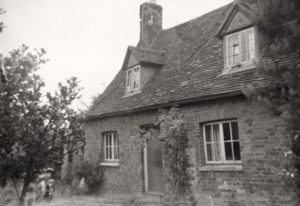 Moving back to London after the war the Goodridge family increased to four boys and Ayot became the summer holiday destination for them all. Edna and Alfred Goodridge retired to Bexhill on Sea until their demise in 1989 and 1990 respectively.
Edith Lily Jakings died on 13 September 1955 aged 64, and her husband Albert St.Gatien Jakings died on 19 November 1958 aged 74. They are buried in the churchyard at St Peter's Church, just inside the gate. Their daughter Dorothy Edith Cullum is buried with them, and also her daughter (their granddaughter).