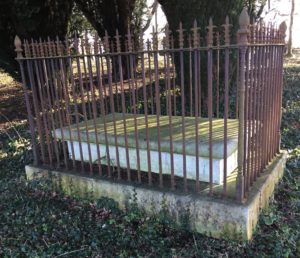 In the old churchyard is an altar tomb with high iron railings and an inscription on top in large capital letters:
Emily the beloved child of the Rev. Edwin and Caroline Prodgers who departed this life in the 18th year of her age 19th March 1850. Also the Reverend Edwin Prodgers who died December 5th 1861 Et 75, 20 years Rector of this Parish and Caroline his dear wife who survived him fifteen months and died March 4th 1863 Et 70.
There were two consecutive rectors of Ayot St Peter called Edwin Prodgers- father and son, who between them held the position from 1841 to 1867.
When Rev. Prodgers senior arrived in the parish the living was still owned by the family of the Earl of Mexborough, descendants of Ralph Freman, but Rev. Prodgers bought the living himself in 1853. He intended to re-build the church, but died before this could be done.
The senior Reverend Edwin Prodgers was born in 1786 at Worcester, Worcestershire, the son of Edward Prodgers (1738 to 1819) and his wife Mary (née Blower). He was the youngest in the family of five children – his parents had married in Worcester, and all the children were baptised there, but in various reference works his father Edward Prodgers is described as being "of Ludlow, Shropshire". According to Burke's Genealogical and Heraldic History of the Landed Gentry, they were the last surviving branch of the Prodgers of Monmouthshire
Edwin Prodgers attended Oxford university and achieved his bachelor in divinity in 1827. He was curate and then the first rector of St Matthew's church, Brixton, Surrey, from 1824 to 1841, and appears to have had a few months as rector of Upton Lovell, Wiltshire before taking over as rector of Ayot St. Peter.
Edwin met and married Caroline Blades whilst living in Brixton. She was the daughter and co-heiress of John Blades of Brockwell Hall (now in Herne Hill, London SE24) and they married on 21 October 1828 at St. Matthew's, Brixton.
Edwin and Caroline had four children, all baptised in Brixton:- Caroline baptised on 25 September 1829 at St. Matthew's, Emily baptised on 8 May 1831 at Holy Trinity, Edwin baptised on 11 September 1833 at St. Matthew's and Herbert baptised on 3 August 1835 at St. Matthew's.
Sadly, the younger daughter Emily died young, apparently at the age of 17, although that does not quite fit in with her presumed baptism in 1831, and she was buried in Ayot St Peter on 26 March 1850. Her father Rev Prodgers died on 5 December 1861 at 12 Upper Berkeley Street, London, and was buried on 13 December at Ayot St Peter.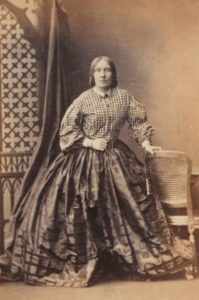 The following year on 15 February 1862, the elder daughter, Caroline, married a captain in the Austrian navy called Giovanni Battista Giacometti at St Mary's Marylebone. The couple had two sons, both baptised by their uncle Edwin at Ayot St Peter – Ferdinando baptised on 16 January 1863 and Ernesto Umberto baptised on 26 November 1864. The following year the couple separated, and from 1870 a long and acrimonious divorce case was played out in court and reported in the newspapers. The main argument was about money, with Giovanni claiming a financial settlement from Caroline. Around the same time, Caroline started a campaign of legal actions against London cab drivers – there were many cases of her accusing them of overcharging and other misdemeanours, and of cab drivers accusing her of not paying. Even a couple of years before her death the newspapers carried reports of cases involving Caroline and cab drivers, and she became quite notorious.
The respected local historian J.E. Cussans, wrote about an encounter with Caroline in an article entitled 'A Professional Herts Tramp' as follows-
"I rode up with her once from Hatfield [on the train to London]. Though long past her première jeunesse she was dressed like a girl of 17 and ridiculously overdressed. She had two children with her, and when she arrived at King's Cross station she appropriated to herself the services of five porters – two to carry her children and the other three her numerous parcels all of which she had previously insisted on having in the carriage. At the station she spoke to the porters as though they had been dogs. 'Here – you porter. Is your jacket clean? If so, carry that child. Here, you, take that parcel and see you don't drop it. All you fellows are so clumsy' etc., etc.
I had no idea who the lady was until we arrived at the station. I then had no doubt, for a continued shout of 'Prodgers' was kept up by the cabman on the rank. One of the porters demurred to the lady's commands, but I who was behind them heard another porter say 'Oh never mind, it's only mad Prodgers. Anything to get her off the platform.' At about that time there was scarcely a day but that she summoned some unfortunate cabman to a police court. She knew every cab fare to a yard and the exact time she could detain a cabman without extra payment, and always exercised her full rights. Hence the numerous police court cases. 'Mrs Prodgers and the cabman' was an ever-welcome theme of music hall comic songs."
Interestingly, Caroline had a daughter Eleanora Philippa Emily Giacometti born on 17 September 1872 and baptised at Ayot St Peter by Rev. Henry Jephson on 9 February 1873, with no father's name given. Caroline died at her home, 54 Queen's Road, St. John's Wood, on 29 April 1890 aged 60. The executor of her estate was William Wright of Ayot Place, Ayot St. Peter (now called Ayot Montfitchet). It is not known what happened to any of Caroline's three children.
Caroline's mother (also Caroline) had died at Ayot St Peter on 4 March 1863 at the age of 70.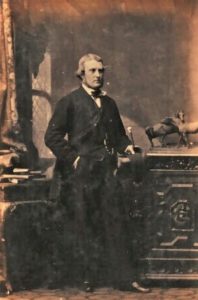 Herbert Prodgers, the youngest child of the family, married Emily Sibella Phillpotts in 1860 at Truro, Cornwall. He settled in Kington St. Michael, Wiltshire, where he re-built the manor house and also gave the village its school and schoolhouse, He was a Justice of the Peace for Wiltshire and died on 5 April 1917. His widow Emily died on 30 April 1918 and both are buried at Kington St. Michael.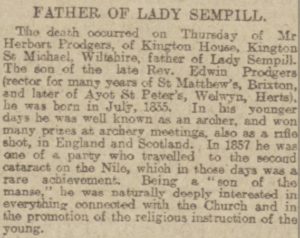 The elder son, Rev. Edwin Prodgers junior, was the curate to his father in Ayot St Peter and took over as rector when his father died in 1861. He paid for much of the third church (the last one on the original site). It was designed by John Loughborough Pearson (1817-97) and had a tower and spire and incorporated some remnants of Dr. Freman's church – in particular the west wall and entrance door. An article in The Hertford Mercury of 6 December 1862 provides much detailed information. Work on the church began in mid-July 1862 and it was completed and ready for its service of dedication by the Bishop of Rochester at 2.30 pm on Tuesday 2 December. The nave was 15 feet wide and 32 feet long; the chancel was also 15 feet wide and 22 feet 6 inches long, with an apsidal end. A tower 72 feet high was attached to the north side of the chancel. There were three lancet windows in the apsidal end, their main panels depicting (in the centre) the Crucifixion and (on the left and right respectively) the Agony and the Resurrection. All were dedicated to the memory of Rev. Edwin Prodgers senior. J.L.Pearson also designed a new rectory which was built in 1866-67 for the use of Rev. Edwin Prodgers junior. This is now the private house at the corner of School Lane and Ayot St Peter Road called "The Old Rectory".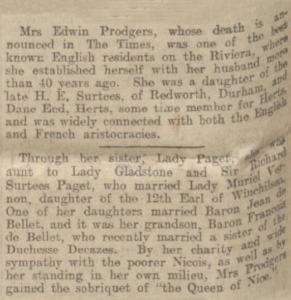 Rev. Edwin Prodgers junior married Elizabeth Ellen Surtees of Dane End at Little Munden, Hertfordshire, on 28 June 1864. She was the daughter of Henry Surtees Esq, the MP for Hertfordshire from 1864 to 1868, and his wife Elizabeth (née Snell Chauncy) and was under the age of 21 on her marriage. Rev. Prodgers gave a dinner for the villagers on Ayot Green on his wedding day. Three years later, around Autumn 1867, he relinquished the living and the couple moved to the Surtees family home, Dane End House. It is thought that the new Mrs Prodgers persuaded her husband away from the church. In the 1871 census Edwin was described as a landowner and magistrate but at some point the couple moved to Nice (France). When Mrs Prodgers died in 1914 it was reported that they had lived there for more than 40 years. Edwin Prodgers died at Nice on 18 March 1918.
I am indebted to Peter Shirley for much of the research for this page.