These two families are of interest to residents of the neighbouring Hertfordshire parishes of Ayot St Lawrence and Ayot St Peter because when their tithe maps were drawn up and tithe apportionments settled (in 1846 and 1838 respectively) 93 per cent. of the parish of Ayot St Lawrence was owned by Lionel Lyde (1775-1851) while in Ayot St Peter Levi Ames (1778-1846), with 35 per cent., was second only to Lord Melbourne of Brocket Hall in terms of land ownership. Despite their different surnames, these two men were in fact brothers. The purpose of this work is to explain how this state of affairs arose.
ORIGINS
In C17th each of the two families was based in Somerset, where the Lydes would have counted themselves socially superior to the Ames. Members of both gravitated the short distance north to the booming city of Bristol, where fortunes were made and paths crossed. The Lydes apparently had more inherited wealth, and before the end of C17th they had deployed some of it in the adjacent American colonies of Maryland and Virginia.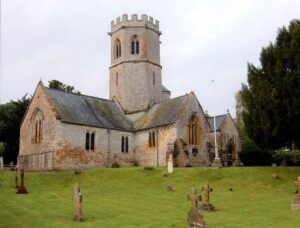 In 1723 Cornelius Lyde (1686-1747) purchased the manor of Ayot St Lawrence. Any investigation of his origins involves perusal of the parish registers for the Somerset village of Stanton Drew, which show that an earlier Cornelius Lyde was born on 2 March 1641 at Stanton Wick. This Cornelius was the son of William Lyde of Stanton Wick, who was himself the son of an earlier William Lyde who was born in 1576.
On 16 May 1661 Cornelius Lyde (b. 1641) married Mary Blatch in the parish church at Stanton Drew, where the baptisms of 11 children of the marriage are listed between 1664 and 1689. Mary Lyde died on 8 June 1715 and her husband died two years later on 25 July 1717 at Chew Magna. The children were mostly born at Stanton Wick. The three villages – Stanton Wick, Stanton Drew and Chew Magna – lie very close together, to the north of the Mendip Hills and to the south of Bristol and Bath. Two of the 11 children are particularly important to us in the Ayots – Lionel born in 1682 and Cornelius in 1686.
As a young man Lionel (b. 1682) spent some time in Virginia, where he was married and had a son Cornelius who became a representative in the colonial legislature for King William county (which is on the middle peninsula on the west coast of Chesapeake Bay) and colonel of a colonial regiment. He in turn had a son Lionel, who was blown up in an engagement at sea in his passage to England in 1747. By 1719 (his first wife presumably having died) Lionel was back in England living at Bristol. On 24 August 1719 he married Anna Maria Paine (1699-1730). Despite the fact that the groom was from Bristol and the bride from Chippenham, they were married in the City of London at the church of St Benet, Paul's Wharf. Between their marriage and Anna Maria's death in 1730 this couple had four children born at Bristol, including Anna Maria (1721-71), Lionel (1724-91) and Samuel (1730-1806). Having returned from America and married again, Lionel Lyde quickly made his mark in business and social circles in Bristol. He was mayor in 1735-36 and died there in 1744.
The younger brother, Cornelius (b. 1686), went to London to make his fortune. He settled in and around the parish of St Bride, Fleet Street, and was listed in trade directories as a druggist. On 15 November 1716 at St Stephen Walbrook he married Mary Peck aged 19, with the consent of her father. Mary sadly died childless in 1718. In 1723 he purchased the estate of Ayot St Lawrence. What drew him to this, how much he paid and how he financed the transaction are all unknowns. The vendors were the executors of the estate of Thomas Lewis, who had bought it in 1714 but died only four years later. At the age of 41 Cornelius Lyde married for the second time. His wife was Rachel Wittenoom (1698-1782) and the wedding was at St Margaret Pattens. There were three children – Rachael (b. 1728), Mary (b. 1730) and Cornelius (b. and d. 1732). Cornelius Lyde died on 11 July 1747; unfortunately his will has not been found but it is clear from various sources that he left equal shares in his estate to his two daughters
The earliest member of the Ames family identified in this study was Matthew of Doulting, who married Mabel Short at Berkley, near Frome, on 24 April 1628 and died in about 1651. Matthew Ames therefore lived through troubled times – the arrival of the early Stuarts, the English Civil War and the establishment of the Commonwealth. The elder son of this marriage was Roger (1635-1700), who married Mary Dory at Doulting on 15 June 1657. It was Roger Ames who began the family's progress from yeoman farmers and clothiers of Somerset to 'merchant princes' of Bristol when he bought and rebuilt Charlton House, Shepton Mallet, in about 1668. In his will made in 1700 he described himself as a stockingmaker of Jenkins in the parish of Shepton Mallet. The eldest son of Roger and Mary Ames was Levi, who was born in about 1658. When Levi married Hannah Watts at Doulting in 1689 he described himself as a clothier and hosier of Doulting. Levi and Hannah Ames had eight children before Hannah died in 1711. Her husband remarried twice before dying in March 1727. He inherited Charlton House from his father in 1700 and acquired additional land at Evercreech.
The eldest son of the first marriage, Roger, remained as a clothier at Doulting but his three younger brothers (Levi, Samuel and Jeremiah) all moved to Bristol. By 1711 Levi (who must have been born in about 1693) became apprentice to a Bristol grocer and by 1719 he was ready to engage his youngest brother Jeremiah (b 20 July 1706) as his own apprentice in that trade. In the apprenticeship registers for 1711 and 1719 Levi was described as the son of Levi Ames, clothier, of Shepton Mallet. Levi Ames married Sarah Gwyn at Bristol cathedral on 28 August 1718. There were four children before Levi died in 1723. Samuel died unmarried in November 1729 aged about 25; in his will made a few days before his death he described himself as a mariner.
Of the three Ames brothers who went to Bristol it was Jeremiah (the youngest) who made the biggest mark. On 2 March 1731 at Ilminster he married Phoebe Collins (1706-79) of nearby Horton. Despite inheriting Charlton House from his father in 1727, Jeremiah and Phoebe spent their married life at 17 Lower Maudlin Lane, Bristol, where they brought up seven children, including a son called Levi (b. 1739). Lionel Lyde had already become significant in business and social circles in Bristol when Jeremiah and Phoebe Ames arrived there. Over some 40 years Jeremiah Ames was to follow a similar path, being elected sheriff for 1742-43 and mayor for 1759-60. In addition to his core business as a grocer, he diversified into sugar baking and refining, the manufacture of snuff and tobacco, gunpowder making and dealing in iron goods. He also had extensive interests in shipping, and in 1769 was one of the founders of Harford's Bank, Bristol, as a natural extension of his commercial interests. He died on 3 April 1776 aged 69. He had been much involved in the Unitarian Church and was interred in the dissenters' burial ground in Brunswick Square.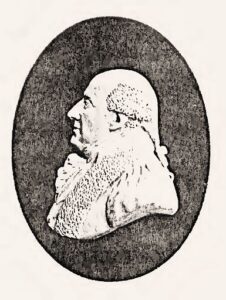 Jeremiah's son Levi was born at Bristol in 1739 and baptised there on 2 April at Lewin's Mead chapel (Unitarian). He followed in his father's footsteps and was sheriff of Bristol in 1771-72 and mayor in 1788-89. He was a drysalter and banker in Bristol. He was a founding partner of Ames, Cave & Co. (later the Bristol Bank) in 1786 and remained a partner until his death. He was twice married. His first wife was Anna Maria Poole, and their wedding took place on 19 April 1770 at St Giles without Cripplegate in the City of London. There were 10 children, one of whom was Lionel (1775-1851) and another Levi (1778-1846). Anna Maria died on 1 September 1792 and on 14 July 1796 the second marriage took place at Walcot St Swithin, Bath. The second wife was Elizabeth Wraxall. Levi Ames died on 16 December 1820. His wealth at death was some £120,000. His widow Elizabeth died on 7 November 1843 at the then quite exceptional age of 97.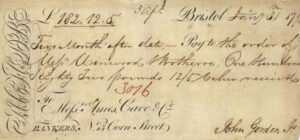 Levi inherited Charlton House from his father in 1776 but sold it in 1804 and purchased Clifton Wood House in Hotwells, Bristol, where he and Anna Maria brought up their large family. Charlton House is now an hotel in the stable of Duncan Bannatyne, a one time dragon on the TV show Dragons' Den. Clifton Wood House was in the news in 2012 when it was occupied and badly damaged by squatters.
CONNECTIONS
Anna Maria Lyde (1721-71) married Chauncey Poole (1720-84). Chauncey was baptised on 10 March 1720 at Lewin's Mead chapel, where Levi Ames was baptised in 1739. The marriage took place on 18 October 1744 at Westbury on Trym. When Chauncey was buried at Bristol on 14 December 1784 he was described in the register as 'from Westbury.' He had in fact qualified as an attorney following an apprenticeship at Marlborough and had subsequently carried on business as a merchant in the City of London. Between 1744 and 1749 this couple had three children – Nicholas, Lionel and Anna Maria. It was Anna Maria Poole who first linked the Lyde and Ames families by her marriage to Levi Ames in 1770.
Mrs Poole's brother Lionel Lyde (1724-91) married his first cousin Rachael Lyde, elder daughter of his uncle Cornelius Lyde (1686-1747). The wedding was on 20 July 1747 at the church where the bridegroom's parents had married in 1719, St Benet, Paul's Wharf. As we have seen, the bride's father died nine days before the marriage whereupon Rachael had inherited a half share in her father's estate – including in this case the Ayot St Lawrence estate which he had purchased in 1723. Under the old law, on marriage the husband acquired all of his wife's property. The marriage was by all accounts ill-starred and childless. Lionel Lyde was created baronet on 13 October 1772.
Having acquired his wife's half share in the Ayot St Lawrence estate on marriage, Sir Lionel Lyde was later able to purchase the half share owned by Mary Chandler (née Lyde), his cousin and sister-in-law, and thus became its sole proprietor. It seems that between 1747 and his death in 1791 he purchased additional land in the neighbourhood. Under his will dated 9 December 1788 Sir Lionel put all his landed interests in Hertfordshire into a strict settlement by vesting his various titles in three trustees and creating successive life interests. The first of these was in favour of his younger brother Samuel (1730-1806) and it was followed, secondly, by life interests for Samuel's sons. Samuel was married, lived at Bath and had a daughter but no sons. He apparently had no wish to move from Bath to Ayot St Lawrence and therefore
immediately surrendered his life interest to the third beneficiary, his sister Anna Maria Poole's son Lionel Poole (b 1747), who with royal permission changed his name to Lionel Lyde on 19 July 1792 in accordance with a stipulation in Sir Lionel's will. The stipulation was presumably intended to create the impression that Lionel Poole was Sir Lionel's son and to reinforce the testator's opinion that the Lyde family was pre-eminent.
When Lionel Poole/Lyde died unmarried at his home at Shirehampton on 29 January 1805 there was considerable difficulty about his estate. A thorough family search failed to uncover a will. Two fragmentary documents dated 1 December 1794 were found but these only gave legacies to servants who had predeceased the testator. Lionel Ames (b 1775) deposed that he was the elder nephew and heir at law of the deceased, and following supporting evidence from his father Levi Ames, brother in law Richard Llewellin and brothers Levi and John Ames, the Prerogative Court of Canterbury granted administration of the estate to Lionel Ames on 2 March 1805. Thus a life interest in the lands at Ayot St Lawrence passed next to the fourth beneficiary of Sir Lionel's strict settlement, namely Lionel Poole/Lyde's sister Anna Maria Ames' son Lionel Ames. Following the grant of a further royal permission and in compliance with the stipulation in the will, Lionel Ames likewise changed his name to Lionel Lyde on 6 February 1806. Lionel Ames/Lyde was a barrister at Lincoln's Inn. He died unmarried at his home in London on 22 January 1851 and was buried at East Hyde, Bedfordshire, eight days later.
It will be recalled that Lionel Ames/Lyde had a younger brother Levi (b 30 November 1778). Like his father before him, Levi Ames was baptised at Lewin's Mead chapel on 1 January 1779. Levi married Ann Bird Metcalfe (1791-1853) at Clifton on 13 June 1808. This marriage produced seven children, all of them born at Clifton and all bar one surviving into adulthood. Levi continued the family traditions of banking, ship owning and the West Indies trade, coupled with Unitarianism and civic leadership. He also maintained a town house in London at 14 Hereford Street (which was at the junction of Oxford Street and Park Lane but no  longer exists) and his children made good marriages in the metropolis. He retired in the late 1820s and rented Lamer House, Wheathampstead, from which base he had by the 1830s  built up a very substantial landed estate more or less contiguous with his elder brother's inherited estate at Ayot St Lawrence. His principal purchase was The Hyde, just north of the county boundary between Hertfordshire and Bedfordshire, which he bought in 1835 and gave to his eldest son Lionel two years later. He also purchased some 387 acres in the parish of Ayot St Peter. Presumably he was prompted to embark on these acquisitions by his brother's good fortune.
The eldest child of Levi and Ann Bird Ames was Lionel (1809-73), who married Augusta Percy Wilson at Chelsea on 10 June 1848. Her father was Sir John Morillyon Wilson. They lived at The Hyde (which his father had given him in 1837) and are to be found there in the censuses for 1851, 1861 and 1871. It appears that Lionel Ames lived the life of the landed proprietor, with a suitably large contingent of servants. His 'rank, profession or occupation' was given simply as justice of the peace for the two counties whose boundary was straddled by his estates. The name Morillyon is interesting because the last rector of Ayot St Peter before the parish was merged with St Mary Welwyn, Rev Hendrik Loysen, had that as one of his names also. However, it appears that this is simply coincidental.
Another connection should be mentioned. Jeremiah Ames (1706-76) had two daughters who married two brothers: Mary Ames (1731-88) married John Olive as his second wife in 1768 and her sister Sarah Ames (1741-1801) married his brother Gregory Olive in 1763. Gregory and Sarah Olive then had two sons who married two daughters of Levi Ames (1739-1820): in 1796 Sarah Ames (1772-1815) married John Olive and four years later her sister Phoebe Ames (1774-1841) married Rev James Olive. John and Sarah Olive had a son John in April 1804 and as Rev John Olive he was placed in the living at Ayot St Lawrence by the Ames and Lyde families. In his capacity of High Sheriff of Bedfordshire, Levi Ames of The Hyde further engaged his nephew Rev John Olive as his chaplain.
TITHE APPORTIONMENTS
On various dates in the 1830s and 1840s under a statutory scheme settlements were agreed or (failing agreement) imposed for each Church of England parish by which the tithes payable in kind to the incumbent were converted into money obligations called rentcharges. For this purpose each parish was very carefully mapped and the owners and occupiers of each parcel of land were identified.
Lionel Ames/Lyde was proprietor of a total of 171 parcels of land of variable size in the Hertfordshire parishes of Kimpton (2), Hatfield (4), Codicote (32) and Ayot St Lawrence (121). In addition, and very interestingly, he had 12 parcels in Chew Magna, taking the story back to the Somerset origins of the Lyde family.
His brother Levi had even more parcels of land – 225 spread over six parishes. In Bedfordshire he had 103 in Luton parish. In Hertfordshire his holdings were in the parishes of Kimpton (4), Ayot St Peter (29), Harpenden (6), Wheathampstead (82) and Codicote (1).
WEALTH ACQUIRED
For modern residents of Ayot St Lawrence it is interesting to try to establish how it was that Cornelius Lyde (1686-1747) could afford to purchase the entire manor in 1723.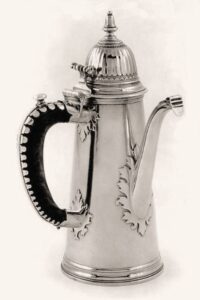 His ancestors had 'old money' in the shape of longstanding land holdings in the Chew Magna area of Somerset but the family's wealth clearly grew very substantially during C17th. Some members of the family went to the American colonies of Maryland and Virginia where they established themselves as owners of tobacco plantations and the slaves who did the work for them; others became processors and merchants of the tobacco shipped back to them in Bristol. The evidence from America is elusive but there are straws in the wind. It was presumably in the first few years of C18th that, as we have seen, Cornelius' brother Lionel (1682-1745), the father of Sir Lionel Lyde Bart., was first married in Virginia. At about the same time a coffee pot was commissioned from Anthony Nelme, one of the foremost silversmiths of London (active from 1680 until his death in 1723), emblazoned with the Lyde family crest. The coffee pot has the London hallmark for 1701-02. It is catalogued in America and could very well have been a wedding present to Lionel from his father Cornelius (1641-1717). It is a very luxurious item and shows that the family had much disposable wealth by 1700. Just over a century later this line had died out, but we can assume that in the meantime (probably before the colonies obtained their independence) the family's assets in America were sold to local interests.
For residents of Ayot St Peter the question is how Levi Ames (1778-1846) was able to finance his acquisition of 35 per cent of the land in the parish while having more than enough over at the same time to finance the purchase The Hyde estate and other adjacent landholdings.
The progress of the Ames family in C17th was if anything even more impressive than that of the Lydes. The large study entitled Legacies of British Slave-ownership by University College London provides clear evidence that the family was involved with ownership of sugar plantations in the West Indies and of the slaves attached to them. The blog created by Nicholas Kingsley entitled Landed families of Britain and Ireland* includes a page (120) Ames of Bristol which contains a great deal of valuable biographical, property and other information, on which this work has drawn.
The big leap forward was made by Jeremiah Ames (1706-76). He became involved in the manufacture of gunpowder at Littleton Mill, close to the Lyde ancestral lands in the Chew Magna area. This either led to or stemmed from involvement in the triangular trade of shipping guns and gunpowder to West Africa; from there cargoes of slaves were transported to the West Indies and the American colonies; and then the ships brought back the sugar and tobacco for processing and sale in Bristol. The huge profits generated were (using today's terminology) 'laundered' through private banking houses established by the families concerned.
When Jeremiah's elder brother Levi died in 1723 his will contained no suggestion that he was involved in anything but his grocery trade. On the other hand, the middle brother Samuel, who died in 1729, in his will described himself (no doubt tellingly) as a mariner. It can be assumed that he made at least one of the triangular sailings. Jeremiah's own will is silent about the slave trade and there is no record of the value of his estate in 1776.
It has already been noticed that Jeremiah's eldest son Levi (1739-1820) left an estate of £120,000. The assets representing this sum (enormous at the time and equivalent to approximately £7 million today) were left to his four daughters (three of whom married) and six sons – in birth order Lionel, Jeremiah, Levi, Charles, John and George Henry. As we have seen, Lionel (later Lyde) and Levi inherited or purchased country houses and land in Bedfordshire and Hertfordshire. Lionel's estate was valued at £500,000 in 1851 (about £40 million today). In 1846 Levi left £50,000 (over £4 million today). His youngest son, Henry Metcalfe (1820-74), married into the Northumberland gentry and bought Linden Hall at Longhorsley in 1861. When Henry Metcalfe died in 1874 he left an estate of £250,000 (well over £15 million today); among the assets which he had inherited under his father's will in 1846 was one of the few traces of the slavery days – a one third share of certain estates in Trinidad which his father had owned jointly with Lionel Cave. Henry Metcalfe's son, Louis Eric (1855-1933), built a neo-Jacobean house which he called Ghyllheugh; it was built close to Linden House, which was sold in 1904. Charles (1782-1803) died young and unmarried. Jeremiah (1776-1820), John (1784-1867) and George Henry (1786-1873) continued in business as West India merchants before and after the abolition of slavery. John bought a country house in Devon and left an estate of £500,000 in 1867 (over £30 million today). George Henry successfully claimed compensation of over £67,000 (some £4 million today) under the Slave Compensation Act 1837 for the loss of his slaves on 16 plantations in British Guiana, Grenada, St Kitts, St Vincent and Trinidad. He too bought a country house (Cote House) and left an estate of £90,000 in 1873 (approximately £5.5 million today). Two of his sons likewise built or bought country estates – Charles Herbert's Remenham Place near Henley on Thames and Edward Levi's Clevelands near Lyme Regis.
WEALTH DISPERSED
The problem for the Lyde family and its connection to Ayot St Lawrence was that relevant lines stemming from the 1661 marriage of Cornelius Lyde and Mary Blatch daughtered out. There were no male Lydes in those lines after the death of Sir Lionel's younger brother Samuel in 1806. The wealth represented by the estate passed briefly into the hands of the Poole family (between 1791 and 1805) and then into the hands of the Ames family.
Apart from the two sons Lionel (1682-1745) and Cornelius (1686-1747) with whom the Ayot St Lawrence estate was involved, the 1661 marriage did produce another son Cornelius (who was born in 1664 but had clearly died before his namesake was born in 1682) and a further five sons and three daughters. It is beyond the scope of this work to investigate whether descendants of any of these eight children are live today and, if so, how well-off they are.
The prodigious wealth accumulated by the Ames family over two centuries from the 1660s onwards became widely dispersed and only slowly run down. The many country estates inherited, bought or built by family members will have been very expensive to staff, decorate, run and maintain, and too many of those with the responsibility to do so chose not to work but instead to lead the life of the country squire.
Charlton House was bought in 1668 and sold in 1804. Clifton Wood House was bought in late C18th and sold some 30 years later. Ayot House came into the family in 1805 and was sold in 1912. It is not known when the land in Ayot St Peter (including Ryefield Farm) was sold but it could well be that it was also sold in 1912. Cote House was bought in 1825 and sold in 1922. The Hyde, bought in 1835, was sold in 1920. Clevelands was bought in 1838 and sold in 1892. Linden Hall was bought in 1861 and sold in 1904 while Ghyllheugh was built in 1900-03 and sold in the late 1950s. Remenham Place was completed in 1870 and sold in 1920.
Although Ayot House was sold in 1912 members of the Ames family continued to live in the parish of Ayot St Lawrence until 1971. In the 1911 census Ayot House was occupied by Roger Cunliffe JP while Alice Catherine Ames (the widow of the last Ames owner of Ayot House, Gerard Vivian Ames (1852-99)) was living in The Old Rectory. At the same time the rector himself was living in Amesbury Cottage – its name clearly linking it to the Ames family. Mrs Ames died at The Old Rectory in 1926 with an estate of about £17,400, but this was not the end of the Ames connection. In 1939 her son Lionel Gerard Ames (1889-1971) and his wife Monica were living in Ayot Cottage, close to the Brocket Arms, and at some point after the rector had left Amesbury Cottage they moved into that property and dropped Cottage from the name. Lionel Ames died at Amesbury in 1971 with an estate of just £762, and so brought to an end a Lyde/Ames association with the parish lasting no less than 248 years.
There were so many children born into the Ames family over the last three centuries that it seems certain that there will be living descendants today. It is, however, beyond the scope of this work to try to identify and locate them.
A public tree on the Ancestry website gives more details on these two families Lyde and Ames families
* Landed families of Britain and Ireland blog, page 120, Ames of Bristol
A note on Stanton Drew church – there are numerous memorials to the Lyde family inside the church, mostly in the Lyde Chapel which is not normally open to the public. Please contact the church in advance to arrange access. The memorials are difficult to read but full transcriptions can be found in The History and Antiquities of the County of Somerset, Volume 2, by John Collinson (1791), which is currently available on Google Books.
Peter Shirley, June 2020