This is a gallery of pictures of some of our former residents. My thanks to everyone who has shared their family treasures so far – please get in touch if you have some pictures to add to this page.
The Ettridge family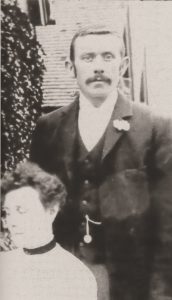 Charles Thomas Ettridge and Laura Harriett Gower married at St Mary's church, Welwyn in late July 1901. A few months before their wedding  – in the census of March 1901 – Charles was living with his parents William and Mary Ettridge in Whitehill (Welwyn) and Laura was living in Wood Green with her widowed brother Arthur, who was a police constable. Laura's parents George and Emily Gower lived in Whitehill. In the two previous census returns – in 1881 and 1891 – the Gower and Ettridge families both lived in Whitehill, so Charles and Laura would have known each other throughout their childhoods.
Charles and Laura's only child, Violet Maude, was born in December 1902 and baptised at Ayot St Peter church on 8th February 1903. At the time of her baptism the family lived at Whitehill and Charles had the intriguing occupation of "gas maker".
In the 1911 census the family were living in Dowdells Wood Cottage, Ayot St Peter. Charles gave his birthplace as Welwyn and Laura gave Codicote. Charles worked as a farm labourer.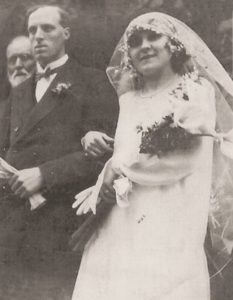 In the 1939 national register Charles and Laura were living in Greggswood Cottages, Whitehill. Charles worked as a "jobbing gardener".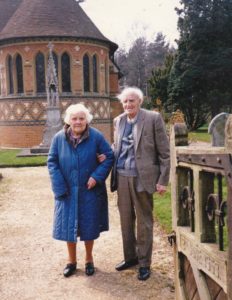 Charles died in 1946 and Laura in 1961. They are buried in the new churchyard in Ayot St Peter.
Their daughter Violet attended Ayot St Peter school and can be seen as a pupil in one of the group photos on this website. She later became a teacher at the school. She married Harry Cooper, who was the church organist, at Ayot St Peter church on 7 April 1928. After their marriage the couple lived in Welwyn Garden City.
Harry and Violet celebrated their diamond wedding anniversary in 1988 by returning to visit Ayot St Peter church.
The Hope family
William George Hope married Harriette Jane Goodenough in the parish of St Luke, Chelsea on 10 June 1902. William gave his occupation as "butler". Very soon afterwards the couple moved to Hertfordshire, where their first daughter Alma Sarah was born in Codicote in 1903. The second daughter Jessie Harriet was born in Codicote in 1905, and the youngest girl Vera Ellen was born in Digswell in 1908.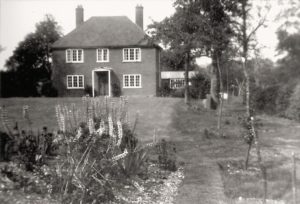 By the time of the 1911 census the family of five were living in Digswell, and William was employed at Digswell House. In 1913 Alma died at the age of just nine years.
In 1928, William purchased a piece of land close to the Great North Road at Welwyn and had a house built there which the family named "Sandyhurst". The land had previously formed part of the Lockleys estate. It is likely that William was by this time employed by the Wilshere family at The Frythe, and they may have helped with the purchase price.
In the 1939 national register listing for Sandyhurst, Jessie is recorded as a "school teacher". Vera's occupation was "Supervisor, telephone service" and in the column normally used for war work she's recorded as "A.R.P, British Red Cross". By this time the girls' father William was describing himself as a "poultry farmer".
Harriette died in 1947 at the age of 75 and William died on 27 January 1963 aged 88. The following year Vera was awarded the British Empire Medal in the Queen's Birthday Honours List. The London Gazette of 13th June 1964 lists her as:- Miss Vera Ellen Hope, Chief Supervisor, Potters Bar Telephone Exchange, General Post Office
Jessie and Vera did not marry. They inherited Sandyhurst and lived there for the rest of their lives. It is not known where Alma, Harriette or William are buried, but Jessie and Vera are buried in the new churchyard at Ayot St Peter. Their inscription reads as follows:-
Jessie Harriet Hope died 7 August 1980 aged 74 and Vera Ellen Hope B.E.M. died 31 March 1981 aged 72. Beloved daughters of William and Harriet Hope of Sandyhurst, Welwyn
Sandyhurst has never been within the boundary of Ayot St Peter parish, but it may be that Vera and Jessie attended services here rather than Welwyn.
The Jakings family
Edna May Jakings was born on 20th September 1918 at the Old Horse and Jockey public house on Ayot Green, the youngest daughter of Albert and Edith Lily (née Bunting) Jakings, who later lived at The Old Cottage on Waterend Lane (now known as "Crackendell Cottage").
Albert Jakings had been born in 1884 in Islington, the son of George and Mary (née Silby) and had the most unusual middle name of St Gatien which was the name of a famous racehorse of the time. The story goes that his father won some money on the horse around the time of Albert's birth.
Edith Lily Bunting (known as "Lily") was the daughter of George and Emma (née Davies) and had been born in the Poplar area of London in 1891.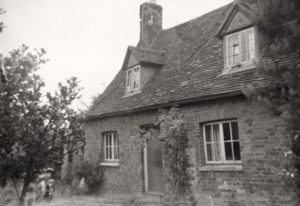 Albert and Lily married in Poplar in the first quarter of 1910 and had four daughters: – Dorothy Edith in 1910, Kathleen Elsie in 1912 and Winifred Grace in 1913 (all born in London) and finally Edna May born in Hertfordshire in 1918. The family moved back to London after World War One.
Edna May Jakings married Alfred Henry Edward Goodridge in London on 31st July 1937 and at the start of World War Two moved back to Ayot where their first son Michael was born at Brocket Hall on 11th November 1941 and baptised at St Peter's Church.
Moving back to London after the war the family increased to four boys and Ayot became summer holidays for them all.  Albert and Lily Jakings died in 1959 and 1955 respectively and are buried in the churchyard at St Peter's Church, just inside the gate.
Edna and Alfred Goodridge retired to Bexhill on Sea until their demise in 1989 and 1990 respectively.