This is a gallery of pictures of some of our former residents. My thanks to everyone who has shared their family treasures so far – please get in touch if you have some pictures to add to this page.
The Ettridge family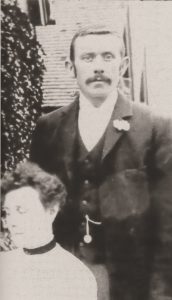 Charles Thomas Ettridge and Laura Harriett Gower married at St Mary's church, Welwyn in late July 1901. A few months before their wedding  – in the census of March 1901 – Charles was living with his parents William and Mary Ettridge in Whitehill (Welwyn) and Laura was living in Wood Green with her widowed brother Arthur, who was a police constable. Laura's parents George and Emily Gower lived in Whitehill. In the two previous census returns – in 1881 and 1891 – the Gower and Ettridge families both lived in Whitehill, so Charles and Laura would have known each other throughout their childhoods.
Charles and Laura's only child, Violet Maude, was born in December 1902 and baptised at Ayot St Peter church on 8th February 1903. At the time of her baptism the family lived at Whitehill and Charles had the intriguing occupation of "gas maker".
In the 1911 census the family were living in Dowdells Wood Cottage, Ayot St Peter. Charles gave his birthplace as Welwyn and Laura gave Codicote. Charles worked as a farm labourer.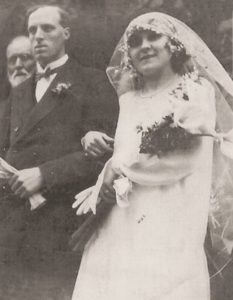 In the 1939 national register Charles and Laura were living in Greggswood Cottages, Whitehill. Charles worked as a "jobbing gardener".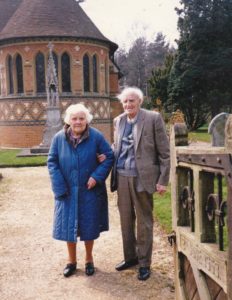 Charles died in 1946 and Laura in 1961. They are buried in the new churchyard in Ayot St Peter.
Their daughter Violet attended Ayot St Peter school and can be seen as a pupil in one of the group photos on this website. She later became a teacher at the school. She married Harry Cooper, who was the church organist, at Ayot St Peter church on 7 April 1928. After their marriage the couple lived in Welwyn Garden City.
Harry and Violet celebrated their diamond wedding anniversary in 1988 by returning to visit Ayot St Peter church.
The Freeman family
George Frederick Freeman married Mary Shelton in the Pershore area of Worcestershire towards the end of 1883. Both had been born in Worcestershire but they must have moved to Ayot Green soon after their wedding, as their first child George Henry was baptised in Ayot St Peter early in 1885. Five other children followed – Horace Allen born 1887 and who sadly died in 1890 aged 3 1/2, Beatrice Mary born 1892, Walter George born 1893, Cyril Thomas born 1899 and finally Ethel Ellen born in 1904. This photograph shows the two girls – Beatrice Mary on the left, with her little sister Ethel Ellen, and an unknown female cousin on the right.
George Frederick worked as a gardener in Ayot St Peter and died on 7 December 1916 aged 64; his widow Mary died on 3 July 1930 aged 68. They are buried together in the old churchyard.
Beatrice Mary married Percy Coleman of Kimpton in 1920. In the 1970s, Ethel provided the list of names for the Ayot School photograph which you can see on this page. The photograph includes Ethel and her older brother Cyril. Ethel died in 1976 and is buried in unmarked plot D28 in the new churchyard.
The Golding family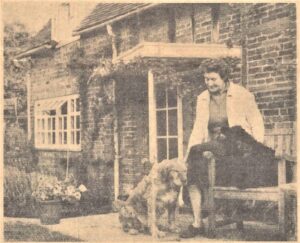 Diana and Jim Golding arrived at the house that is now number 4 Ayot Green in the mid 1950s. They had moved from a timbered property in Surrey and were the first people to "do up" one of the cottages on the Green.
Diana had been born in Portugal in 1907 and was the only child of Antonio Conde (a Portuguese barrister) and his wife Mabel Mary (née Ellerton). Diana had been named "Mabel" after her mother, but (in Ayot St Peter at least) she always used the first name "Diana". The film actress Pamela Brown (1917 to 1975), whose mother had also been an Ellerton, was a cousin of Diana's, but not a first cousin. By the time the Goldings lived on Ayot Green, Diana's formidable mother Mrs Mabel Ellerton Conde, was widowed and living in west London. She died in March 1965.
"Jim" was Wyndham James Golding, born in 1912 and the son of Walter Wyndham Golding M.R.C.V.S., a veterinary inspector in Hertfordshire, and his wife Ada (née Bradford). It is thought that Ada was connected with the Beecham pharmaceutical brand and for this reason Jim did not need to work. However, at one time he had a mink farm on the old brick yard, in partnership with John Harmston of Brock Cottage, Homerswood Lane.
Diana had been married in 1931 to Kenneth Douglas Faulkner. At the outbreak of war in 1939 she was living with her mother at 25 Talgarth Mansions, West Kensington. She still described herself as "married" and was working as a mannequin. Presumably Kenneth and Diana divorced in the early years of the war as in 1942 she married Jim. Her first husband Kenneth died on war service in February 1945 – he was a flight lieutenant in the RAF and had been awarded the DFC. He was buried in his family village of Linslade, Bedfordshire.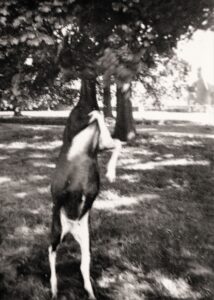 Diana's passion was her goats, British Alpines, and she showed them at Hertfordshire County Show and they were grazed on the Green every afternoon. The mother goat was Annette, and she had daughters Amelia and Amanda. Diana also had many budgerigars in an aviary (tended by Jim) and the couple had two dogs.
Jim is remembered as being "very laid back and a true gentleman", but Diana was always quite difficult. In the end, poor health forced them to sell their cottage and they moved into a retirement complex in Codicote. Diana died in 1993 and Jim in 2001.
The Hill family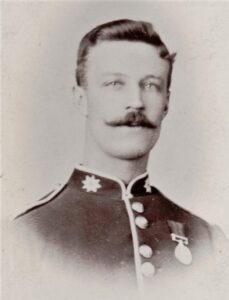 Alfred Hill was born in either Lemsford or Hatfield in 1869, the son of John Hill (a plate layer) and his wife Jane (née Woodward), who had married in 1862.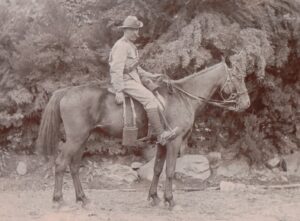 Alfred Hill (known as "Roger") became a career soldier – he joined the Northumberland Fusiliers on 8 November 1888 aged 19 years 3 months, giving his occupation as "labourer". He served in various South African campaigns, and was gradually promoted through the ranks, starting as a private and finishing his career as a colour sergeant. He was finally discharged after 21 years' service on 4 November 1909 aged 40 years 3 months. On his discharge form his conduct was described as "exemplary".
Clara Walby was born on 9 July 1870 in Lemsford, the daughter of William Walby (an agricultural labourer) and his wife Harriet (née Lines), who had married in 1851. Alfred and Clara married on 6 January 1894. They had no children of their own but some time after 1901 they adopted Clara's niece Olive Maud – the daughter of her older brother George Walby – whose mother Elizabeth (née Brown) had died when she was a baby.
After retiring from the army, Alfred worked for the Brocket estate and in 1910 the family moved into the cottage that is now number 20 Ayot Green, also known as Georgian Cottage.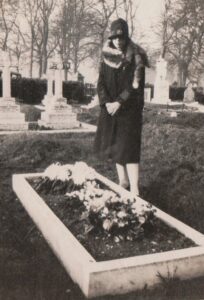 Alfred re-enlisted in 1914 at the age of 45 and served on home duties throughout the First World War. He died in 1926 and is buried in the churchyard at Lemsford.
Clara remained in the cottage on Ayot Green until her death in 1946. The couple's adopted daughter Olive Maud Hill (previously Walby) married George Edward Bullen on 1 September 1928 at Ayot St Peter church. The couple had two children, Daphne and David, but sadly Olive died on 8 January 1937. Clara, by now in her late sixties and a widow, helped to raise her two adoptive grandchildren. Her adoptive granddaughter Daphne – who was in reality her great niece – remembered her thus "A very kind and wonderful lady who had a great and loving heart, always gave of herself, and never complained."
Clara is buried with her husband in Lemsford, but Olive is buried in the new churchyard in Ayot St Peter. Olive's widower George Bullen remarried and died in 1954.
The Hope family
William George Hope married Harriette Jane Goodenough in the parish of St Luke, Chelsea on 10 June 1902. William gave his occupation as "butler". Very soon afterwards the couple moved to Hertfordshire, where their first daughter Alma Sarah was born in Codicote in 1903. The second daughter Jessie Harriet was born in Codicote in 1905, and the youngest girl Vera Ellen was born in Digswell in 1908.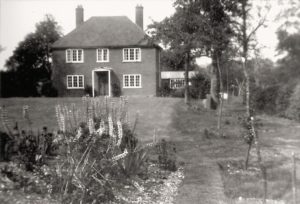 By the time of the 1911 census the family of five were living in Digswell, and William was employed at Digswell House. In 1913 Alma died at the age of just nine years.
In 1928, William purchased a piece of land close to the Great North Road at Welwyn and had a house built there which the family named "Sandyhurst". The land had previously formed part of the Lockleys estate. It is likely that William was by this time employed by the Wilshere family at The Frythe, and they may have helped with the purchase price.
In the 1939 national register listing for Sandyhurst, Jessie is recorded as a "school teacher". Vera's occupation was "Supervisor, telephone service" and in the column normally used for war work she's recorded as "A.R.P, British Red Cross". By this time the girls' father William was describing himself as a "poultry farmer".
Harriette died in 1947 at the age of 75 and William died on 27 January 1963 aged 88. The following year Vera was awarded the British Empire Medal in the Queen's Birthday Honours List. The London Gazette of 13th June 1964 lists her as:- Miss Vera Ellen Hope, Chief Supervisor, Potters Bar Telephone Exchange, General Post Office
Jessie and Vera did not marry. They inherited Sandyhurst and lived there for the rest of their lives. It is not known where Alma, Harriette or William are buried, but Jessie and Vera are buried in the new churchyard at Ayot St Peter. Their inscription reads as follows:-
Jessie Harriet Hope died 7 August 1980 aged 74 and Vera Ellen Hope B.E.M. died 31 March 1981 aged 72. Beloved daughters of William and Harriet Hope of Sandyhurst, Welwyn
Sandyhurst has never been within the boundary of Ayot St Peter parish, but it may be that Vera and Jessie attended services here rather than Welwyn.
The Jakings family
These paragraphs and pictures have been moved to a dedicated page
The Meech family
The Meech family were residents of Ayot St Peter from the 1890s until almost the end of the 20th century.
William James Meech was a gardener and he married Laura Yelland at Digswell, Hertfordshire in 1894. William had been born near Dorchester, Dorset, and baptised in the small village of Winterborne Came in 1867. Laura was born in Devon in 1872 and baptised in Crediton in 1877.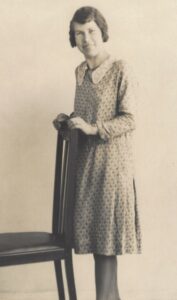 William and Laura had three children, all born in Ayot St Peter – Hilda May who was baptised in Ayot St Peter church on 9 October 1898, Ellen Florence baptised 5 May 1901 and William James baptised 10 January 1904. At the time of Hilda's birth, the family lived in Dowdells Cottage but they probably moved to Ayot Green before Ellen was born. In the 1911 census they lived on Ayot Green.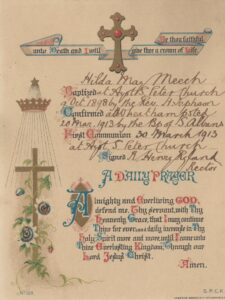 The younger daughter, Ellen Florence Meech married William Albert Dimmock at Ayot St Peter on 26 May 1928. He was the only child of William James Dimmock and Minnie (née Faulkner) who had married in Worcestershire in 1900. William James Dimmock had been born in Codicote and Minnie Faulkner was born in Tyttenhanger Green near St Albans, but they spent some time living in Smethwick, where their son William was baptised on 3 July 1901.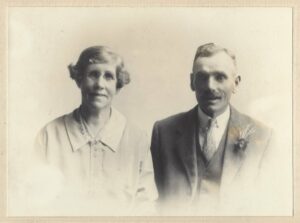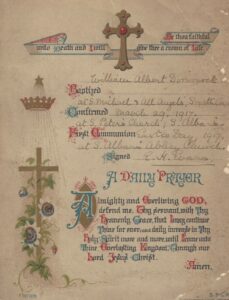 The whole family are buried in the new churchyard at Ayot St Peter.
A white marble cross marks the resting place of Laura Meech [née Yelland] who died on 6 November 1921 aged 47, her husband William James Meech who died on 5 August 1938 aged 70, and their son William James Meech who died in 1968. At the time of his death, William James lived at 3 Wilshere Road, Welwyn.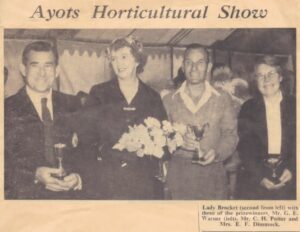 Another grave records William Albert Dimmock, who died on 9 February 1978 aged 76 and his wife Ellen Florence Dimmock [née Meech] who died on 12 October 1981 aged 80. Also Hilda May Meech, the sister of Ellen, who died 21 July 1990 aged 91.
In the burial register the curate has recorded that Hilda lived for 75 years at 16 Ayot Green, although after the death of her brother-in-law William she and her sister moved to a bungalow in Wilshere Road, Welwyn. Following Ellen's death, Hilda was a resident of Hyde Valley House in Hatfield.
There are still people living around Ayot Green who remember the Meech and Dimmock families.
The Roskell family
In the period from about 1919 until the 1930s, Eileen Roskell (she spelt it "Roskill") operated a small private school at 31 and 33 Ayot Green. The school was in one of the cottages and Miss Roskell lived in the other, for some of the time with her elderly mother.
Eileen's mother had been born Mary Gertrude Williams and she married John Burrow Roskell on 15 October 1877 in Penarth, Glamorgan, Wales. In the 1881 census Mary Gertrude gave her birthplace as Cardiff, but John was born "at sea". The couple lived at various addresses around Penarth, and John was described as a "merchant". They had five children, all baptised in Penarth, but sadly it seems they have no descendants:-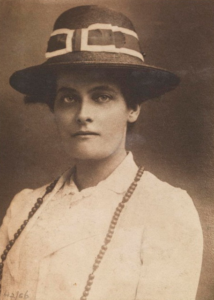 Gertrude Lucinda born in late 1878 and baptised on 15 January 1879
John Douglas born in the summer of 1880 and baptised on 13 December 1881
Eileen Mary baptised on 24 January 1882
Henry Vyvyan Burrow baptised 20 April 1884
Clifford Moyse baptised 8 December 1885
Mary Gertrude's husband John Burrow Roskell died in 1886 at the age of 34 and was buried on 11 November at Penarth. Two years later, their son Henry Vyvyan Burrow died aged four, and was buried in Penarth on 23 July 1888.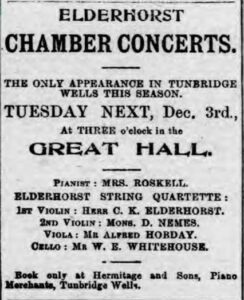 In the 1891 census, the widowed Mary Gertrude Roskell (she normally used just "Gertrude") was living with her daughters Gertrude and Eileen in Penarth, where she was a "professor of music". She was a talented pianist and had been involved in amateur concerts while her husband was alive. Once widowed she became a professional musician, first in Glamorgan and later in London. Her first London concerts appear to have been in 1895, and the newspaper reports mention Carl Elderhorst as the violinist.
By the time of the 1901 census the family had moved to Hove, Sussex, and Mary Gertrude, now aged 47, again described herself as a "professor of music". Her daughter Gertrude still lived at home aged 22, and also her two surviving sons were present – Clifford aged 15 and Douglas aged 20, who was an officer with P&O.
On 29 January 1903, the widow Mary Gertrude married Carl Kellman Elderhorst (formerly Kellman) at St Mary's Bryanston Square, Marylebone, London. He was a bachelor aged 36 and a "professor of music". At some point after 1911 the couple moved to Knebworth in Hertfordshire. Carl died in 1929 aged 64 and was buried in Knebworth – the burial register gives his address as 63 Pondcroft Road. After his death Mary Gertrude lived on Ayot Green with her daughter Eileen but by the time of the 1939 register had moved to Wells-next-the-Sea, Norfolk where she died at the age of 92 in 1946. She is buried in Knebworth.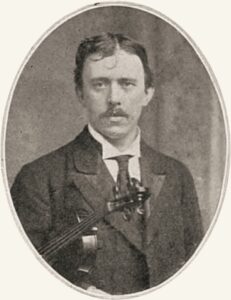 Mary Gertrude's daughter Gertrude Lucinda joined the VAD (Voluntary Aid Detachment) on 11 September 1915 and was posted to Alexandria where she died from appendicitis and peritonitis on 27 October aged 36, after only four weeks service. She is buried in Alexandria (Chatby) Military and War Memorial Cemetery. Gertrude Lucinda is remembered on Welwyn village war memorial.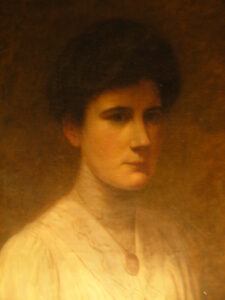 Mary Gertrude's two surviving sons John Douglas and Clifford Moyse emigrated to New Zealand where both died young from natural causes – John died aged 22 from appendicitis and peritonitis while working as a station hand and was buried on the 7 November 1902 at Taumata-o-mihi, near Gisborne. Clifford died on 17 December 1908 aged 23 and is buried in Wakapuaka Cemetery, Nelson.
At least from the time she arrived on Ayot Green, Eileen used the spelling "Roskill" for her surname, although her father's surname was clearly "Roskell" and this was the spelling used by her parents and siblings. Eileen was recorded as "Roskill" in the electoral register from 1919, and pupils at her school called her "Miss Roskill". It is unclear what happened to Eileen after she left Ayot Green, but she died on 23 March 1976 at the Fairfield Hospital, Stotfold, Bedfordshire (the Three Counties Asylum) aged 95, and is buried at Icknield Way Cemetery, Letchworth, Hertfordshire.