At the back of the old churchyard is a stone in the style of a Celtic cross, with the badge of Kings Own Royal Rifle Corps near the base of the stem, inscribed:- Capt. Christopher Egerton Balfour, D.S.O. born 14 August 1872 served in the defence of Ladysmith and throughout the Boer War, died 29 August 1907.
The burial register records that Capt. Balfour was living at Sherrards, Welwyn, at the time of his death and was buried on 31 August. He was 35 when he died. At that time, the owner of Sherrards was Capt. Balfour's uncle, Robert Drummond Balfour, who had arrived in the early 1880s. It was probably Mr Balfour who purchased the house from Janet Wills (née Chambers). The following newspaper clipping explains more about Capt. Balfour's arrival at Sherrards:-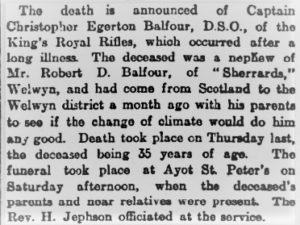 Robert Drummond Balfour and Capt Balfour's father – Archibald Balfour – were brothers, the sons of Charles Balfour (1786 to 1870) and his wife Maria Caroline (née Harington, daughter of Sir John Edward Harington). Maria died in 1876 and both she and Charles were buried at Holy Trinity Brompton. They had at least nine children, all born in London:-
1. Harington Balfour baptised 12 Sep 1827 and died at Nice, France in 1910
2. Charles John Balfour baptised 4 Feb 1829 and died at Great Yarmouth, Norfolk on 25 Dec 1867
3. Maria Eliza Balfour baptised 20 Jul 1830 and died unmarried in Chelsea on 23 March 1911
4. Henry Lowther Balfour baptised 17 Oct 1831 and died at St Leonards on Sea on 1 December 1907
5. Edward Balfour baptised 16 Mar 1833 and died at Genoa, Italy on 12 August 1856
6. Cecilia Louisa Balfour baptised 11 Jul 1835 and died unmarried in Bristol on 13 April 1916
7. Melville Balfour baptised 23 Nov 1838 who was killed in the Indian Mutiny in 1857
8. Archibald Balfour baptised 13 Aug 1840 and died in Chelsea on 29 October 1922
9. Robert Drummond Balfour born 1 March 1844 and died at Welwyn on 7 May 1915
Archibald Balfour (Capt. Balfour's father) was married to Sophy Charlotte Weguelin on 14 April 1864, and Robert Drummond Balfour (Capt. Balfour's uncle) married Catherine Elizabeth Donaldson on 9 February 1876.
Christopher Egerton Balfour was born in Sandown on the Isle of Wight on 14 August 1872 and was baptised at All Saints church, Binfield, Berkshire on 6 October 1872. He was educated at Westminster, and at the Royal Military College, Sandhurst, and entered the King's Royal Rifle Corps on 24 May 1893, becoming lieutenant in 1896 and later captain. He served briefly in India and then in South Africa, where he was in Ladysmith during the siege and was appointed aide-de-camp to Sir Neville Lyttelton. Capt. Balfour was awarded his DSO for services in South Africa. The following newspaper clipping gives more details of his military action and achievements:-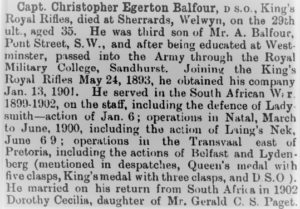 Capt. Balfour married Dorothy Cecilia Paget, the daughter of Gerald Cecil Stewart Paget and Lucy Anne Emily (née Gardner) on 28 October 1902 at St. Luke's, Chelsea. There were two children of the marriage: Cecilia Chrystina born in 1904 at Cork, Ireland, and May Lettice born in 1907 at Welwyn.
Capt. Balfour died aged 35 on 29 July 1907 and was buried in Ayot St Peter on 31 August with Rev. Jephson officiating, assisted by Herbert Athill.
Sadly, Capt. Balfour did not live to see his second daughter May Lettice who was baptised at Ayot St Peter church on 21 October 1907.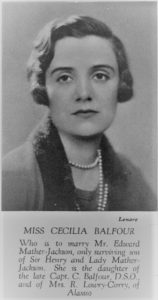 Capt. Balfour's widow Dorothy Cecilia Balfour remarried on 9 August 1912. Her second husband was Reginald Charles Lowry Corry and at some point they settled at Alassio, Italy. Dorothy died on 10 February 1936 and Reginald died at Worthing in 1945.
Capt. Balfour's daughter May married Donald Geary Snow – a racehorse trainer – on 10 August 1930 and she died in Wiltshire in 1980. Her elder sister Cecilia married Edward Arthur Mather-Jackson in 1932, who later became a baronet. Cecilia died in 1949.
Several of the Balfours were good cricketers, including Edward who played for Oxford University and the MCC, Archibald who played for the MCC, and Robert Drummond who played for Cambridge University and the MCC.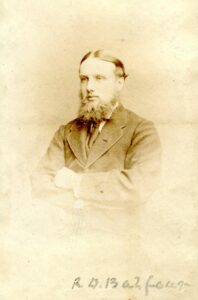 Robert Drummond Balfour played for Scotland against the Gentlemen of Surrey at the Oval in July 1865. This is recognised as the first ever "capped" game by Scotland (a representative 11 a side match).  In recent years, national cricket teams have allocated a number to their players to show the order in which they represented their country and Scotland have followed this trend, allocating numbers right back to that first ever game. As Robert Drummond Balfour was the player whose name came closest to the start of the alphabet, he is player number 1, although of course this happened after his death. The Balfours did not seem to have any close link to Scotland and experts at Cricket Scotland believe that Robert was probably asked by a cricketing friend to "make up the numbers".
Robert Drummond Balfour and his wife Catherine Elizabeth (née Donaldson) are buried at Welwyn Cemetery, Kimpton Road, Welwyn, Hertfordshire AL6 9NJ. Robert died on 7 May 1915 aged 71 years and Catherine died 14 September 1946 aged 95 at Harmer Green End, Welwyn.
With my grateful thanks to Neil Leitch, Honorary Historian of Cricket Scotland, for the information about RD Balfour.