Ayot St Peter had a railway station on the Hatfield to Dunstable line, which was located on the Ayot St Peter Road. The station opened on 2 July 1877 and was known simply as "Ayot".
A fire broke out at the station in July 1948, and most of the buildings were destroyed. The station closed for passengers on 26 September 1949, although passenger trains used the line until 1965. The last passenger service was 24 April that year.
The old station car park and goods yards are now the car park for the Ayot Greenway, a popular walking route that follows the disused railway line from Ayot to Wheathampstead.
The station master's house still exists and is now a private house.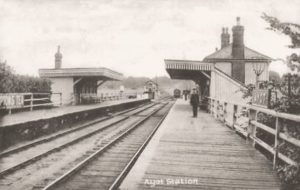 Long serving station-master George Young arrived at Ayot Station in 1880 with his wife Emily (née Dorman) and their three children – Jesse, Catherine and Adelaide. George had previosuly worked in Peterborough where he met Emily – a chambermaid at the railway hotel. Three more children were born in Ayot St Peter – Marion, Matilda and George. Whether the couple moved to Knebworth (as it says in this article) is unknown. By 1916 their home was Gable House, Wheathampstead where they lived with their schoolteacher daughter Adelaide. George died at Hill End Asylum in 1916 and Emily died in 1923.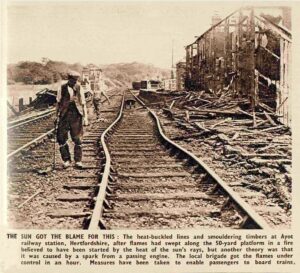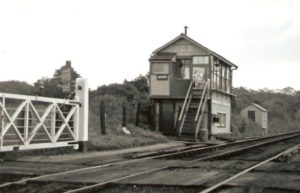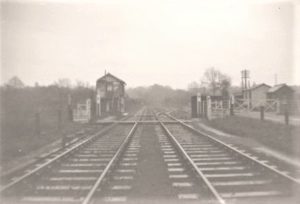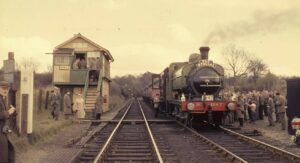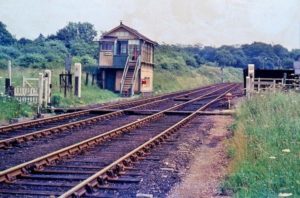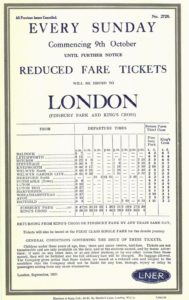 A really interesting history of the station, details of the line and many photos can be found at the website
Disused stations