Ernest George Fitt was killed in action on the Somme aged 24 on Thursday 30 September 1915 while serving with the 7th Bn., Bedfordshire Regiment, and is buried at Dartmoor Cemetery in the village of Bécordel-Bécourt.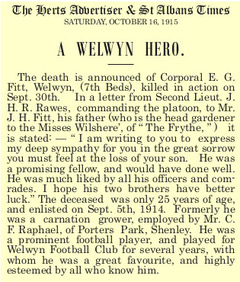 Ernest was born in 1891 at Hertingfordbury and baptised on 2 August 1891 at St Mary's, Hertingfordbury. He was the son of Joseph and Ann (née Pring) Fitt, who were married in Ann's home village of Awliscombe, in Devon in 1883 and had nine children. Joseph was, like his father before him, a gardener.
In 1891 the family were living at Birchall (nowadays just outside the eastern edge of Welwyn Garden City), and in 1901 at Reigate. By 1911 Joseph and Ann were living at The Frythe Gardens, Welwyn, with a daughter and three sons, not including Ernest – who at the age of 21 was living and working at Danesbury as a domestic gardener.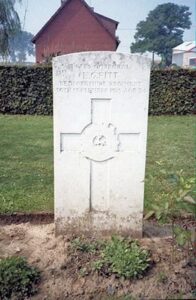 Three other Fitts were in the army and survived. Their names were among the 27 on a wooden plaque formerly fixed to the gable end of the cottage across the lane from the church, nowadays called St. Peter's Spinney.  Those listed lived on the Wilshere Estate or were otherwise connected with The Frythe and served in the forces.
When Ernest died in 1915 his parents were still living at The Frythe Gardens. His father Joseph had been living there with his parents in 1861 (when he was aged three).
Joseph and Ann were both born in 1857 and died in 1939 aged 81. They are buried in the churchyard at Ayot St Peter in a double width grave with a white granite headstone – Joseph Fitt died 6 February 1939 aged 81 and his wife Ann Fitt died 16 April 1939 aged 81.