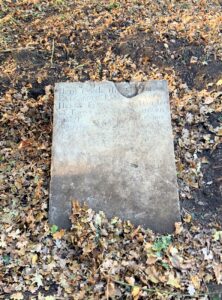 It has become something of an autumn tradition to cut back the annual growth of brambles, elders, holly and other undergrowth in the old churchyard. Residents are helped enormously in this by volunteers who work throughout the year as wardens in Sherrardswood, in nearby Welwyn Garden City. The work is very beneficial, because it allows the spring bulbs – wild daffodils and snowdrops – to flower profusely.
On one of these working days in November 2021 it was decided to dig out the roots of some elders growing in the space between the Peacock and Prodgers tombs (qv). As a result, two stones emerged from the soil and leaf litter. One of these dated to 1706, making it the stone with the earliest date in the churchyard. There is an earlier stone known to have stood there (dated 1688) but it has been kept for safety in the current church for many years.
The burial register entry is as follows: 'Mrs Eliz: Field wife of Henry Jnr.: From London. June 21, 1706'. The inscription on the face of the stone is in these terms:
'Here lyeth the [bodie] of Elizabeth late wife of Henry Feild jun. and daughter of Edward Spencer fishmonger and citizen of London departed this life June the 15th 1706 in her 30th yeare.'
The word 'bodie' and its spelling are inferred because a small fragment of the stone is missing at this point. The back of the stone has not been worked and is rough and uneven.
The stone itself is limestone, probably from Portland in Dorset. It measures 0.75m x 0.10m x 1.12m (0.083 cubic metres). It has been assessed by an expert geologist who describes it as lesser oolitic limestone from the Jurassic era. Pure oolitic limestone is composed solely of oolite spherules but this stone is composed of matrix, impurities, bivalve fragments, other macro shell parts and some oolites. Many Portland limestones have these characteristics. It weighs between 205 and 227 kilograms.
The first thing to notice is that the spelling of the surname in contemporary records is usually Feild but sometimes (as in the burial register) Field. Spelling was not standardised at this time but it has been decided to adopt the modern spelling of Field throughout from this point onwards. As we shall see, the name Feild was often to be found as Attfeild, and the Attfield name is still in use today.
Secondly, the fact that in the burial register the deceased was given the title Mrs indicates that she was of relatively high status in the context of the parish of Ayot St Peter. On her page of the register, she alone has any form of title. Elizabeth's status could have been to do with her own lineage or that of her husband.
Elizabeth Spencer makes her first appearance in the written records when her parents Edward and Sarah brought her to the parish church of St Magnus the Martyr in the City of London for her baptism on 16 July 1676, which was a Sunday under the Julian calendar then in use. This was just 10 years after the trauma of the Great Fire of London. St Magnus was an early casualty of the Fire and totally destroyed. Rebuilding began in 1668 and the main body of the church was substantially complete by 1676. Between 1671 and 1687 the work was carried forward under the direction of Sir Christopher Wren.
Edward and Sarah Spencer seem to have had ten children baptised at St Magnus the Martyr, beginning with Sarah on 26 May 1674 (the ceremony presumably conducted in a temporary structure erected for holding services while the rebuilding was proceeding). Elizabeth was their second child. No London marriage for Edward and Sarah has been located prior to their daughter Sarah's baptism in 1674. It seems highly improbable that this apparently respectable couple would have lied about their matrimonial status and so one has to consider how it was that they were married. Clearly they could have been married in one of the few City churches still standing after the Fire, but if so the record is lost. It is perhaps also possible that they availed themselves of some sort of temporary civil matrimony established in the chaos following the Fire. Another possibility is that their marriage was what is termed 'clandestine or irregular.' The best known of this type of ceremony was the so-called Fleet marriage, usually conducted by Anglican clergy who were imprisoned for debt in the Fleet prison. They began to take place from 1667 and were not outlawed until 1754 under the Clandestine Marriages Act 1753 (colloquially known as Lord Hardwicke's Act). The registers of Fleet marriages for the period 1667-74 are lost, and clearly this could be relevant. There was a marriage of Mr Edward Spencer and Mis(s) Sarah Leaverland at her parish church of St Mary Magdalene, Oxford, on 4 February 1675. The marriage was by licence rather than banns; this could have been simply because Edward was of a different parish or because there was some other reason to prefer this course. The gentry often preferred to proceed by licence so that the 'lower orders' did not know their business. If this was the same couple whose daughters Sarah and Elizabeth were baptised in 1674 and 1676, then perhaps the ceremony was undertaken by Edward and Sarah in order to confer indubitable legitimacy on their previously acquired married status. Otherwise, this is the marriage of a different couple.  It is difficult to see how this conundrum will be resolved.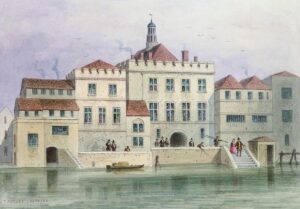 Edward Spencer was a member of the Worshipful Company of Fishmongers, and accordingly a fully-fledged citizen of London. In 1666, just before the Fire, he was recorded as having four taxable hearths in a property on the east side of Fish Street Hill in the parish of St Magnus. This street was the northern approach to the Roman bridge across the Thames; it remained aligned to the medieval bridge which replaced it and stood for some 600 years until replaced in 1831 by a new London Bridge on a site about 30m upstream from the former bridges. The Fishmongers' Company (which ranks fourth in the order of precedence of the City livery companies) had their hall where the new bridge was to be built and therefore had to build a replacement (which still stands, on the west side of the bridge approach). The members of the company had their principal place of business at Billingsgate, and the company church was and still is St Magnus the Martyr, standing as it does midway between the hall and the market.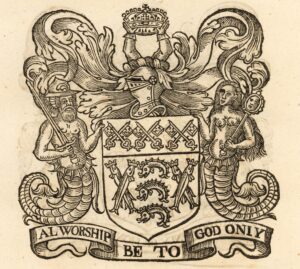 Apart from their first two daughters, Sarah and Elizabeth, Edward and Sarah Spencer had eight further children between 1678 and 1692. Reflecting five deaths in childhood, they had two daughters called Sarah, three called Anne and two sons called John.
Edward Spencer made a will on 16 April 1708 in which he mentions his wife Sarah, his four surviving children – his son Edward, the second daughter called Sarah (married to John Cooper in 1700) and two unmarried daughters Mary and Anne (the third of that name) – and his grandson Henry Field (who was the son of his deceased daughter Elizabeth). Edward was buried at St Magnus on 28 April 1708 and his will was proved in the Prerogative Court of Canterbury at nearby Doctors' Commons on the following day.
The Spencer family's involvement with Ayot St Peter began and ended with the burial of Elizabeth in 1706. We have not traced a record of the burial of Elizabeth's widowed mother Sarah.
Of the children mentioned in Edward Spencer's will, the son Edward (1684-1741) married Anne Uber in 1708 at St Magnus. They had a son Edward in 1708 and two daughters who died in infancy. Whether this younger Edward eventually married and had issue we are unsure. The daughter Sarah was baptised at St Magnus in 1680 and married John Cooper in the same church in 1700. The names of this couple are so common that it has proved impossible to trace their descendants, if any. The daughter Mary's baptism at St Magnus was in 1682 and she married Joseph Goodchild (1691-1737) at St Andrew by the Wardrobe in 1714. Joseph and Mary had several children. Joseph was a member of the Worshipful Company of Glaziers and a citizen of London. There was a glass cutter called Joseph Goodchild in business at 2 Tooley Street (adjacent to the southern approach to London Bridge) in the 1780s who was no doubt a son or grandson of this couple. Of the final surviving daughter, Anne, we have found no trace apart from her baptism in 1690.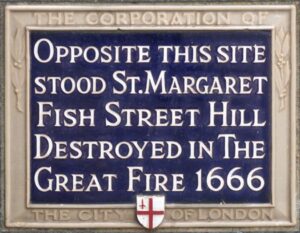 Elizabeth Spencer's marriage to Henry Field took place on 12 April 1696 at St Magnus. The marriage register described the bridegroom as being of the parish of St Margaret, New Fish Street. This church was the first of the 82 parish churches of the City to be destroyed by the Great Fire but it was never rebuilt. Its site is now occupied by the Monument erected to commemorate this disaster, and the parish itself was merged with the adjoining parish of St Magnus the Martyr.
On 17 December 1685 Henry Field, son of Henry Field of Ayot in the county of Hertford, yeoman, was apprenticed to a pewterer in the City of London. The Worshipful Company of Pewterers ranks 16th in the order of precedence among the livery companies. Its hall was in Lime Street, but like that of the Fishmongers' Company it was destroyed in the Great Fire. Its current hall is close to London Wall. It is as certain as it can be after such a long time that the apprentice of 1685 was the man who married Elizabeth Spencer eleven years later. His parents were Henry Field (1645-1722) and Martha Birch, who were married at Ayot St Peter (then called either Ayot Parva or its English equivalent of Little Ayot) on 6 October 1668. Martha was the elder daughter of Rev. John Birch, who was the rector of Ayot St. Peter from 1641 until his death on 26 July 1682 aged 73. The baptismal records give details of 10 children born to Henry and Martha between 1670 and 1689, of whom Henry was the fourth. Martha Field died in 1690 and Henry remarried on 22 October 1693. The name of the second wife was Katherine Ridly. As we shall see, Henry and Katherine died within a few days of one another in 1722.
The word yeoman used to describe Henry Field senior meant several things in the contexts of royal households and the armed services, but in the rural context of Ayot St Peter it meant (according to the Shorter Oxford English Dictionary) 'a man owning and cultivating a small estate; a freeholder under the rank of gentleman; loosely, a countryman of respectable standing, a farmer.'
It is not at all easy to envisage the scene in Ayot St Peter parish in 1675, when Henry Field junior was born. There was a medieval church in the old churchyard, but the only information which has come down to us about it is that it had a tower and a short spire. There appear to be no drawings or paintings of it. Given the absence of suitable stone in the vicinity, it is probable that its walls were constructed of either wattle and daub or beaten earth. It is known that by 1750 it was regarded as ruinous and uneconomic to repair; it was then demolished and replaced with an octagonal church with a separate bell tower, both built of brick. All the properties in the parish today were built long after 1675, with the exception of part of Ayot Montfichet dating to 1485 and the possible exceptions of part of Ayot Bury (the rectory) and the central part of Crackendell Cottage. The farmworkers and their families will have lived in cottages built of natural materials which, when abandoned, crumbled away leaving no trace. For the most part these will probably have been close to the old churchyard.
Prior to his first marriage in 1668 there is no record concerning Henry Field senior at Ayot St Peter. However, it emerged in the course of research in early 2022 that Henry was the eldest son of Humphrey Field of Bisley, Surrey. Humphrey made a will on 17 September 1687 (proved on 16 March 1688) which names his wife as Mary and identifies all his children alive at the date of the will. The Fields were concentrated in and around the parish of Chobham, and were also known as Attfeilds (a name itself derived from 'atte Feld', as in the current village name of Havering atte Bower, Essex). The burial register at Ayot St. Peter is silent about Henry's age at death in early September 1722 but other evidence makes clear that he must have been born in about 1645.
What prompted Henry Field to move from Surrey to Hertfordshire is unknown, but it is very likely that there were undiscovered family connections. Another Humphrey Field died in June 1685 leaving four minor children who petitioned for the appointment of a guardian in 1687. This Humphrey lived at Church End, Ardeley, which lies between Stevenage and Buntingford. Humphrey is sufficiently unusual a name to suggest such a link. Furthermore, Henry's sister Mary also moved from Surrey to Hertfordshire. She married Thomas Humberstone at Digswell in 1667 and died at Knebworth in 1710.
Apart from the fact that his fourth son moved away to London and became a pewterer, nothing has been discovered about the 10 children of Henry and Martha Field beyond their baptisms and, in two cases, burials. Whether the family remained represented in the parish after 1722 is therefore unknown. Certainly, there were no Fields named in the schedule to the tithe map of 1838 or in any subsequent census.
Henry and Elizabeth (née Spencer) Field are only known to have had two children. There was a daughter Sarah baptised in 1697 and buried in the following year. Then there was a son Henry born on 22 December 1698 and baptised at St Magnus on New Year's Day 1699. He married and his wife was called Sarah; there were five children born between 1720 and 1730 – Elizabeth, Thomas, Sarah, Edward Spencer and Henry. This family were based in the City of London or Southwark, and apparently maintained no connection with Ayot St Peter. In 1712 Henry Field, son of Henry Field pewterer, was apprenticed to a fishmonger called Samuel Dodson – drawn back to the trade of his maternal grandfather Edward Spencer. It is perhaps worthy of note that when Edward Spencer Field (another fishmonger) married Elizabeth West in 1750 theirs was a late example of a Fleet marriage. This couple had eight sons, and they gave six of them the second name of Spencer.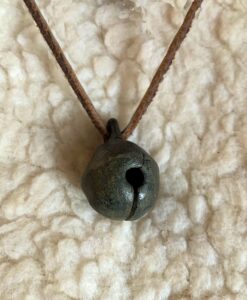 Henry Field senior made a will on 30 May 1713 and added a codicil on 19 May 1720. Probate was obtained at Digswell on 28 September 1722. The will names five sons and three daughters alive in 1713, together with three sons of a deceased daughter Mary (1670-1712) who had married Robert Chipperfield of Wheathampstead. Henry's eldest son William (b 1674) is additionally mentioned in the codicil as needing help to avoid destitution arising from unspecified difficulties of his own making. The tenth child of the marriage was Richard, who was born and died in 1689 and whose arrival may very well have precipitated the death of the first wife Martha in 1690. The second wife Katherine benefited from an annuity of £25 for life. The son Edward Field may have had a son Edward, because there is an undated marginal note to the will about a suit brought on behalf of Edward Field (infant) by a 'best friend' against more than one defendant, where the provisions of the will were read out in the Court of Chancery.
It is possible that the Field family lived at what is now Ayot Montfichet but was then the manor farm and later known as Place Farm or Ayot Place. From it the three great strip fields of feudal farming will have radiated, and they can still be imagined in the current landscape. A marginal note to the grant of probate gives Henry's address as Field House, Ayott Parva, but of course this does not help to place it on a map. The will mentions several properties: 40 acres of customary or copyhold land; 14 further freehold acres called New Fields; a freehold interest called Moonfield; and land at Gustard Wood called Woodcrofts. The tithe map gives names to many of the fields in the parish in 1838 but none of them precisely corresponds to the names in the will. There is a field called 'Fourteen Acres' (plot 10), another called 'New Field' (plot 35) and a third called 'Part of Newfields' (plot 67) but none with the word 'moon' included. Plots 10, 35 and 67 are closer to what is now Linces Farm than to what was Place Farm, and it may well be that the Field family farm was at or near to Linces Farm.
Katherine Field was buried on 16 August 1722. When her husband Henry died shortly afterwards it is recorded in the burial register that he was 'buried upon his wife in ye chancell' on 6 September 1722. These burials of her parents in law in the chancel of the medieval church provide rather strong support for the conjecture that Elizabeth Field (née Spencer) was herself buried in the chancel in 1706 and that the recently discovered stone with its undressed underside was laid over her grave. It is thought that the 1688 stone kept in the current church was also originally from the early chancel. It would probably have been relatively straightforward to excavate a grave inside the old church; its floor was likely to have been earth covered with rush matting. It seems to have stood slightly to the east of the footprint of the Victorian church built in 1862 to replace the Georgian octagonal church erected in 1750. It also apparently stood just to the south of what is now a very large yew tree but would have been much smaller in the years 1706 and 1722 or might even have been planted as a living monument to the old church in 1750. When that church was demolished the stone seems to have been moved aside to its present resting place but turned through 180 degrees so that the inscription now has to be read facing west whereas it was almost certainly originally intended to be read facing east. Whether the remains of the deceased were also moved at the same time is unknown. There may possibly be an undiscovered stone from the 1722 burials similarly moved aside at the time of demolition.
It is interesting to consider what might have been the origin of the stone. It surely came from London by wagon at the expense of Edward Spencer, having been inscribed there. The Romans are known to have made extensive use of Portland stone in their public buildings and it could have been part of one such before being re-used when St Margaret, New Fish Street, was built in the middle ages and therefore available for further re-use when it was decided not to rebuild that church. It could also have been part of the fabric of the medieval church of St Magnus and surplus to requirements in the course of its rebuilding after the Great Fire. Again, it could have been a piece of newly-quarried stone brought to London by sea from Portland for one of the many then current works being superintended by Sir Christopher Wren and acquired from one of his contractors. We can never know, but for sure no stone of this type and size could have been quarried in Hertfordshire.
A public tree to complement this article has been created on Ancestry.co.uk with the title 'The Field and Spencer families.' Judging from the hints generated by this tree no one else is researching either the parents or the parents in law of Elizabeth Field (née Spencer). Remarkable research has been carried out on the Surrey lineage of Attfield and Field, and I would like to pay particular tribute to John Attfield, whose discoveries have informed this short history.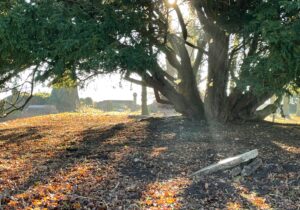 Peter Shirley,  4 April 2022
There is more information about the Attfeild and Attfield families of Surrey and Sussex at this website.