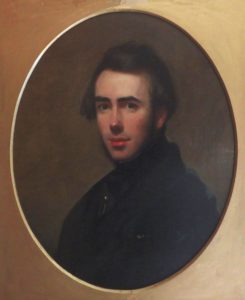 William Henry Wills (1810 to 1880) was the working editor for Charles Dickens, and also his friend. WH Wills married Janet Chambers (1812–1892), the youngest sister of William and Robert Chambers, the Edinburgh publishers. William and Janet are buried in the old churchyard at Ayot St Peter, and are commemorated in stained glass windows in the church.
The Dictionary of National Biography ("DNB") states that William Henry Wills was born on 13 January 1810, in Plymouth, Devon, the son of "a wealthy shipowner and prize agent", and his wife, Jane (d. 1854). W.H. Wills had one sister and one brother. Because his father lost the greater part of his money, in 1819 (or 1820) the family moved to London.
William Henry Wills was baptised at Charles the Martyr, Plymouth on 12 March 1810. He was the son of Jane Parker, so his full name was recorded as William Henry Wills Parker. [Source – Devon Baptisms, FindMyPast]
Jane Parker and Henry Wills married in 1815. Henry may have been in the Royal Navy, as stated in this banns record for St Margaret's church in the village of Topsham, Devon – a parish on the river Exe close to Exeter. [Source – Devon Banns, FindMyPast]
I have been unable to find any record of Henry Wills as a naval officer, but possibly naval duty (when he would have required permission to marry) was the reason for the delay in marrying Jane. There is an entry for a "Henry Wills" as a lieutenant in the militia based in Plymouth, which he joined on 24 October 1808. The local militia seems to have been almost entirely a naval force.
The marriage of Henry and Jane at St Paul's, Exeter, on 4 January 1815 states that both were resident in the city and gives Henry's occupation as "gentleman". If he was in the navy, he had presumably just left. [Source – Devon Marriages, FindMyPast]
The book "Charles Dickens as editor, being letters written by him to William Henry Wills his sub-editor" produced by R.C. Lehmann (the nephew of Janet Wills, née Chambers) and published in 1912 [available online] quotes "Forty Years in London, All the Year Round" (written by WH Wills in 1865) which states that the Wills family moved from Devon to London in the winter of 1819/1820. According to Lehmann, the Wills family made their home in Somers Town, and WH Wills was schooled at The Polygon, in the middle of Clarendon Square.
Surprisingly, two more children were born after about 10 years in London, by which time Jane would have been in her early 40s.
Firstly, Emma Frances was baptised at Old St Pancras Church on 24 March 1830. The address was given as Regent Place West. Henry's occupation as "Clerk with Custom House" [Source .London Church of England Births and Baptisms, Ancestry, wrongly indexed under "Walls"].
The second child was Frederick John, baptised at St Pancras Church on 11 October 1832. This time the family address was given as "Clerkenwell" and Henry's occupation as "Wine Merchant". [Source .London Church of England Births and Baptisms, Ancestry]
A duty record dated 21st January 1795 records the start of a 7 year apprenticeship for a "Henry Wills" to wine merchant Peter Symons of the parish of St Charles, Plymouth. This would have been about the right date for Henry Wills to have started an apprenticeship, given that he would have been aged around 14 or 15 at that time. It is not possible to know if this is the same person, but might explain why he took up this occupation again later in life. [Source: IR1 Board of Stamps: Apprenticeship Books, 1710-1811, National Archives, online at The Genealogist]
The London Gazette of 1836 records the insolvency of Henry Wills, a clerk in HM Customs. This entry gives a useful list of addresses, starting with the earliest, from the time when the family first arrived in London. As follows:- Henry Wills, formerly of 56 Clarendon Square, Polygon, Somers Town, then of 6 Regent Place, Brunswick Square, then of 17 Southampton Row, Russell Square and late of 2 Lloyd Square, Pentonville.
The occupation of Henry Wills given in the London Gazette ("clerk in HM Customs") confirms that Emma Frances was the daughter of Henry and Jane. The first address, in Clarendon Square, links him with the previously mentioned autobiography of WH Wills.
An entry in the 1841 census shows what could be the Wills family at 15 Vaughn Square, Shoreditch, as follows (the ages of adults were rounded in the 1841 census):-
Henry Wills age 60 Occupation -clerk, not born in the county
Jane Wills age 50 not born in the county
Emma Wills age 10 born in the county (ie Middlesex)
Francis Wills age 8 born in the county (obviously an error if this is the correct family and
should read "Frederick")
[Piece 707, Book 4, Folio 17, Page Number 26]
Henry Wills died on 13 May 1842, by which time he was living in Brentford (west London). His estate is listed in the National Probate Index for 1861 (see below); the administrator is William Henry Wills ("one of the children"). Henry is described in the declaration (presumably written by WH Wills) as a merchant, "formerly of Frankfort Street, Plymouth". By the time of Henry's death he had been in London for more than 20 years, had lived in at least five London addresses, and had been insolvent, so this description harks back to happier times.
Henry's burial entry at St George's church, Old Brentford in 1842 is below:-
Assuming Henry's age at death was accurate, he was born around 1780, making him approximately ten years older than his wife Jane.
At the end of 1842 WH Wills moved to Edinburgh to take up the position of Assistant Editor of Chamber's Journal. The new job must have helped the family finances as Jane had been left a widow with little money and two children aged around ten and twelve.
It was whilst working for Chambers that WH Wills met his wife Janet Chambers, who he married in West Ham (then in Essex) in 1846 (which was also the year when he first became closely involved with Charles Dickens). Janet's brothers did not approve of her marriage to WH Wills.
By the time of the 1851 census, WH Wills' mother Jane was living in Anderson Street, St Luke's parish, Chelsea, with her daughter Emma Frances (wrongly recorded as Jane F.) and described herself as an "annuitant". Jane died in 1854 and was buried at St James church, St Pancras. The address given was 12 Camden Square.
In the 1851 census WH Wills (now married to Janet) was living in the Regent's Park area of St Pancras. He and Janet had his brother Frederick living with them. Frederick (aged 18) gave his occupation as "Clerk of the Bank [of] England". WH Wills was 41 by this time and Janet was 38.
WH Wills' sister Emma Frances was buried at St James church, St Pancras on 12 December 1862, aged 32.
Her address was given as "The Hermitage, Forest Hill" which makes it possible to find her in the 1861 census, where she was a boarder in the household of Maria Hunt, the widow of a surgeon. Emma was listed as "Miss Wills" and her age was 31.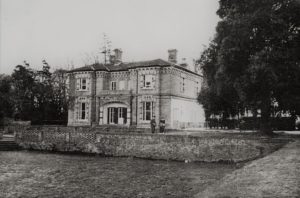 In the 1861 census WH Wills and Janet were living at 22 Regent's Park Terrace (the address WH gave on his father's National Probate entry the same year). Frederick was still with them. By this time WH was described as an "author and journalist". Frederick was described as a "publisher". The family employed both a cook and a housemaid. By the time of the 1871 census WH Wills, Janet and Frederick were living at Sherrards in Welwyn.
Frederick John Wills died on 6 June 1878, and his brother WH Wills on 1 September 1880. Both are buried in the old churchyard at Ayot Saint Peter, Frederick on 11 June 1878 and WH Wills on 6 September 1880:-
Little is known about the life of Frederick John Wills, but the inscription on his gravestone may suggest a lengthy illness or disability –
In cherished remembrance of Frederick John Wills who was born on the 8th of August 1832 and who died on the 6th of June 1878. An example of suffering affliction and of patience.
In the 1881 census Janet was a widow, living in London with her nephew Rudolph Chambers Lehmann, a barrister, who was the author of the book mentioned earlier. By the time of the 1891 census Janet had settled in 13 Sussex Gardens, Paddington, where she was living alone. She employed both a cook and a housemaid.
Janet died in London on 24 October 1892 and was buried with her husband in Ayot Saint Peter on 27th October 1892.
There are stained glass windows to commemorate the three members of the Wills family in the church of Ayot Saint Peter. A matching pair of windows records W Henry Wills born 13 January 1810, died 1 September 1880 and his brother Frederick John Wills born 8 August 1833, died 6 June 1878. A brass plaque in the church is inscribed "In loving memory of Frederick John Wills died 6 June 1878 aged 45".
Another window commemorates Janet Chambers, the wife of W.H. Wills. The window was erected by her niece Eliza, Lady Priestley and is dated 1893. A brass plaque below the window, also commemorating Janet, born 22 July 1812 and died 24 October 1892, was erected by two other nieces, Florence Lyell and Edith Grove.
Details of Janet and WH Wills are recorded together on their headstone in the old churchyard at Ayot Saint Peter.
In loving memory of William Henry Wills of Sherrards, Welwyn, born at Plymouth on January 13th 1810, died at Sherrards on September 1st 1880. He lived and died in love and charity with all men.
Also of Janet Chambers, widow of the above, who died October 24th 1892, aged 80.
I am indebted to the Chambers family and also to Dr. Sondra Miley Cooney of Kent State University, Ohio, for their assistance with this page.