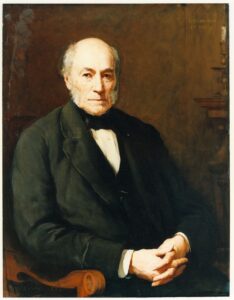 At the back of the old churchyard, close to the boundary with the field, is a large pink granite tomb that marks the final resting place of George Robinson and his wife Jane Ann (née Watson).
The inscription reads: – "George Robinson Esq., Ayot Bury and 59 Strand, London born 26th December 1792, died 27th September 1886. Jane Ann Robinson, wife of George Robinson Esq., of Ayot Bury died 30th December 1879 aged 84."
When Jane Ann was buried on 3 January 1880 the burial register records her address as 11 St George's Place, Hyde Park Corner, which had been the couple's London home for at least thirty years. The address at 59 Strand was the office of Coutts & Co. until 1904.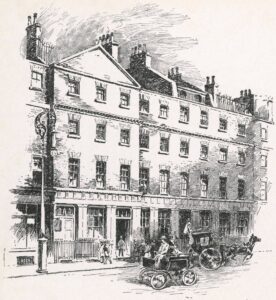 It is not known when the Robinsons acquired Ayot Bury, but it was some time between the 1871 census (when the house was occupied by a retired clergyman called Rev. William Gould with his wife and servants) and 1875 when a newspaper article (a) records that it was the home of George Robinson. They had almost certainly moved in by 1874 in order to be benefactors of the new church.
George Robinson was at his London home on 3 April, which was the night of the 1881 census; Ayot Bury was occupied by the farm bailiff George Knowles and his family. The Robinsons ran a small farm from Ayot Bury; after George's death the stock and equipment was sold by his executors. When George Robinson was buried on 1 October 1886 his address was recorded as Ayot Bury, which was also where he died.
George Robinson was born in Newcastle-under-Lyme, Staffordshire, on 26th December 1792 and baptised at St Giles' church in that town on 14 January 1793. He was one of several children of George Robinson and Mary (née Jarvis or Jervis) who married at Stoke-on-Trent in 1781. At the time of the marriage, George Robinson senior was described as a "felt maker" from Newcastle-under-Lyme. The couple's children were born at Newcastle-under-Lyme and all the baptisms in the registers at St Giles' church have the family name as "Robison".
George Robinson moved to London as a young man and his obituaries state that he joined Coutts Bank as a clerk in 1815 (when he would have been about 23). He rose through the ranks and was apparently a protégé of Angela Burdett-Coutts. By the end of his career he was a partner in the bank. According to the official history of the bank (b), he was only the second clerk to be promoted to partner.
Jane Ann Robinson was the youngest daughter of Rev. John Watson and his wife Lettice (née Wright) who had married at Prestbury, Cheshire, in 1789. Jane Ann was born in Prestbury on 14 August 1794 and baptised there on 5 December 1794. Rev. John Watson was vicar of Prestbury from 1786 to 1800, and both he and Lettice are buried in Prestbury church and commemorated with a plaque.  Rev. John Watson's father (another "Rev. John Watson" – 1725 to 1783) was a respected antiquarian and author.
George Robinson and Jane Ann Watson married in Chiswick in 1834. George was described as "of St Mary Abbot, Kensington" and Jane Ann was "of Chiswick". By the time of the 1851 census, George and Jane Ann were living at the address in St George's Place that would be their home for so many years.  In 1903 the name St George's Place was abolished and the buildings renumbered as part of Knightsbridge.  The Robinsons lived on the eastern section of what is now Knightsbridge, between Hyde Park Corner and Wilton Place.
George Robinson was apparently a major contributor to the cost of building the current church in 1874-1875, and he also donated the organ. Jane Ann donated the pulput in memory of her older brother John Watson who died on 28 January 1875 aged 86. He had been a fellow of Brasenose College, Oxford.
The spectacular windows at the west end of the church were paid for by George Robinson, and commemorate Jane Ann, who died a few years after the church was completed, in 1879. An inscription beneath the window reads:-"The offering of George Robinson of Ayot Bury in affectionate remembrance of his wife who died December 1879".
It is not known if anything linked the Robinsons to Ayot St Peter before they moved to Ayot Bury. There is a possible connection through Angela Burdett-Coutts, who was heir to the Coutts banking fortune and had employed local resident William Henry Wills as her private secretary.
The Archivist at Coutts & Co. has very kindly shared this information:- "George Robinson joined the bank in 1815, aged 22, and was eventually appointed Chief Clerk. In 1869 he was made a partner, on a salary of £3,000 p.a.  Even as a partner, he still dealt with the training of clerks and also of new partners. Robinson was known as a strict disciplinarian, but retained his sense of humour and maintained an interest in the progress of the Bank's junior clerks. Recruited in the time when Thomas Coutts was alive, Robinson helped to keep his traditions and work practices in place. In the 1870s he became ill, and spent some time away from the bank. However his health rallied and he stayed on at Coutts until his death in 1886. In his latter years he was influential in selecting a new generation of partners who would successfully carry the business forward".
The Robinsons had no children and when George died he left bequests for various friends, for servants at both his homes, and also to members of staff at Coutts and Co. The bulk of his fortune of £127,000 (probably around £15 million in today's money) was left to his friends Hugh Lindsay Antrobus and Hon. Henry Dudley Ryder, both of whom were partners at Coutts and Co.

It seems that George Robinson's executors let the house for a time after his death, as the property was advertised to let in December 1886.
The City of Westminster Archives hold some of George Robinson's papers, deposited on permanent loan by Farrer and Co. solicitors, 66 Lincoln's Inn Fields, London in October 1998. The papers relate to family and probate matters and various properties including 11 St George's Place, Hyde Park Corner and the estate in Hertfordshire. System ID 2111 and 2111/1/1.
(a)  Hertford Mercury and Reformer 25 September 1875 page 3 (funeral of Mr William Blake)
(b)  Coutts & Co 1692-1992 – The Portrait of a Private Bank by Edna Healey 1992