Randal John Harwood was killed in action aged 28 at Armentières on Saturday 12 August 1916 while serving with the 1st. Bn., Hertfordshire Regiment. He is buried at the well-known St. Quentin Cabaret Military Cemetery in the Ypres Salient.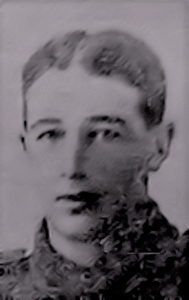 Randal Harwood tried to enlist in August 1914 on the outbreak of war but was rejected. After an operation he enlisted at Welwyn in June 1915 and was attached to the Gloucestershire Regiment. He went to France in May 1916 and was killed three months later. His story is included among the 26,000 biographies in Du Ruvigny's Roll of Honour 1914-19.
He was born at home in White Hill on 1 January 1888, baptised at St. Mary's, Welwyn, on 5 February and educated at the Ayot St. Peter village school next door to this church.
His parents were Alfred Harwood and his wife Sarah Alma, whose father Charles Philpott was a Crimean veteran and listed as deaf in the 1871 and later censuses – a disability which presumably resulted from his service at the Battle of the Alma in 1854. Alfred was a gardener at The Frythe; he was born in 1854 and married Sarah Alma Philpott at Codicote on 16 September 1876. There were 10 children. This large family all lived in what is now no. 1 White Hill. In 1911 Randal (a gardener aged 23) was living at home with his parents and a sister and two younger brothers.
Three other members of the Harwood family served in the army and survived.